Sandwiches. The ultimate lunch meal.
I bet if someone started collecting data about how many people eat sandwiches for lunch every day the numbers would be higher than we can even count.
They're handheld, they're stuffed with good ingredients, and are customizable beyond limit. I love a good sandwich. I wouldn't say it's my absolute favorite food but it's something I'll most always be in the mood for.
So, when I heard about a new modern deli opening in Urbana I was excited. Excited because not only did their menu look fun and intriguing with sandwiches named things like The Notorious P.I.G. and Smokey and the Bandit, but they were making a conscious effort about the food they were offering and its packaging.
Pumpernickel + Rye (also known as Pump + Rye) opened only a few months ago but they seem to be leading the charge in eco-friendly food service. Every single part of their packaging is compostable – even their cutlery and coffee lids – and they have a composting bin in their space to allow people to separate their trash.
All their ingredients are locally sourced, they smoke their meats and cure their fish in house and everything is made from scratch in order to support the rich agricultural area in which we live.
Plus — and this may be the most important of them all — they get their bagels directly from Brooklyn.
Do I need to say anything else? Your girl was spoiled with bagels while living in New York and now finally there is a place here to meet my standards.
But let's get back to the sandwiches. There are a lot of options with every single type of meat you can think of — brisket, roast beef, pork shoulder, chicken meatballs, pastrami, turkey — the list goes on.
Pump + Rye's sandwiches are split into two categories: New School and Classic. The Classic includes your typical turkey, tuna or roast beef sandwiches just elevated a little bit. The New School is where Pump + Rye shine in their creativity.
One of their most popular seems to be The Notorious P.I.G. Fennel roasted pork shoulder, broccoli rabe, provolone, garlic aioli, and apricot jam all sandwiched between some toasted ciabatta.
The smell of this sandwich alone is enough to get your salivary glands going. Take a bite and you will experience some of the most savory and juiciest pork. It's perfectly seasoned and pairs perfectly with the broccoli rabe and provolone. If it wasn't for the apricot jam I would say this is a perfect Italian-style roast pork sandwich.
The apricot jam puts a nice twist on it but we all know how I feel about sweet things on my sandwiches. They aren't my favorite, and I found that the apricot jam became overpowering for me. But that could just be me and my disdain for jams on savory sandwiches!
If you're like me and like to keep the sweetness by itself try the How Now Brown Cow. It's one of Pump + Rye's classic sandwiches with roast beef, cheddar cheese, lettuce, onions, horseradish and aioli, but it's taken to a whole other level by one ingredient: fried green tomatoes.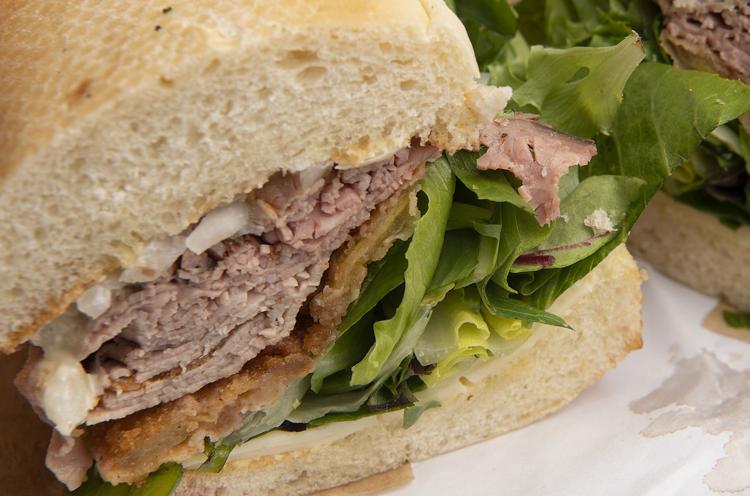 Instead of just having a regular slice of an old boring tomato in there you get a crunchy, salty, slightly sour fried green tomato and it is truly genius. I say more fried green tomatoes on sandwiches from here on out.
There are a lot of good things about Pump + Rye but one aspect that I really love — besides the bagels and composting — is now many vegetarian and vegan options they offer.
I've been trying to add more vegetarian meals into my life and am an active participant in meatless Mondays so it's nice to find a place that can offer up some delicious plant-focused sandwiches.
The Whistle Stop is a great choice for all my veggie-loving friends. It's pretty much the How Now Brown Cow without the roast beef, which means more fried green tomatoes and you really can't go wrong with that.
With the roast beef gone, the whole flavor of the sandwich changes and it kind of tastes like you're eating a healthier, more delicious mozzarella stick in sandwich form.
If you're not into sandwiches, Pump + Rye also has some great bowl and salad options like the So Close Yet so Farro, which amazingly gives you the notion of eating Chinese takeout. The flavors are so similar, but you feel good about it because of healthy ingredients like farro and kale.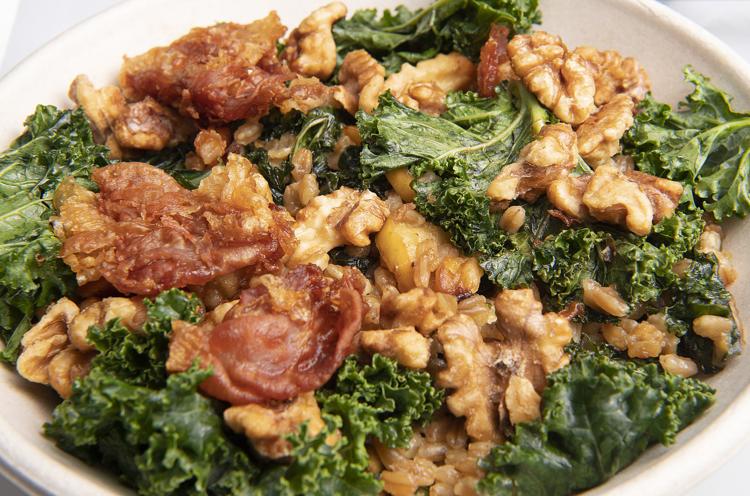 The only disappointment I had with this bowl was that I felt it was too big. There was so much farro but not enough of the other ingredients and after I finished eating all the good stuff like the kale and fried prosciutto I found that I still had half a bowl of just plain farro left.
I was also a bit disappointed with some of Pump + Rye's deli-case salads, like the tuna and egg salads. It all boils down to a lack of flavor here. The egg salad had nice big chunks of egg and it was spruced up with some bright dill but it tasted plain.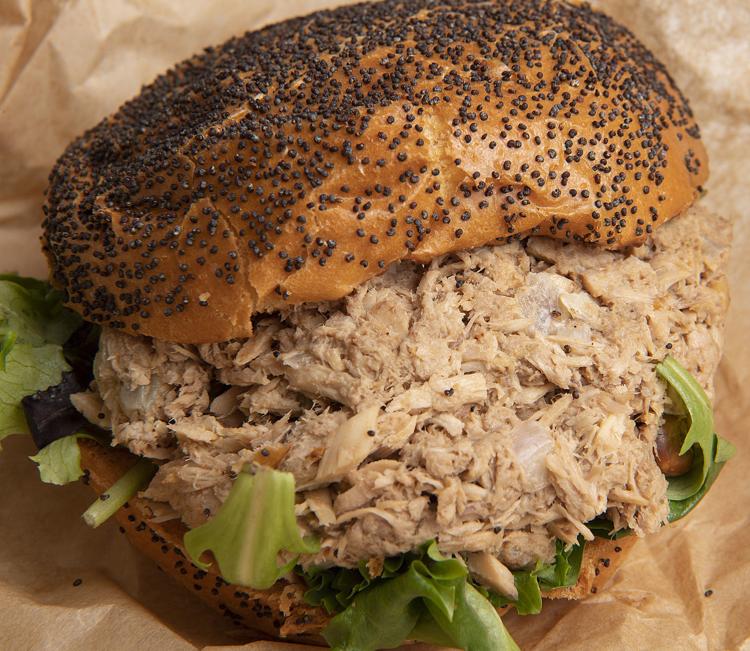 I would have liked to see a little bit more red onion or mayonnaise in there — I know we're trying to be healthy but just a touch more would have been nice.
The same went for the tuna salad, it was a little dry and I would have liked to see something to spruce up the flavor a bit more.
The place you don't need more flavor though is in Pump + Rye's breakfast sandwiches. Perfectly scrambled, thick, fluffy eggs, with your choice of cheese and meat on those beautiful Brooklyn bagels. If you do a classic breakfast sandwich you can also choose to have your egg fried.
There are some Pump + Rye New School bagel sandwiches that I wouldn't miss, like the The Hot Mess. It's vegetarian and deliciously healthy. Scrambled eggs, fresh sliced avocado, kale pesto and miso-tahini dressing.
This is the kind of sandwich that I imagine a Los Angeles Instagram influence ordering at some hip café and paying $18 for. But at Pump + Rye, it only costs half of that and you don't feel like a show-off for getting it.
There could definitely be some minor improvements at Pump + Rye here and there but overall, they are killing it in almost every way — great food and a conscious business effort to be kinder to our world.
I will be a returning customer, not just for their yummy sandwiches but because of everything else I just mentioned. In my opinion, that is the level of thinking that every restaurant should strive for.
Katryna Perera is the food reporter and critic for the Frederick News-Post. A longtime "food enthusiast" she has taken cooking classes both domestically and internationally and is continuously following food trends and restaurant openings. She also briefly studied food reporting while attending Columbia University's Graduate School of Journalism.
Follow Katryna Perera on Twitter: @katrynajill; on Instagram: @kjp_eats.