Stepping into Up on Market Bistro & Inn feels like stepping into an alternate universe where everything is calm and beautiful.
Time is forgotten and the errands that must be completed fade away as one gingerly sips on champagne cocktails, and nibbles on chocolate and almond croissants. The entire space makes one feel like they are stepping into 1940s Paris. Dark wood café-style chairs, marble floors and countertops and vintage décor. Everything is elegantly French.
There is often a misconception about French food — that it's fancy, snobby, expensive, and possibly slimy — think escargot. But to me, French cuisine, because of these misconceptions, has always been underrated.
When I think of French food, I think of beautifully made pastries, rich beef stews, fluffy omelets, and all the cheese in the world. I also think of sitting on the steps of Sacré-Cœur in mid-November sipping warm mulled wine and picking at a plate of herby escargot which I had bought from a nearby street vendor as a college student.
French food, if you really think about, is comfort food. It's just been upgraded a little for the modern-day consumer.
Up on Market Bistro, a restaurant in downtown Frederick that opened in January, is serving up all those comfort foods in an equally comfortable space. And they are doing it very well. The whole building is one business. The downstairs is the bistro and the upstairs is the inn, with four beautifully decorated rooms.
The bistro menu is one page, which I feel is ideal for a restaurant of its size, and each dish is executed practically perfectly.
During my first dinner visit, I tried the Beef Bourguignon. Beef Bourguignon, also known as Beef Burgundy, is a standard French dish consisting of red wine braised beef made into a stew with mushrooms, pearl onions, and a few other vegetables. It is traditionally served with potatoes or pasta, both of which are available to accompany Up on Market's version.
I tried it with the mashed potatoes and it came topped with green peas and two slices of a baguette. The entire dish was rich and savory. The meat was soft and mixing everything together was the ultimate bite of comfort. The only thing that would have made the dish better was if it was snowing outside.
My guest tried the Pan-Seared Sea Scallops and although it was a polar opposite to the Beef Bourguignon it was just as delicious. Four large, perfectly seared scallops came atop a bed of blanched spinach and leeks.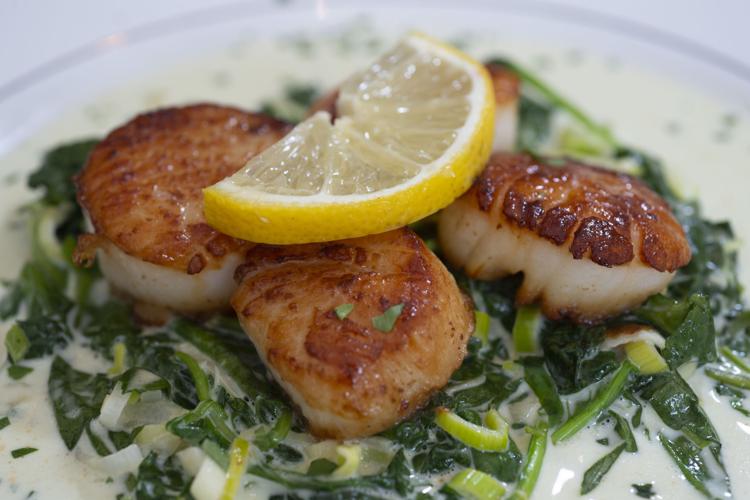 The dish is incredibly light and satisfying. It's bright and fresh with notes of garlic and white wine. A perfect dish if you aren't very hungry or want to stick to something less heavy.
If you're not really feeling French cuisine, might I suggest the Arrabbiata Pasta? This is a traditional Italian dish – Arrabbiata means angry in Italian which is why it is known as a spicy pasta sauce. It's made from olive oil, garlic, tomatoes, and lots of red chili flakes or dried chili peppers.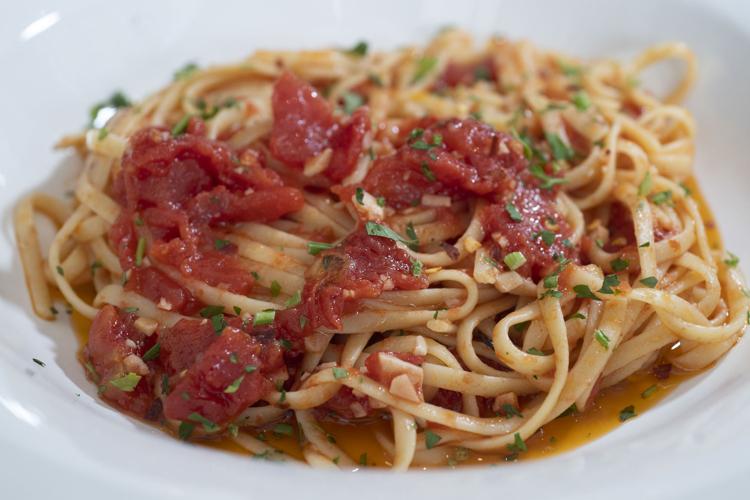 Up on Market gives diners the choice of having their dish made with penne pasta or linguine but really the depth of the dish is the sauce, and Up on Market executes it perfectly with the perfect amount of heat. I eat a lot of spicy food and I found Up on Market's Arrabbiata to have a substantial kick, which was delightful. Normally it's hard to find a truly spicy Arrabbiata here in the States.
Up on Market also serves a basic 8-ounce filet mignon. The cut is tender and what I loved most about it was that Up on Market doesn't season it too much, really allowing the meat to breathe and it's natural flavors to come through.
I was a little disappointed with the garlic mashed potatoes served alongside it — they needed salt — but that could have been a simple oversight in the kitchen that night.
If you find yourself at Up on Market for breakfast and brunch — which you definitely should at least once — you can certainly stick to the traditional coffee and pastry, but the bistro also serves beautiful breakfast entrees, including a variety of omelets and French Toast.
The French Toast was fairly simple and I was hoping that the brioche it was made with would have been a little thicker, but the star of the morning menu seems to be the Savory Triangles.
There are two options – beef and pumpkin or chicken and pumpkin. I was very intrigued and decided to go with beef.
It's one fairly large pastry that comes out piping hot and seems to be freshly made. Flaky pastry dough topped with a few garnishes like sesame seeds encapsulates ground beef and diced pumpkin. The inside texture reminded me of a dumpling — how everything gets balled into one — but the taste reminded me of a Jamaican beef patty.
I was hoping to get more pumpkin but the beef flavor was a little overpowering. However, it was still exceptionally delicious.
Up on Market is on North Market Street, away from the hustle and bustle of the other sit-down restaurants of downtown Frederick but it holds its own, offering elegant meals in a beautiful space.
There could be a few improvements — the service is a little slow compared to most restaurants — but I also think this is a testament to Up on Market's authentic French feel. Who cares about what time it is? Sit, relax, and enjoy your meal. Do as the French would do.
Katryna Perera is the food reporter and critic for the Frederick News-Post. A longtime "food enthusiast" she has taken cooking classes both domestically and internationally and is continuously following food trends and restaurant openings. She also briefly studied food reporting while attending Columbia University's Graduate School of Journalism.
Follow Katryna Perera on Twitter: @katrynajill; on Instagram: @kjp_eats.