Some of the most underrated spots for a good lunch, in my opinion, are grocery stores. They have a variety of options and for the most part everything is very fresh and a little on the cheaper side.
Take for example, the Wegman's café. Every day they offer up everything from sushi to handmade subs to various hot bars. Harris Teeter has hot soups and some really, really good Margherita pizza. And then don't even get me started on the Costco chicken bake. If you know, you know.
Now add to that list your local Asian grocery store. Being from a South-Asian family, as a child my parents would haul my brother and me out on Saturdays to our nearest Asian supermarket to grocery shop.
We hated it. But if we were able to convince our parents to let us have lunch in the cafeteria it instantly got better. Being kids our palates were still boring and we usually went for the dinosaur-shaped chicken nuggets. But I remember always being in wonderment of the array of food and exciting smells around me.
Today as an adult, my palate and my appreciation for good Asian food has developed extensively and that's where the Frederick H-Mart comes in.
My predecessor Kate Masters first reviewed the cafeteria when the grocery store opened in 2017. However, since then it has expanded, so I figured I would return for another round.
The newest addition to the row of counters that line the far-right side of the store is Sogongdon Tofu House. They serve up a variety of Korean dishes but the most well-known is Bibimbap.
Bibimbap is essentially a Korean rice bowl. Warm rice sits below an array of cooked vegetables like mushrooms, soybeans sprouts, carrots and spinach, and in the center is traditionally cooked, minced beef and always, always a fried egg. Now take all of that and put it on a hot, black, sizzling plate — that's what you can get at Sogongdong.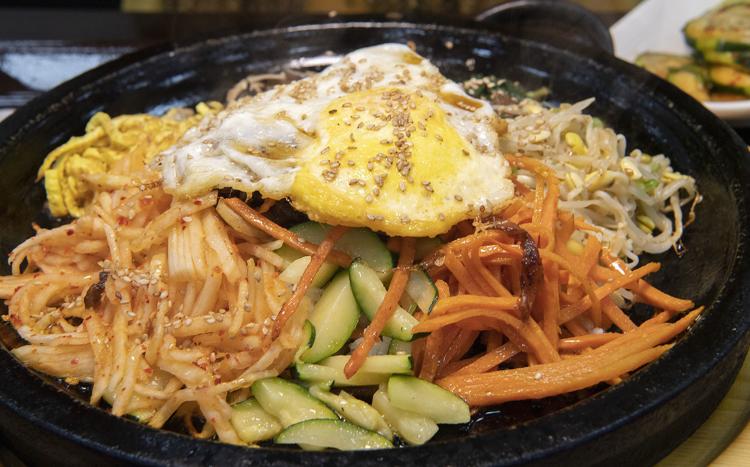 It's heavy so be careful, and when you set it down on your table begin to mix it immediately so that rice on the bottom doesn't get burned. After a good mix, douse it with some Gochujang — a red chili paste — that is served on the side, and what you'll find is a combination of sweet, spicy, smoky and tangy flavors in your mouth.
The only drawback I found was that there wasn't a large enough serving of minced beef and I ended up picking through the hot plate to find some.
If you're not feeling Korean cuisine waltz over to the other end of the cafeteria and order some Katsudon from Ichido Ramen.
I've always felt that Katsudon is one of the most underrated Japanese dishes. More people need to know about it. Another rice bowl-style dish, Katsudon is a bed of warm sticky rice topped with grilled onions; sliced, breaded and fried pork cutlet; scrambled eggs; and some sort of sauce, usually either a soy sauce variety or tonkatsu sauce.
It's warm, it's cozy, it's hearty, and the ultimate comfort food. And Ichido serves it up almost just right. When I ordered, mine was a little too drenched in sauce, minimizing the oily, juicy taste of the pork cutlet, but otherwise all the elements were there.
The reigning champ at the H-Mart food court, though, proves to be Lee's Sushi.
Truly, some of the best I've ever had and it gives fancier places in Frederick like Lazy Fish a run for their money.
The spicy tuna roll is practically perfect. No filler, no crunch, a sliver of cucumber to give it some freshness and some small green chilies, which make it truly spicy.
The yellowtail and scallion roll is even better. If you want some of the freshest sushi around, order this roll. Plump chunks of yellowtail, with some crisp, green scallions wrapped in sticky rice and seaweed. You don't even need soy sauce, it's that good.
If you're more into fried rice and noodles, not to worry, there are plenty of options. But I highly suggest that if you make a stop into H-Mart you try something different, expand your palate, and experience the colorful and fascinating flavors of Asian cuisine.
Katryna Perera is the food reporter and critic for the Frederick News-Post. A longtime "food enthusiast" she has taken cooking classes both domestically and internationally and is continuously following food trends and restaurant openings. She also briefly studied food reporting while attending Columbia University's Graduate School of Journalism.
Follow Katryna Perera on Twitter: @katrynajill; on Instagram: @kjp_eats.
Follow Katryna Perera on Twitter: @katrynajill.