Since its opening a little over a year ago, Hometown Harvest Kitchen has gone through a lot of changes.
First, it was a fast-casual restaurant that focused on well-made Southern dishes served over a counter.
Next, it became a sit-down, full-service restaurant that focused on fresh, farm-to-table eats for lunch and dinner. Or as Hometown likes to call it "farm-to-fork"
Now, the farm-to-whatever aspect still exists, but it seems the restaurant has elevated itself even more adding a wide array of fun craft cocktails and a new brunch menu. Due to all these changes, it seemed necessary for a new and updated review of the downtown space, which has the same owners as South Mountain Creamery in Middletown.
I had never visited Hometown Harvest Kitchen during its counter service days and I'm sure it was great but as I spent time dining there over the last few weeks, it seemed that a modern, farm-to-table approach is the identity that suits the restaurant best.
The dining space alone reflects that identity. The décor is a mix of industrial and modern farmhouse. The bar is sleek yet cozy. It's a true fine dining space that also holds a lot of warmth, which is something that comes across in Hometown's dishes as well.
Their menus for both dinner and brunch are minimal but varietal. The menu still holds a few items from its original Southern food focus but now seems to focus more on creating delicious alternative takes on well-known dishes with seasonal and local ingredients.
Take the butterbean hummus, for example. This light green, not fully blended down hummus comes with toasted naan and pickled vegetables such as cauliflower and celery. It's a dish that people know but it's elevated and turned on its head a little to reflect what's in season.
Hometown does a good job with their ingredient sourcing but I found the taste to fall a little short in a few of their dinner entrees.
The Nashville Chicken Sandwich — a fried chicken breast dipped in chili pepper oil — packed a lot of heat but little flavor. What makes a Nashville-style chicken sandwich great are the spices held in the batter of the fried chicken. Those spices typically hold the heat too.
I appreciated Hometown's effort to alternatively source the heat from the chili oil but it seems there was an oversight on seasoning the batter. The special "comeback sauce" slathered on the bun helped a little, but again, I wished for more zest in the chicken.
The butcher's block burger was also a bit of a disappointment. Although it came with two beef patties, they were thin and were completely overpowered by the black mustard.
I've always thought that mustard is a tricky condiment. Put too little and you don't taste anything, but put too much and it's all you end up tasting.
The latter happened with Hometown's burger. I would have liked to see a thicker, juicer patty — the kind that you can really only get at a restaurant, because after all, what makes a burger good and what holds it together is the beef.
But although there were a few missteps at dinner, the brunch menu of Hometown Harvest Kitchen has stars all around.
The shrimp & grits is beautifully plated, salty, and holds just the right amount of bite. Not to mention, the addition of crumbled fennel sausage to the dish adds a whole other layer of breakfast flavor.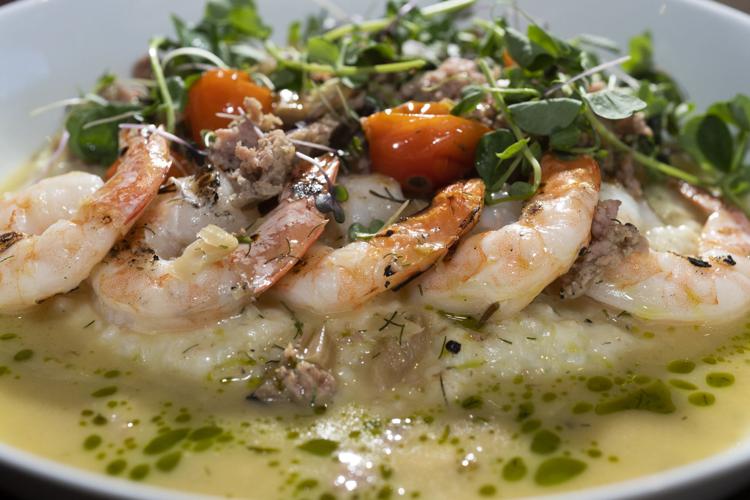 The brunch cocktails, including a stellar bloody mary with more of that pickled cauliflower and a "mimosarita" — a mimosa with tequila — are sure to get you in the brunching spirt.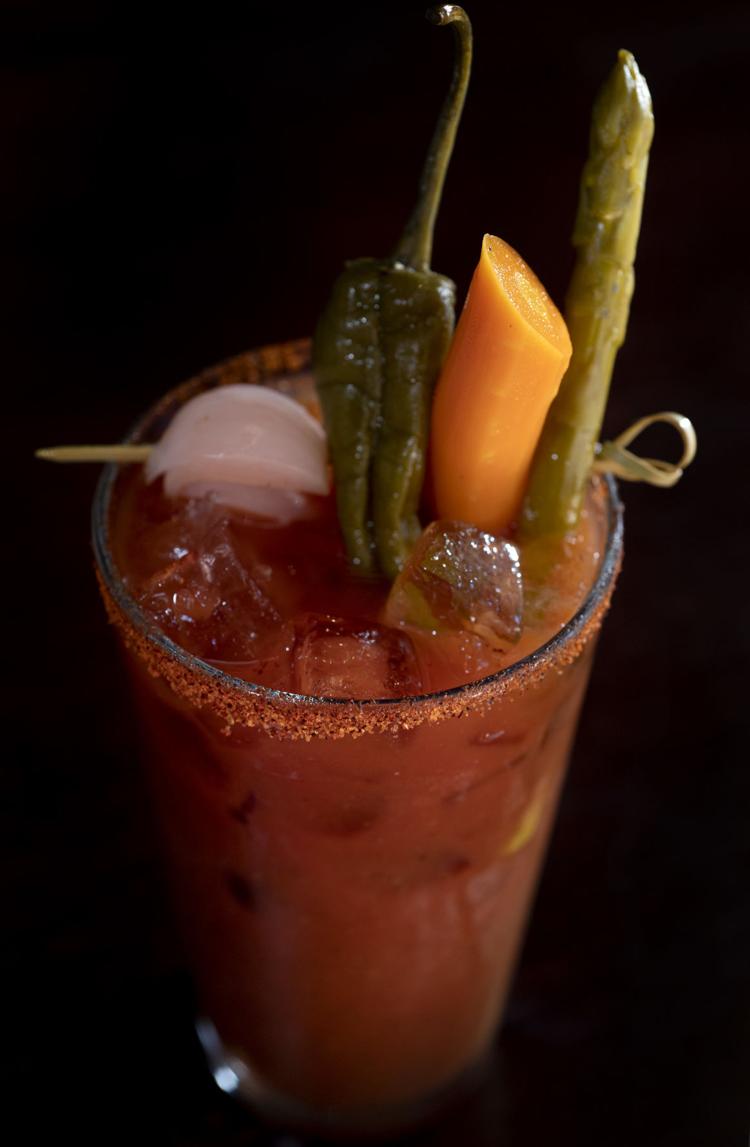 But the real star of the brunch menu is the stonefruit stuffed French toast. This is truly the best French toast I've ever had.
First of all, it's like the season of fall in every single bite, and the only way I know how to describe it is warm oatmeal meets bread pudding meets French toast.
Thick slices of challah bread are topped with powdered sugar, sliced peaches, and a walnut and oatmeal streusel. The whole thing is then drizzled with honey and comes sitting alongside a deep pool of thick, sweet and creamy custard. Absolutely heavenly.
I truly, truly hope and pray that Hometown continues to serve this dish all year round and just substitutes the peaches with whatever other fruit is available each season. It would be a knock-out whatever time of the year.
But the strive to include as many local and fresh ingredients in their food is perhaps the most admirable aspect of Hometown Harvest Kitchen. Many restaurants these days claim to be farm-to-table but Hometown Harvest Kitchen is actually doing it and they are outfitting their menu accordingly with the changing seasons and what's actually available from farms.
There could be a few, very small improvements to some dinner dishes but my hope is that they will continue to retrofit their offerings accordingly and will continue to provide the downtown area with this much-needed dining experience. There's nothing like eating fresh, thoughtfully chosen meals. And some really good French toast.
Katryna Perera is the food reporter and critic for the Frederick News-Post. A longtime "food enthusiast" she has taken cooking classes both domestically and internationally and is continuously following food trends and restaurant openings. She also briefly studied food reporting while attending Columbia University's Graduate School of Journalism.
Follow Katryna Perera on Twitter: @katrynajill; on Instagram: @kjp_eats.