The first time I walked down East Patrick Street I knew I wanted to eat at Jojo's Restaurant and Tap House.
There is something about it that draws you in. Maybe it's the large floor to ceiling windows that greet you from the sidewalk. Or perhaps it's the cozy wood interior of the bar space. Or maybe it's the friendly wait staff who recently have been seen bustling outside to wait on the many outdoor dining tables set up on the street and adjacent alleyway.
Everything about the establishment screams elevated bar with solid food options and a comfy and relaxed atmosphere. It's one of those spaces that operates well any time of the day, whether it's brunch or late at night.
I spent about a week and a half dining at Jojo's for the sake of this review and, for the most part, was pleased during my visits.
The thing I noticed was that Jojo's kitchen seems to do particularly well with their sort of "off-beat," fusion-style menu options. What I mean by that is dishes that one normally wouldn't expect to find on the menu of a taproom.
For example, their pork belly tacos are a must-order. Before dining at Jojo's I'm not sure I had ever seen pork belly put into a tortilla. I've most often eaten pork belly in Asian-style dishes and was curious to know how it would fare in such a traditional Mexican offering.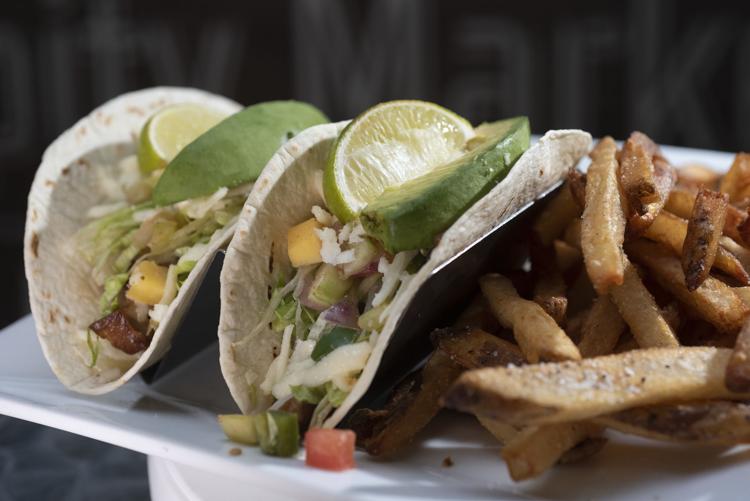 It was delicious, to say the least. The pork belly was perfectly cooked with a perfect golden-brown sear on the outside of the cuts. The fat was the perfect amount and wasn't overcooked where it turned mushy. Atop the pork belly was a sweet and tangy mango salsa, some fresh avocado slices, and a sprinkling of queso fresco. All the flavors and textures of these different ingredients came together spectacularly and the salted, fresh-cut fries that are served alongside the two tacos were a perfect accompaniment.
A dish that I know going forward will be one my favorites to order at Jojo's is the Spanish garlic shrimp. The best thing about this dish is that you get so much more than just shrimp. Gulf shrimp and small rounds of cured chorizo come served in a thick cream-based sauce bursting with flavors of garlic, olive oil and herbs. A beautiful medley of seasoned, cooked vegetables like zucchini, tomato and squash come alongside the shrimp and chorizo along with a slice of grilled country-style bread and rice pilaf.
The chorizo packs a lot of flavors, as it is cured. It almost tastes like thick, spicy salami, and the best thing to do will be to use the bread or the rice to mop up all the leftover sauce. So much comfort and flavor in one dish, there is little else on Jojo's menu to beat it.
If you are in the mood for a burger, since after all this is a tap house, Jojo's has a few different options including what they call their Frenchie burger.
A juicy patty, grilled to your liking, comes served on a brioche bun with lettuce, tomato, truffle mayo, a thick slice of smoked ham, and raclette cheese.
Now if you're thinking, "Raclette, why does that sound familiar?" It's because the Alpine cow milk-based cheese exploded on the internet a few years ago. Videos of waiters in Europe taking a huge wheel of hot raclette and scraping off the melted cheese onto people's plates was on everyone's timelines for months.
Watching the videos it's hard not to crave a heaping lump of gooey, melted cheese falling onto your plate. It's often served atop potatoes and vegetables and kind of acts as a fondue but Jojo's puts it on their burger. Unfortunately, there is no big wheel of cheese that comes out to your table at Jojo's, but the gooeyness is still there. I will issue a warning, though: Raclette cheese is very strong and pungent. I would not order this burger if you can't handle the like of Swiss or blue cheese because raclette cheese is about ten times as strong in flavor.
Some of Jojo's other dishes I was less impressed by, such as the chicken penne with vodka sauce. While it's a heaping bowl of pasta I found the vodka sauce to be bland. All I could really taste was plain cream and I was hoping to taste a little more tomato or even salt in the dish. The chicken also came in large strips served atop the pasta and I feel it would have been more efficient for the diner had it been cut up and served mixed in with the pasta.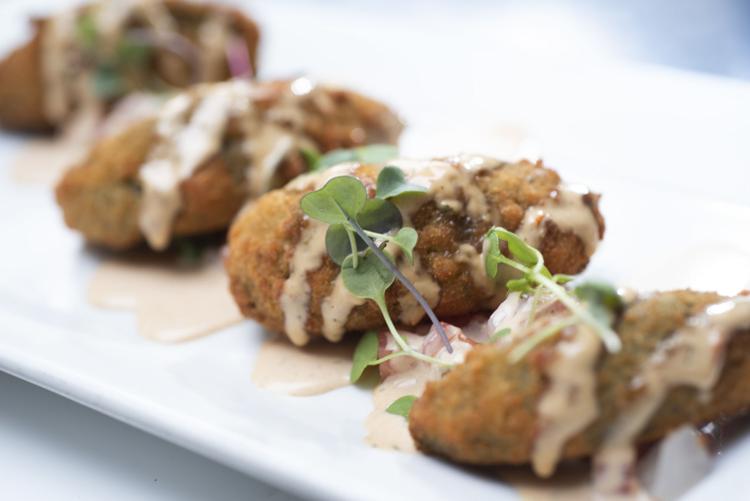 The avocado wedges appetizer was also nothing special. Four slices of fried avocado come drizzled with some chipotle mayo and a side of pico de gallo. I suppose if you're only interested in tasting the avocado this might be the starter for you but I was hoping to get a little more flavor from both the chipotle mayo and the breading.
Jojo's is serving up the season of autumn fantastically through their drinks, though. There is a pumpkin beer available on tap and there is a whole menu of both cold and hot fall-themed drinks. I personally recommend the Fall Sangria. It comes in a large wine glass with a cinnamon-dusted apple slice sitting on the rim. The drink is a combination of spiced pear cordial, apple vodka, apple cider and champagne. It is refreshing, crisp, and the perfect fall cocktail.
If you want to go for something warm try the spiked mulled cider. Caramel vodka, mulled cider, whipped cream and cinnamon come together in the coziest of ways and it's perfect to sip on during or after your meal.
Jojo's overall is versatile and caters to many palates and wants. It's both a hometown bar and an elevated restaurant and no matter where you choose to dine — outside, at the bar, or in the dining room— you are sure to have a good time with some good eats.
Katryna Perera is the food reporter and critic for the Frederick News-Post. A longtime "food enthusiast" she has taken cooking classes both domestically and internationally and is continuously following food trends and restaurant openings. She also briefly studied food reporting while attending Columbia University's Graduate School of Journalism.
Follow Katryna Perera on Twitter: @katrynajill; on Instagram: @kjp_eats.