Ever since Cafe Bueno expanded to its new location on East 4th Street, I have been wanting to review it.
A new location means a new kitchen, new space, possibly an expanded menu — it can change a lot. Not to mention the fact that I had been hearing about it since I started working for the News-Post over a year ago. People talked about it like a familiar neighborhood spot with good food. So, I added the locally famous spot to my list of places to review and finally got the opportunity to dine there over the past week.
Unfortunately, due to coronavirus restrictions, I was unable to dine in the actual restaurant. Cafe Bueno is only doing takeout and outdoor dining, both of which I tried. The outdoor dining space is in their adjacent parking lot in a big white tent with picnic tables. It's the perfect outdoor setting for a restaurant that doesn't have the sidewalk luxury of those on Market Street.
The detail that I was perhaps most tickled with was how they chose to display their menus. Many restaurants these days have been using QR codes that allow diners to pull up the menus directly on their phones, but problems arise when there is a lack of signal or the online menu isn't user friendly.
Cafe Bueno, I was happy to see, came up with a much more simple and effective solution. The menus are placed on each picnic table under a clear tabletop. Everything is right there, all diners have to do is look down and maybe shift in their seats to get to the section that they wish to browse. It's simple, but it works so well, and that is somewhat of a theme I noticed while dining at Cafe Bueno — superb simplicity.
Their menu is short and sweet and no dish is particularly extravagant. Sometimes, especially with food, extravagance can lead to diminishing quality and I have always appreciated restaurants that do classics very well. Cafe Bueno does this.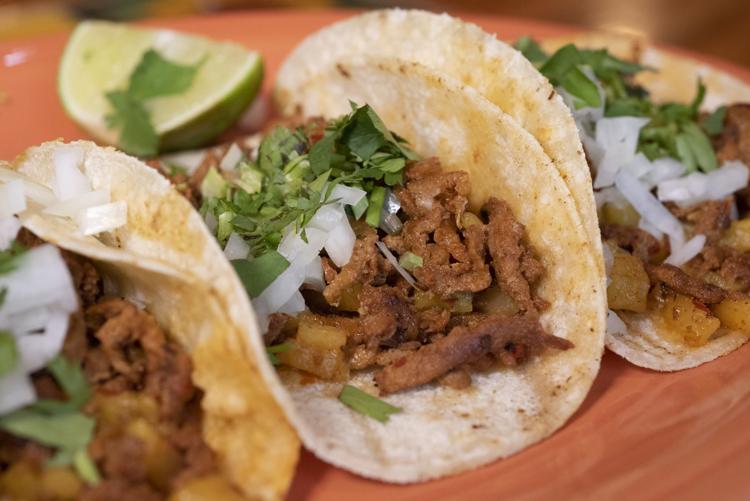 Their al pastor tacos, to begin, are delicious. Perfectly marinated pork with just the right amount of sweetness from the pineapple. They can be ordered in Mexican or American style. With Mexican style, the tacos come in corn tortillas with a simple topping of onion, cilantro and lime, while American style is the whole nine-yards with lettuce, tomato, cheese and sour cream all wrapped up in your choice of hard or soft taco shell.
If you're ordering the al pastor tacos I would go with Mexican style as to not take away from the flavors that make them great. The only thing I would have preferred with Cafe Bueno's al pastor tacos is a few more bite-sized chunks of pineapple. I think it would have added a little bit more texture and just a touch of citrus.
Besides the general menu of tacos, burritos and fajitas, I was very impressed by the steak and chorizo torta. If you're not a steak or chorizo person don't sweat, there's plenty of other torta options.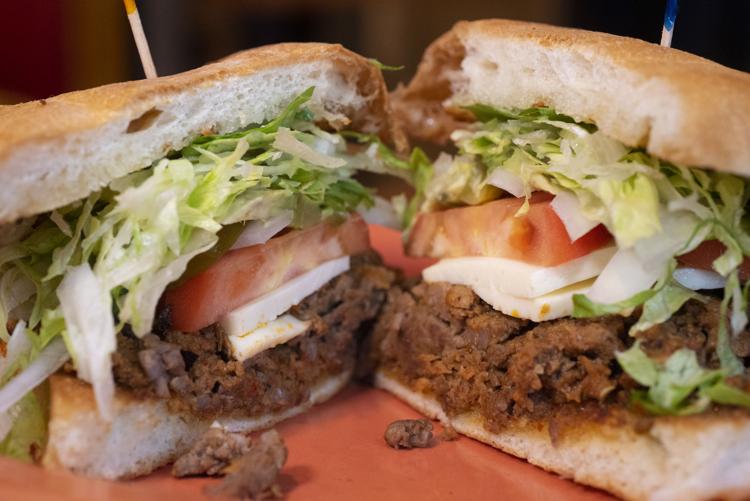 The torta, aka Mexican sandwich, in general, though is a must-order no matter what meat you get with it. It's a perfect lunch order and is quite big. I loved that it was served on a classic grilled telera roll and I loved that the steak pieces were not long strips that forced you to really bite down and tear apart. Every bite was great and the sandwich had some lovely fresh jalapeno slices, along with avocado, lettuce, tomato, onion and cheese.
This sandwich is one I will definitely be ordering again.
If you're in a breakfast mood, Cafe Bueno has a small section of Mexican breakfast dishes that they serve all day. A solid option is the huevos rancheros. Two over-medium eggs are served on corn tortillas with salsa roja and melted cheese.
I will say that I found Cafe Bueno's huevos rancheros to be a little bland. I ended up asking my waiter for hot sauce to pump up the flavor a little bit. The salsa roja just didn't come through enough in my dish and I would have hoped for maybe a little sprinkling of cilantro or some fresh chopped tomatoes or onions to jazz it up a bit.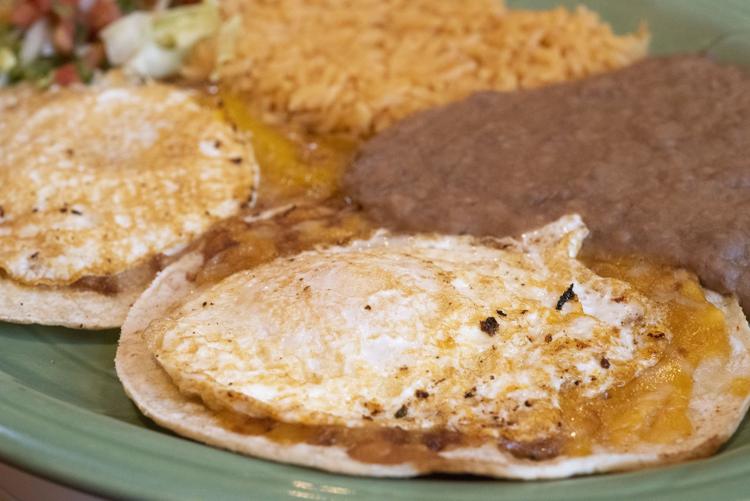 For burritos, I highly recommend the Cancun burrito. It uses a protein combination that I haven't seen often — chicken and chorizo.
I was a bit skeptical as to how this was going to turn out and whether or not the chorizo would dominate but I was pleasantly surprised at the finished product. Not only was the burrito juicy on the inside, but it was also the perfect balance of crumbly chorizo with small chunks of chicken whose taste actually came through.
The burrito is also stuffed with a lovely blend of pinto beans, pico de gallo, and just the slightest hint of cheese and sour cream. It's topped with a bit of melted cheese and salsa verde which gives it a perfect touch of sourness. Everything comes together beautifully and it's the perfect size, as I finished the entire thing in one sitting.
All burritos are served with an accompaniment of yellow rice and refried beans. Again, these two side dishes were very simple in their execution, there was nothing fancy about either of them, they weren't bursting with seasoning or flavor but they came together well and I can bet that you will end up scooping up every last bit.
That's what Cafe Bueno seems to do so well. Their food is so hearty and homey that you end up finishing an entire plate without thinking twice. Sure, it's not the richest food but it's solid, and as a diner, you leave feeling perfectly satisfied.
Katryna Perera is the food reporter and critic for the Frederick News-Post. A longtime "food enthusiast" she has taken cooking classes both domestically and internationally and is continuously following food trends and restaurant openings. She also briefly studied food reporting while attending Columbia University's Graduate School of Journalism.
Follow Katryna Perera on Twitter: @katrynajill; on Instagram: @kjp_eats.