When the words "cocktail bar" or "cocktail lounge" are uttered, a particular image comes to mind.
I think of a cozy space with soft, warm lamps, velvet couches and plush chairs, a finished wooden bar, and bartenders and waiters dressed in black and white. The image in my mind is usually some combination of a piano bar, a speakeasy, and a neighborhood pub.
When places call themselves a cocktail bar, they usually tend to be a little more upscale and a little pricier in my experience. The cocktails tend to be refined, original, and made by experienced bartenders.
The idea is that you're paying for a well-made cocktail. The kind that you would want to slowly sip on and appreciate, instead of gulping down. The whole notion of a cocktail bar gives off an idea of class and elegance.
So, when Distilled, a self-proclaimed cocktail bar opened over the summer, I was exceptionally intrigued.
Frederick has made its mark in terms of breweries and casual restaurant bars. But to my knowledge there's no establishment that prides itself on making very good drinks. Sure, there are upscale restaurants all over the county, but the focus there is food with good drinks on the side.
At Distilled it's the opposite.
When I first arrived, I was a little surprised by its location. Distilled sits in the Market Square shopping center off of Route 26 and Wormans Mill Road.
It's a little random, to be honest, but when I entered, I was immediately impressed by the space. Soft lighting, sleek décor, and a warm wood backdrop. There are only three televisions, so if you really wanted to sit at the bar and watch a game you could, but luckily, it's not distracting to the other customers at tables.
Looking at the menu I was equally impressed — a whole page of signature cocktails, plus a varietal food menu of appetizers, sandwiches and entrees.
Distilled calls itself a cocktail bar and I was pleased to find out that it absolutely excels in that department. The drinks are unique, delicious, and just strong enough.
The East Coast Bond was a particular favorite of mine, but I will warn that it is not for those who tend to go for fruiter drinks.
This signature martini is a gin and vodka blend with Lillet liqueur and lemon. The menu says the drink will leave you "shaken and stirred" and I can attest to that. It's a perfect drink for all those dry martini lovers out there.
Now if you want something fruitier I suggest either the Chesapeake sunset or the Frederick sidecar. The first has vodka and the second Hennessy, but both are masked by flavors of orange and other fruits.
The Hennessy really shined through in the Frederick sidecar but if you want something where you can't really taste the alcohol I would opt for the Chesapeake sunset.
The Maryland sour — Distilled's take on a classic whiskey sour — was the only drink that I was a little disappointed by.
The reason being, there wasn't any sour mix in it. It was more like a whiskey and fruit juice cocktail and I'm confused why it has been named as such when it doesn't have a critical ingredient.
Distilled definitely excels in its cocktails, which is a good thing, considering they are a cocktail bar, but there is definitely room for improvement in their food offerings.
The appetizers tended to be done well.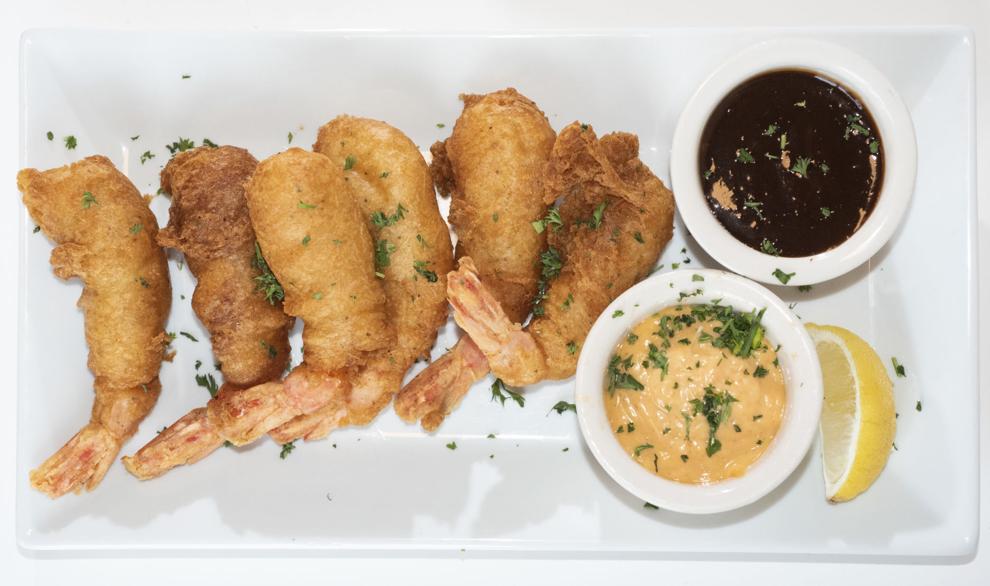 The spicy beer battered shrimp, for example, was delicious in every way. Large shrimp coated in a light and flavorful batter are fried to golden perfection. The best part is the Szechuan sauce it's served alongside. It's a unique accompaniment that pairs fantastically giving the shrimp just a touch of sweetness.
The cauliflower buffalo wings were also scrumptious and a good vegetarian appetizer option. Bite-sized cauliflower florets are battered, fried and drenched in buffalo sauce, and served with your choice of ranch or blue cheese dressing. They're tangy, hot and filling and don't make you miss a chicken wing at all.
But as my guests and I moved into the entrée portion of the menu we were consistently underwhelmed.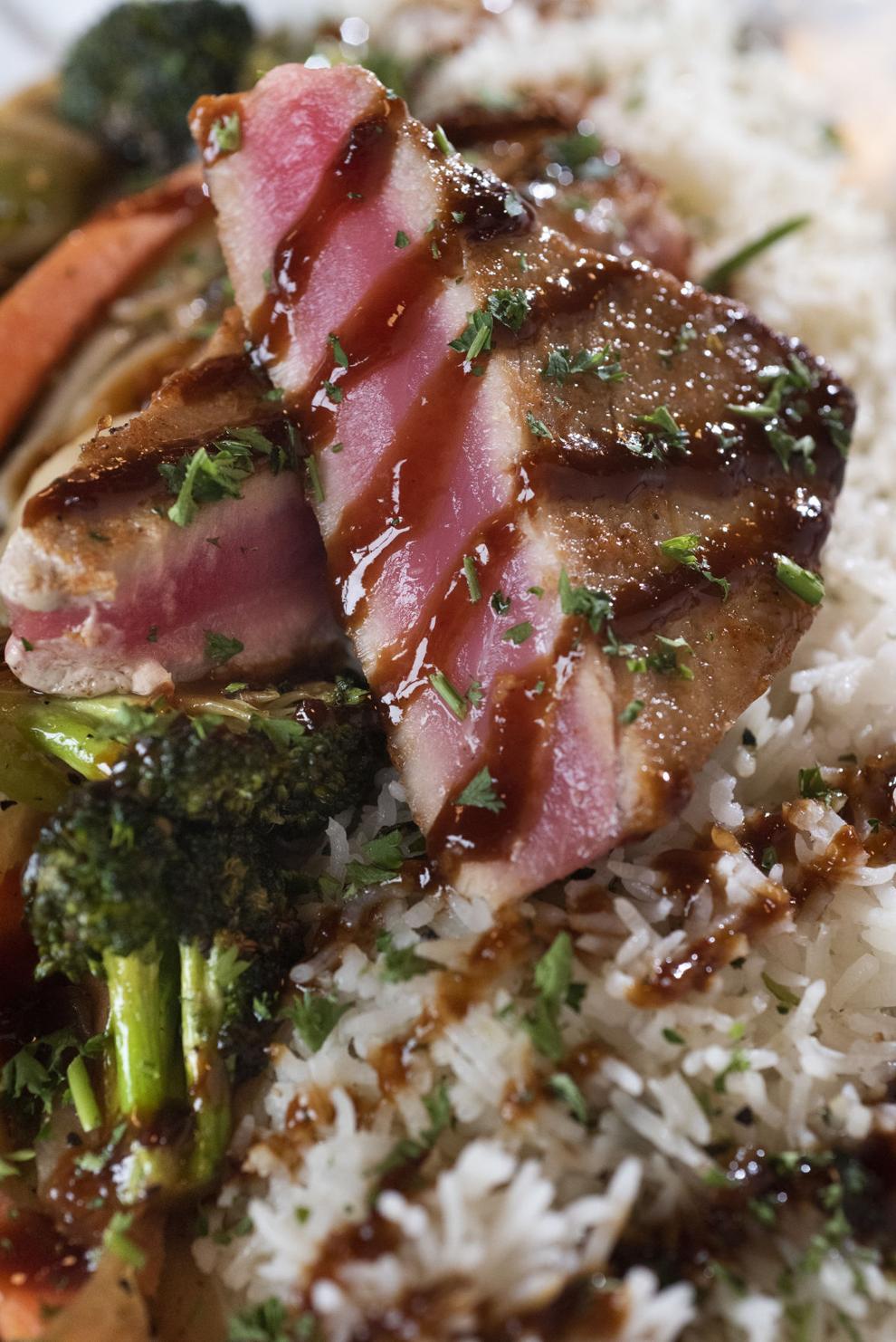 On my first visit, I tried the ahi tuna steak. The slab of ahi tuna, while thick, a big portion was overcooked and dry. It was served atop a heaping pile of rice and sautéed vegetables, but the flavors didn't match. The tuna steak was drizzled with the same Szechuan sauce that accompanied the shrimp appetizer and yet the rice and the vegetables had a Cajun flavor profile. Not to mention that the vegetables were hardly cooked. I bit into a slice of carrot that was so crunchy it seemed like it made its way directly from the ground onto my plate.
My guest who tried the Cajun salmon had similarly "cooked vegetables" on his plate.
The chicken and waffle was also a bit of a disappointment. It was a large chicken breast that was fried well with a well-seasoned batter but it was drenched in an odd sauce. The menu describes it as a "house-made buffalo maple glaze" but to me, it tasted like duck sauce.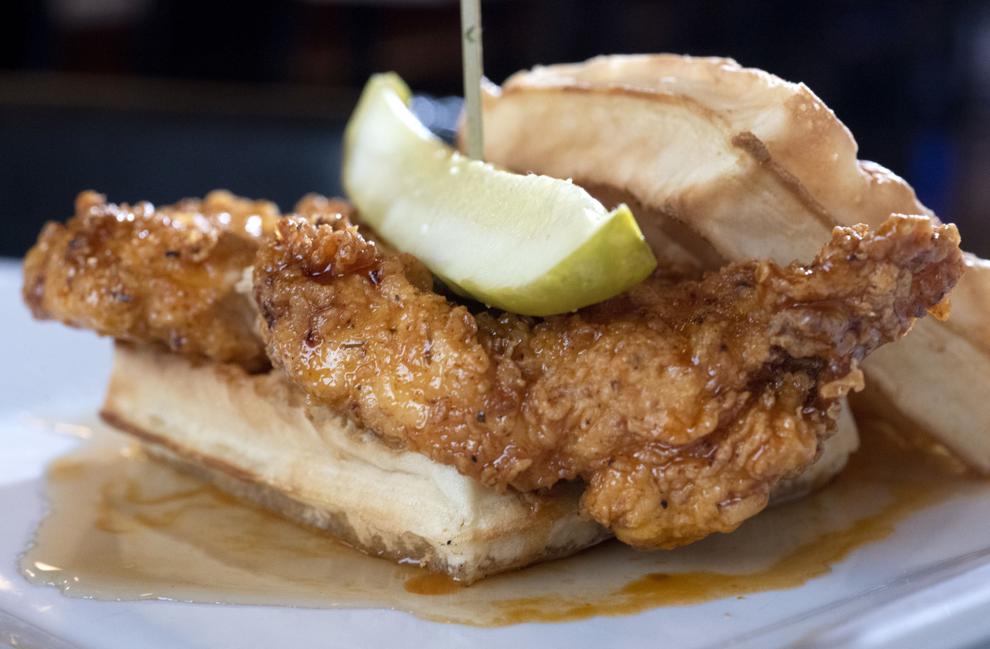 The maple flavor did not shine through and therefore the main attraction of what makes chicken and waffles great was lost. The waffles were also a little pasty and seemed like they had not been freshly made.
It's a shame that Distilled excels so far in one area and yet falls so short in another. I'm hoping that with time the food will improve because, in all honesty, it's a great place that has a lot of potential. My only long-standing gripe will be the location.
This is an establishment that would fit so well downtown, but at the same time, there's nothing like giving some love to parts of the county that are not downtown.
Regardless of the current state of the food menu, I will always highly suggest going for the drinks and reveling in the classiness of a great cocktail bar.
Katryna Perera is the food reporter and critic for the Frederick News-Post. A longtime "food enthusiast" she has taken cooking classes both domestically and internationally and is continuously following food trends and restaurant openings. She also briefly studied food reporting while attending Columbia University's Graduate School of Journalism.
Follow Katryna Perera on Twitter: @katrynajill; on Instagram: @kjp_eats.