One of the best balances a restaurant can find, in my opinion, is the ability to serve highly elevated cuisine in a welcoming space.
I think too often restaurants can earn a reputation of being pretentious or a place that is only reserved for very special occasions, therefore turning people off from dining there regularly because they feel it's unjustified.
Now of course, how pricey the restaurant is can play a factor in this but I think it's always nice to find a place where you can enjoy an elevated meal and feel welcome any day of the week, even if you don't have something special to celebrate.
The Wine Kitchen on the Creek in downtown Frederick hits this balance perfectly. Their menu is formal and refined but the space feels warm and familiar. The vibe is not stuffy but comfortable and I never felt out of place while dining there.
Now, the menu, I will not lie, can be pricey. A meal for two, depending on what is ordered, can end up costing upwards of $150 but at the same time, the Wine Kitchen offers some manageable options such as a Sunday brunch deal that will allow each person to order an appetizer and entree for $25.
There are also some fantastic beverage options. Lovely cocktails, none of which are too steep in price, and flights of top-shelf whiskeys and unique wines give diners a way to revel in some truly well-made spirits without emptying their wallets.
If you decide to visit the Wine Kitchen for dinner I suggest ordering the cheese and charcuterie board as your first course.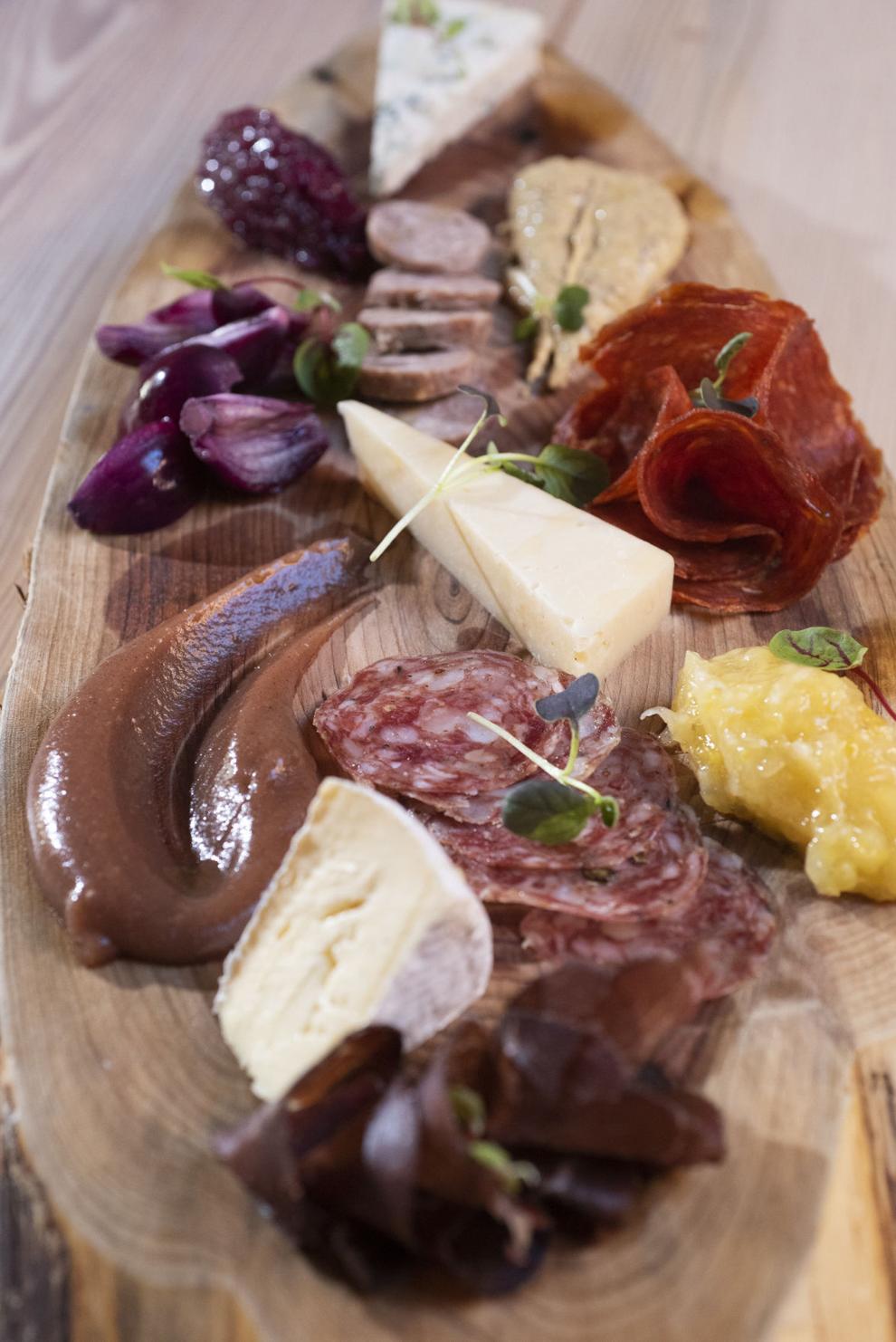 The selection of cheeses, meats and spreads are phenomenal and are served on a beautiful wooden board that looks like it was just cut off of a tree trunk. The wagyu beef bresaola was one of my favorites — melt in your mouth, thinly sliced meat without a lot of gaminess. The board also comes alongside a tin bucket of warm, light bread that has a lovely dusting of olive oil and salt.
The charcuterie board and the bread alone can fill you up pretty well so if you're looking for a smaller app to start off your meal I highly suggest the mini tuna tartare tacos. They are elegantly presented and I loved how colorful and bright the dish was. Bright red hard taco shells encapsulate pink cubes of tuna flecked with green scallions and topped with a cool green cucumber jalapeno relish. The three tacos gingerly sit atop a beautiful spread of lime avocado mousse.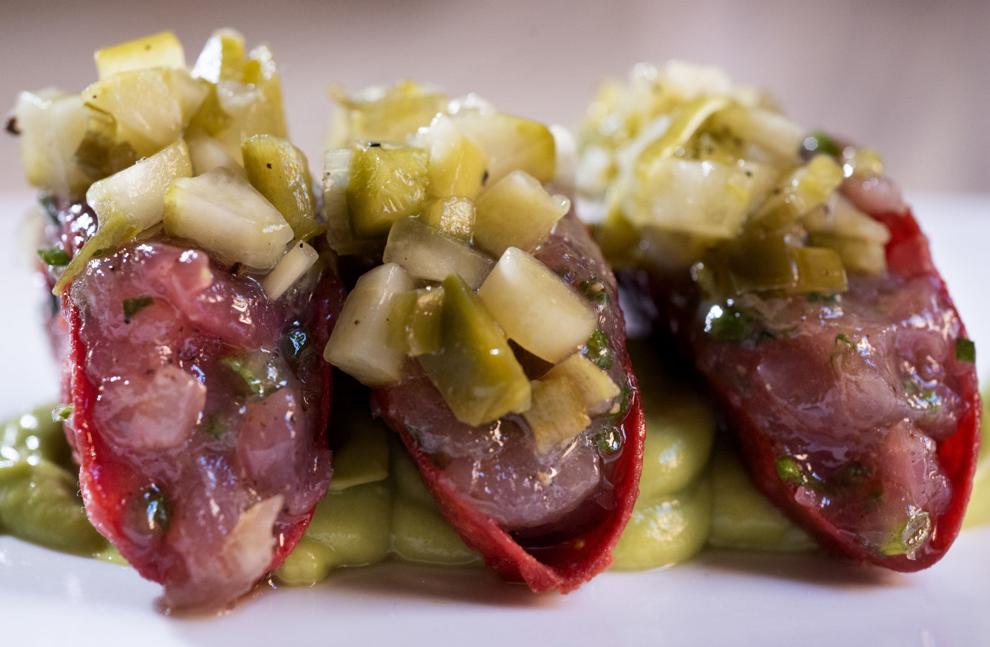 The tacos reminded me a lot of ceviche with less sourness. The tuna is fresh and slightly briny, the relish gives it a brightness and a slight kick of heat and the mousse is creamy and stabilizing. A perfect combination all around.
For your main course, both the chicken cassoulet and filet mignon are solid options.
The filet is quite standard, served with buttered green beans and carrots and creamy garlic mashed potatoes. I wasn't the biggest fan of the cafe de Paris butter that is served atop the steak. The flavor, for me, was a little too herby and was not very complimentary to the meat. I would have liked the steak to be a bit more seasoned or hold a bit more flavor. The butter was overwhelming but without it the steak was slightly bland.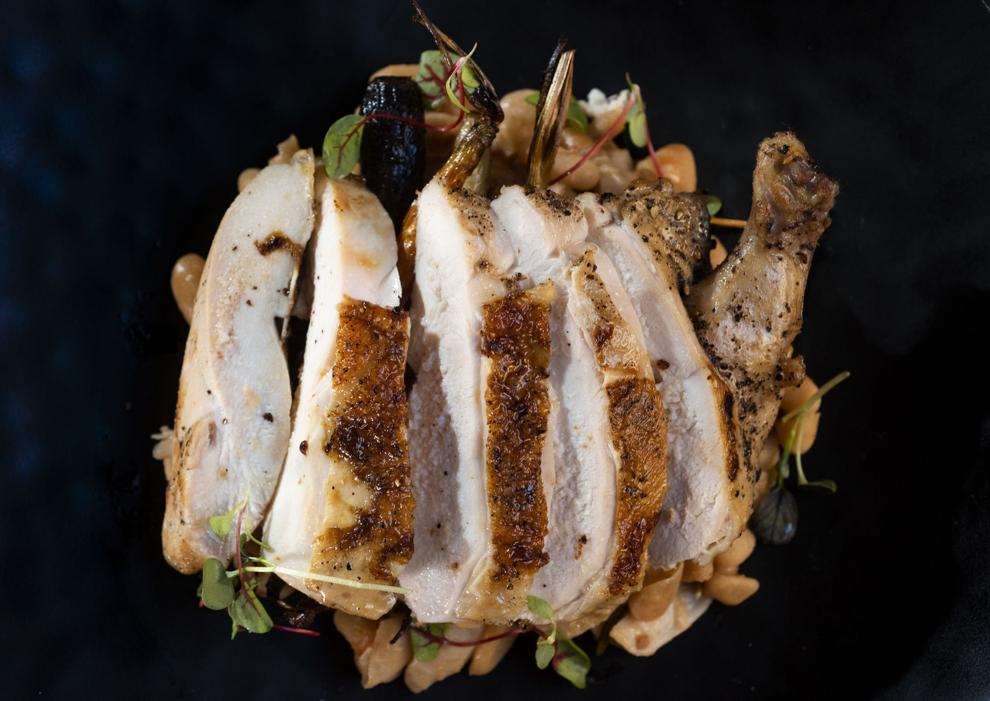 The chicken cassoulet, on the other hand, was bursting with flavor. Not only was the chicken breast cooked perfectly without any dryness, but the mash of white beans it was served over was one of the greatest accompaniments I've ever had with any meal. It had a lovely blend of Mediterranean and Middle Eastern flavors, and still just a little bit of bite.
The wagyu beef burger was a bit of a disappointment. If I'm paying for the high quality that is wagyu beef I want to really taste the meat — just like I did with the bresaola. The issue wasn't that there were too many toppings on the burger, it was that the toppings overpowered the flavor of the patties, which were also a little thinner than I expected. Cheddar, bacon jam, pickles and roasted garlic aioli are all wonderful burger toppings; but their flavors, I felt, were too strong all together and the burger ended up losing what made it special in the first place.
I was mostly delighted by the Wine Kitchen's dinner menu — until it came to dessert. As of now there are only three choices on the menu — a poached quince, a Maryland Swiss roll and housemade ice cream or sorbet. During both of my dinner visits, I opted for the Maryland Swiss roll.
I was expecting a spongey cake roll with light buttercream to come out and instead what I was served was as hard as a hockey puck. It was as if the roll has been immediately taken out of the refrigerator or freezer and put on a plate. All the Swiss rolls I've had in the past have been soft and airy and therefore I was perplexed by the Wine Kitchen's version. I feel it could have been heated up or thawed out just a tad to make it a little easier to work through with my spoon. Not to mention having a cold cake with cold ice cream is not exactly ideal.
Despite this dessert peculiarity, though, the Wine Kitchen continues to excel through their Sunday brunch menu. They offer a lovely selection of appetizers including warm, buttery, and cinnamon-spiced sticky buns as well as a beautiful, and once again colorful, baby beet salad with candied orange slices and a creamy, hot pink goat cheese mousse.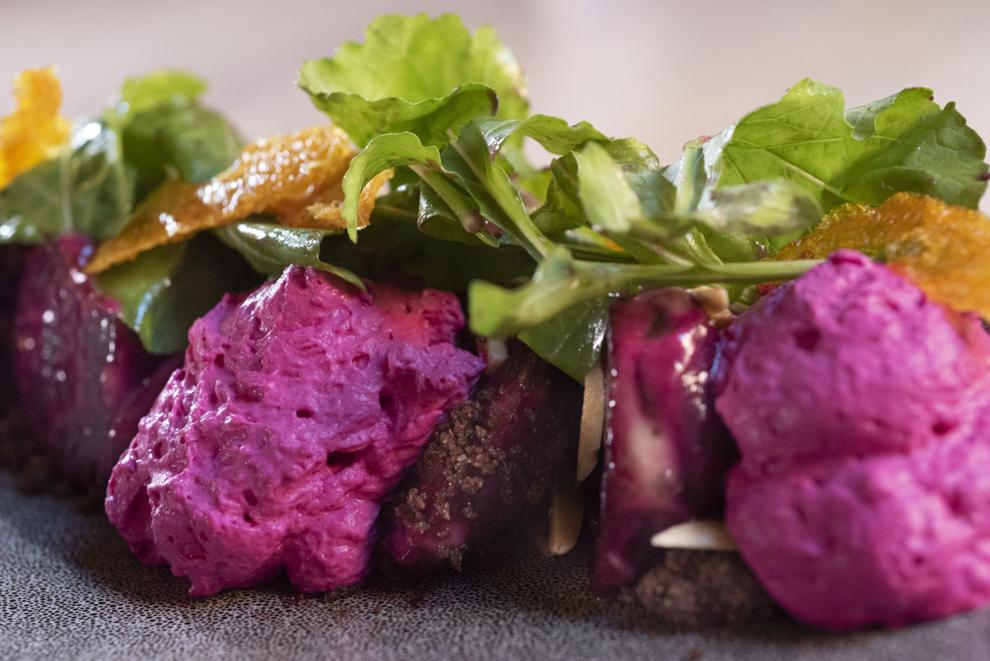 If you're looking for eggs, the cured salmon Benedict is a great choice. Salty smoked salmon comes atop challah toast with cream cheese and a smothering of hollandaise sauce. It's delicious. The only thing I would have liked to see is a little more greenery in the dish. Perhaps some chopped dill, a sprinkling of parsley, or even tarragon.
No matter what time of day you visit the Wine Kitchen you're sure to get some lovely food with a picturesque view. If you eat outside their outdoor tables are right next to Carroll Creek and with no roads nearby you feel as if you've found a little escape. As the weather gets colder, though, it might be hard to enjoy this, and I'm hoping the Wine Kitchen will invest in some outdoor heating lamps.
Katryna Perera is the food reporter and critic for the Frederick News-Post. A longtime "food enthusiast" she has taken cooking classes both domestically and internationally and is continuously following food trends and restaurant openings. She also briefly studied food reporting while attending Columbia University's Graduate School of Journalism.
Follow Katryna Perera on Twitter: @katrynajill; on Instagram: @kjp_eats.