In my opinion, there is nothing better for lunch than a really good sandwich. Sandwiches work for dinner too, don't get me wrong, but there is something so satisfying about having one midday.
It's the perfect self-contained meal that can be ordered quickly and eaten on-the-go, and there are so many varieties. You can really put anything on a sandwich.
There are a ton of places in Frederick to get a good sandwich, the options are truly endless, but one that I feel may be a bit overlooked is a.k.a. Friscos Restaurant & Catering Company.
First of all, it's in a bit of a random location but that's one thing I really love about it. Because unless you went seeking it out you would probably never stumble upon it. a.k.a Friscos is behind the Westview Shopping Center off New Design Road. It's essentially in the middle of an industrial park but stands tall in its own warehouse-style building.
The interior is like stepping into a Jimmy Buffett or Kenny Chesney music video. Beach and pier themed with palm trees and an ocean mural on the wall. The counter where orders are placed is a wooden shack in the middle of the space. The roof is lined with beer tap handles, which reminded me of pegs of a ship's wheel.
With the current COVID-19 restrictions in place there are only a few tables inside, but some picnic tables are set up outside adjacent to the restaurant. a.k.a. Friscos offerings, though, work perfectly as carry-out meals and I ordered all my meals to-go.
There are a ton of sandwiches on the menu and most are named after iconic San Fransico locations, neighborhoods or sights.
If you're looking for the perfect light sandwich for lunch I suggest ordering the Alcatraz. Thinly sliced turkey breast with fresh slices of avocado and tomato, a piling of sprouts, and a touch of honey mustard is all sandwiched between two slices of sourdough bread.
The sandwich is bright and refreshing and is probably one of the more healthy options on the menu. The honey mustard adds a lovely hint of sweet and the avocados give it a bit of creaminess. The sourdough however was a little bit disappointing. It was a little dry and there wasn't as much as tang as I would have liked.
If you want a sandwich that's a little meatier go for the Friscos steak sandwich. It is literally a slab of steak served on a grilled sourdough roll. The steak was seasoned well with bold notes of paprika, chili powder, and maybe a little cumin. The toppings are simple — lettuce, tomato, onions and provolone — and there was a ton of lettuce. Like enough lettuce to make it into a salad.
This overabundance of lettuce seemed to be a trend with a lot of Frisco's sandwiches and I'm not sure what the intention is. Maybe they want you to make the leftovers into a salad, I'm not sure, but I felt it was unnecessary and wasteful as I ended up throwing a lot of it out.
If you're more of a lunchtime salad instead of sandwich person go for the Pacific Heights salad. This is essentially an Italian sub in salad form and boy is it scrumptious. I'm usually not really a fan of Italian-style salads that have salami and other cured meats in them but I really enjoyed a.k.a Frisco's version. On top of a bed of mixed greens come diced salami and soppressata, mozzarella, parmesan, olive relish, a house-made salsa, pepperoncini, and an oil and vinegar dressing.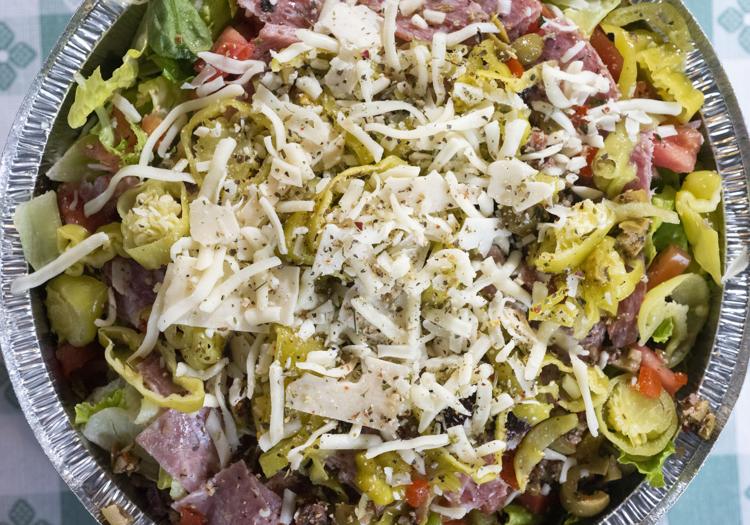 There are so many flavors happening in this salad but what really comes across is the sourness and acidity of a great Italian sub.
If you want a side to go with your sandwich or salad ditch the old boring accompaniment of chips and instead go for a.k.a Frisco's signature exploded potatoes.
You can order them in three sizes — small, medium or large — and the reason I'm mentioning this is because the small is the absolute perfect size for a side. It's a little cup that probably only holds a few bites but is enough to give you what you are looking for.
The best way I know how to describe these exploded potatoes is that they're like a combination of mashed potatoes and a loaded baked potato. a.k.a. Friscos describes it as their "hot potato salad" which is also a pretty accurate description. Slightly chunky mashed potatoes come combined with bacon bits and scallions and lots of flavors. It is absolutely fantastic and very comforting.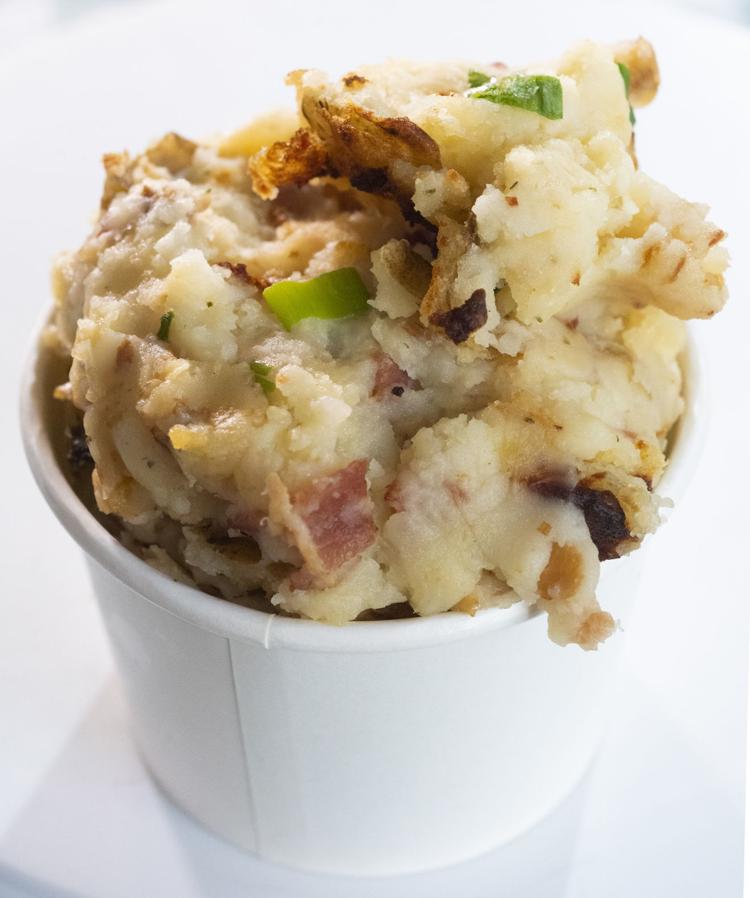 a.k.a Friscos also serves up some fantastic beef and bean chili topped with cheddar cheese and diced red onions. Lots of spice and a little bit of heat come together in this side order that I imagine will be a hot commodity as the months get colder.
Overall, it's a fun little spot with a lot of variety and fun flavor combinations on the menu. They also have a very large beer and wine section adjacent to the restaurant space with lots of craft beers and international wines available for purchase. It's literally a sandwich shop and liquor store all in one and I can't think of a better hybrid.
If you haven't tried a.k.a friscos and are looking for a new lunch spot it is definitely the place for you. It's fun, it's inviting, the food is packed with flavor, and while you're waiting you can stare at the sunset painting on the wall and imagine sandy beaches and escape to paradise, even if just for a few minutes.
Katryna Perera is the food reporter and critic for the Frederick News-Post. A longtime "food enthusiast" she has taken cooking classes both domestically and internationally and is continuously following food trends and restaurant openings. She also briefly studied food reporting while attending Columbia University's Graduate School of Journalism.
Follow Katryna Perera on Twitter: @katrynajill; on Instagram: @kjp_eats.