When people around the state of Maryland ask where to find good Jamaican food, I bet it's rare they are told to check out Frederick. Who would think to come so far north, to a landlocked area bordering West Virginia and Pennsylvania to find the cuisine of the famous Caribbean island?
But oddly enough, it's here in the county and has been for quite some time — and now it's expanded.
Jerk N Jive Caribbean Kitchen, which started as a small carry-out spot on East Street in 2017, has now opened a second location off South Jefferson Street and expanded to a full-service sit-down restaurant.
Dining there this past week was beyond pleasurable. The fun, tropical interior with palm-green painted walls and reggae bumping through the overhead stereo was a welcome distraction to the bitter cold outside.
The new location, which has the slightly different name of Jerk N Jive Bar & Kitchen, is an expansive space with plenty of seating options, a long bar, and a private room that larger parties can rent out.
Stepping into the restaurant kind of feels like stepping onto an all-inclusive resort and the menu offerings and drinks only deepen that feeling.
I stuck to ordering the traditional Jamaican entrees during my visit because, let's be honest, it's hard to find this kind of food anywhere else nearby.
The cocktail patties are a must-order for an appetizer. You might know them as "Jamaican patties"— little golden turnover pastries stuffed with minced meat and spices. I tried the beef but Jerk N Jive also offers chicken and vegetable fillings.
The patties are perfectly flaky and savory and are not a heaping appetizer that will fill you up before your main course. They are the perfect little bite to get you started.
For a main course, the curry goat or jerk chicken are two solid choices. The curry goat is incredibly flavorful and aromatic with a strong, deep curry powder profile. The meat is ridiculously tender and falls right off the bone and mixes in perfectly with either plain white rice or rice and peas, both of which are an option for diners.
For those unfamiliar with Jamaican cuisine, rice and peas is a staple dish of the island. Think of it as the Jamaican equivalent of Spanish-style rice and beans that are served as customary side dishes. It's often cooked with coconut milk, garlic and thyme and the "peas" are often a red or dark bean, like kidney beans. It's mushy and warm in all the right ways and goes with everything.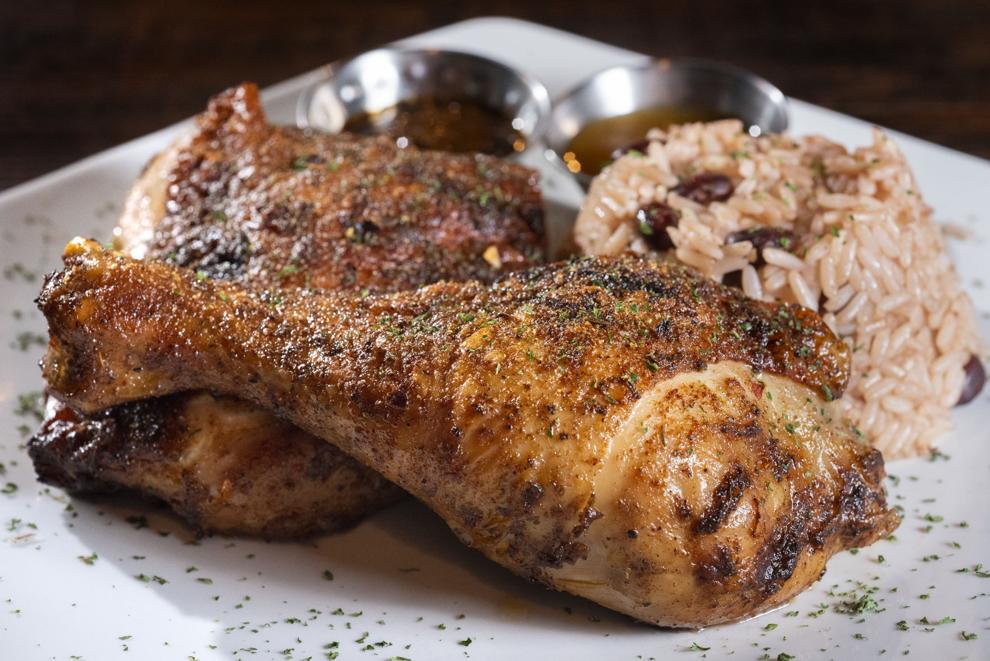 The jerk chicken is a good quarter to half portion of chicken oven-roasted in lovely jerk spices that give off flavors of cinnamon, cloves and allspice. I was a bit disappointed to find that the jerk season wasn't as spicy as I have tried in the past and didn't give off a deep pepper flavor but it was still delicious and a great showcase of Jamaican flavors.
If you want something that really gives off some island vibes go for the coconut shrimp. I'm not the biggest coconut person but I found myself thoroughly enjoying this dish. Plump shrimp are cooked in a savory blend of spices and then dropped into a silky and thick coconut-cream sauce that is served with rice and topped with shredded coconut and scallions. It had that perfect sweet-coconut flavor and the scallions gave it a punch of brightness and acidity.
Each entree is also served with a choice of two sides along with rice — it's so much food! Any of the sides are worth it but some of my favorites were the fried plantains, the sauteed spinach and the macaroni and cheese.
Jerk N Jive's new location also serves up a fun brunch on the weekends. There's a refreshing mango mimosa on the brunch drinks menu as well as some traditional entrees with a spin such as jerk salmon and eggs, and a breakfast sandwich served on coco bread — a staple carb of the Caribbean made with coconut milk that is starchy and slightly sweet.
But if there is one dish on the brunch menu that is a must try it's the ackee and saltfish. Often called the national dish of Jamaica, this dish is for anyone who is willing to ditch the traditional eggs and waffles for breakfast and try something different. Ackee is a native fruit of West Africa but was brought to the Caribbean in the 1700s and is now the national fruit of Jamaica. There are inedible portions of the fruit that can be fatally consumed if eaten but for this dish the safe parts are chopped up and sauteed with salty and briny pollock, onions and bell peppers. It is truly one of the best things I've ever eaten and I will definitely be returning often to Jerk N Jive to get my fix of this wonderful breakfast meal.
For something sweet after lunch or dinner, or even brunch — who am I to judge? — go for the Caribbean rum cake. A traditional Jamaican dessert, the texture and density are somewhere between a pound cake and a Victoria sponge. It is light and bouncy and has definitely been soaked in a good amount of rum. There is a sweet rum glaze on the side and the cake can be served "a la mode" if you wish.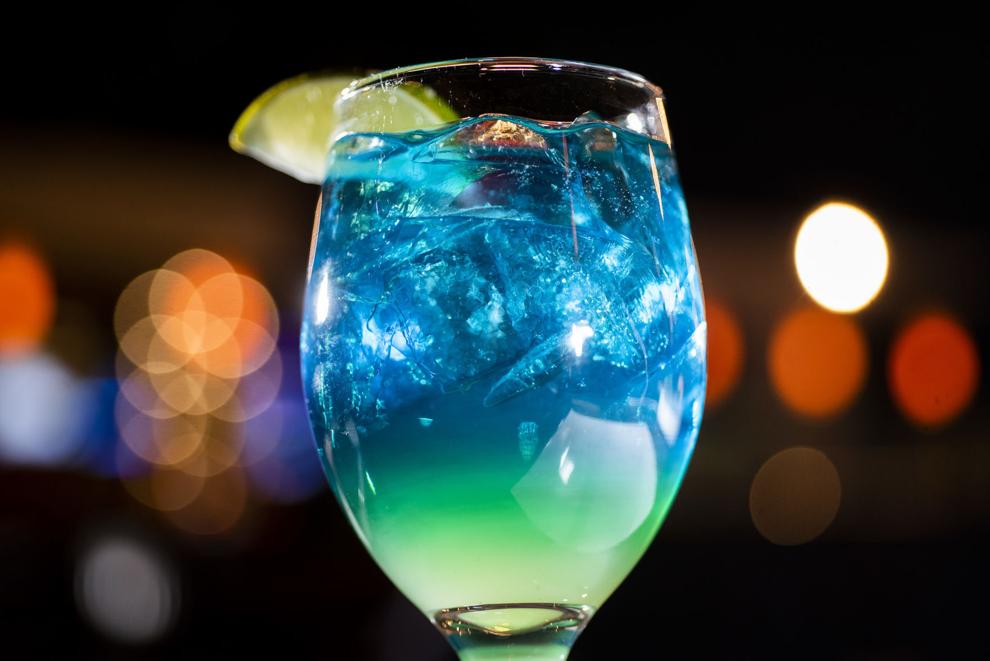 There are also a ton of tropical drinks to try at Jerk N Jive and the bartenders at the new restaurant are chatty and welcoming. The Marley mojito and jive juice were two of my favorites and there are even some blended frozen drinks if you really want to pretend that you're on a white-sand Jamaican beach.
For long-time fans of Jerk N Jive who have not yet tried the new location, I implore you to do so. Sure, it's a little more upscale and the vibe is different but the food is just as good, if not better. In this case expansion has embraced the family-run business well and I hope to see them continue to succeed.
And more than anything, I hope they become a well-known spot for Jamaican food throughout the state.
Katryna Perera is the food reporter and critic for the Frederick News-Post. A longtime "food enthusiast" she has taken cooking classes both domestically and internationally and is continuously following food trends and restaurant openings. She also briefly studied food reporting while attending Columbia University's Graduate School of Journalism.
Follow Katryna Perera on Twitter: @katrynajill; on Instagram: @kjp_eats.