As the pandemic has waned on, the food scene in the county has dramatically changed. Favorite spots like Shamrock Restaurant and Cakes to Die For have permanently closed while newbies like Tsunami Ramen and Truth and Beauty Bar have opened.
Others have done a makeover and reopened with new names and concepts to better fit with the modern-pandemic dining culture that has been placed on all of us.
Maxwell's Burgers & Shakes, formerly known as Maxwell's Kitchen, did just that. After shutting its doors in March, the downtown establishment reopened in late summer with a new menu.
In pre-pandemic times the restaurant was a sit-down affair, offering dishes such as chicken jambalaya and brisket. But when the virus came, staff quickly realized that their menu was not take-out friendly. So, they changed it up and decided to focus on one popular item – their hamburger.
Today, Maxwell's is an upscale burger joint. While there are still a few tables in the space, every item can easily be whisked out the doors of the restaurant in a bag. The menu focuses on five burgers and one chicken sandwich. And as with most burger spots, there is the option to build your own. But if you really want to revel in what Maxwell's can do, try one of their highlighted burgers.
The wagyu burger, in particular, was one of my favorites. A 7-ounce wagyu patty, cooked to your liking, rests on a brioche bun with blue cheese, pickles, lettuce, tomato, crispy shallots and truffled horseradish.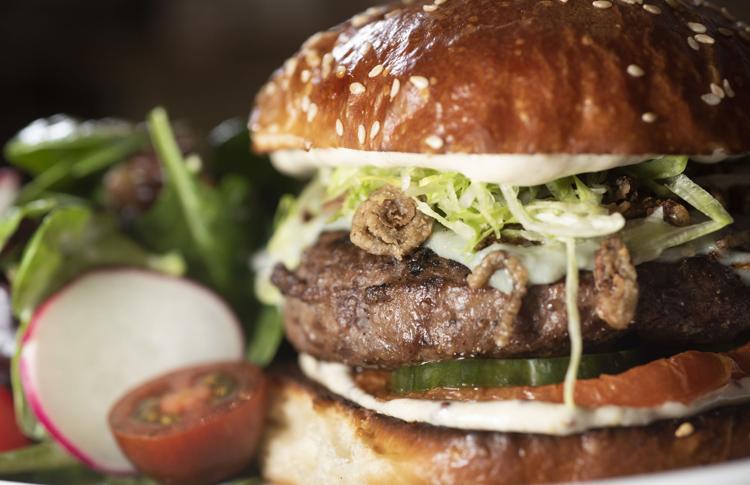 I was worried about how dominant the blue cheese would be and if it would kill the rest of the burger. Instead, I found one of the savoriest flavor-profiles imaginable with the blue cheese giving off a complex, rich sharpness — more similar to gorgonzola — than its normal moldy, sour taste. Maxwell's wagyu burger really reminded me of a perfect Mediterranean style lamb burger. It was welcoming and strong with a touch of heat and bitterness.
If you're looking for something a little less flavor-complex try the large Maxx burger. This is a pretty standard burger with two beef patties, cheddar, all the usual fixings, and the restaurant's house-made "Max sauce" which tastes like a combination of Thousand Island dressing and Chik-fil-a sauce. The sauce adds a bit of fun to the burger but otherwise, there is nothing particularly interesting about it. And one disappointing element was that the beef patties are cooked well-done whether customers like it that way or not.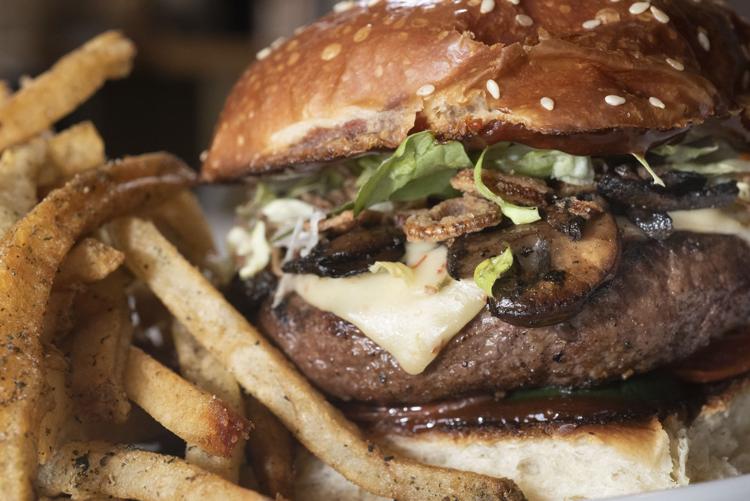 The steakhouse burger — a 7-ounce Angus beef patty that can be cooked to one's preference — tastes exactly like it sounds, with lots of barbecue sauce, pepper jack cheese, and sauteed mushrooms. My only piece of advice with this burger is that you better really like these flavors. It is essentially a barbecue burger and if you're not a barbecue person the taste can become too rich after just a few bites.
As with many restaurants in Frederick that I've tried over the past year, Maxwell's had an unexpected superstar on their menu, which turned out to be my favorite item.
Maxwell's beet burger is a must-try. I'm finding more and more that beets are incredibly versatile and can be used in everything from salads to desserts, and now burgers. The unassuming root vegetable not only adds a beautiful pop of color to everything but can offer an incredible variety of textures and tastes.
In a recent Facebook post, Maxwell's gave some behind-the-scenes pictures and info on how they craft this "impossible" burger.
Shredded beets are combined with kidney beans, walnuts, oats, rosemary and garlic to make a thick and solid patty, which maintains its shape while eating. The burger is topped with goat cheese, a "beet bacon," and pickled onions and lettuce, but all the flavor really comes from the patty. Upon my first bite, the texture and juiciness immediately reminded me of a pulled pork sandwich. But the burger flavor was there — salty, savory, lots of umami.
The amazing thing about the patty, though, was what came through as you kept chewing. After the initial "meat" flavor wears off, the lush sweetness of the beets come through, coupled with a soft tang, a combination that reminded me of any good barbecue sauce.
This fully-vegetarian burger is simply amazing and will be one that I continue to order at Maxwell's in place of a traditional one.
All burgers come with a choice of side — regular fries, sweet potato fries or side salad. The fries seem to be tossed in a sprinkling of herbs. Although pretty to look at, the flavor was barren and salt was lacking. A better side was the macaroni and cheese. Perfect al-dente spirals of cavatappi pasta are held together in a stringy, gooey blend of what seemed to be cheddar and American cheeses. Maxwell's hits the perfect center between baked and stove-top mac. Every bite made me feel like I was sitting by some warm fireplace with a blanket wrapped around me. And the exquisite topping of toasted breadcrumbs just adds to the rich, deep flavors of this otherwise simple dish. Maxwell's milkshakes are also a must-try. Creamy and thick with a tower of whipped cream, they are a perfect accompaniment to any burger. Not to mention, those 21 and older can opt to get whiskey blended into their shake for a reasonable surcharge of $7.
The only burger I didn't get to try but hope to someday was the Tuna burger. The pictures look tempting with big grilled slices of pineapple and flecks of cilantro. But I suspect it must be delicious based on not only the quality of the other burgers, but also because the it was sold out every time I visited Maxwell's.
Whoever came up with the idea to re-do Maxwell's with this new simple and casual concept hit the nail on the head. It sits just above a typical greasy burger spot, but still has somewhat reasonable prices and offers the ease of take-out.
One of the few lingering gripes I have, though, is the restaurant's hours. For people like myself, who tend to eat dinner on the later side, a closing time of 8:30 or 9 p.m. most days can be tough.
But regardless, I hope the makeover will equate to longevity for Maxwell's and that they never take the beet burger off their menu.
Katryna Perera is the food reporter and critic for the Frederick News-Post. A longtime "food enthusiast" she has taken cooking classes both domestically and internationally and is continuously following food trends and restaurant openings. She also briefly studied food reporting while attending Columbia University's Graduate School of Journalism.
Follow Katryna Perera on Twitter: @katrynajill; on Instagram: @kjp_eats.