I've slowly started to realize that Frederick's own Golden Mile is a treasure trove for good, diverse food. Downtown Frederick most often gets that distinction but the Golden Mile is growing and little gems are popping up all over the roughly 2-mile long strip.
A good example is Taj Mahal Grill & Bar, a new Indian restaurant that opened just adjacent to Warehouse Cinemas.
It's a bit of a random location, it's all by itself, almost enveloped by the vastness of the once popular Frederick Towne Mall. But as I learned while dining there over the Christmas holiday and into the new year, Taj Mahal is a quiet oasis with friendly faces tucked away from the rest of the hustle and bustle of the Golden Mile.
The restaurant is decorated in colors of burnt orange and yellow with a sleek and polished wooden bar illuminated by lit-up shelves of liquor, beer and wine bottles.
The booths, while comfy, are quite cramped. The first time I visited I noticed how little space there was between the actual booth chair and the table and I practically had to slide laterally in and out. It's almost as if they tried to cram as many tables in the restaurant as possible. Good for maximizing your space but bad for customer comfort.
There is a long buffet table as soon as you enter the space — something that is emblematic and customary of most Indian restaurants but I assume its steel containers have not been warmed in some months due to the pandemic.
No matter though, one can still get delicious eats off the a la carte menu.
I'm going to suggest you start your meal — whether dine-in or carry-out, the restaurant offers both — with the samosas. It's such a basic, well-known Indian appetizer but Taj Mahal shows off what makes these little pockets of potatoes and peas so popular.
The potatoes are mashed down and cooked to the perfect point of softness with a few scattered peas and an array of spices. They were savory and aromatic and paired beautifully with either the tamarind or cilantro chutney that you automatically get on your table when dining in. Not only was the taste on-point but the samosas were stuffed to the brim leaving literally no gaps and only the corners where the pastry comes together were absent of the stuffing.
Another appetizer option is the lamb seekh kabab. Minced lamb mixed with onions, ginger, garlic and other herbs is put around a stick and grilled. It reminded me a lot of Middle Eastern koobideh kababs with a more Indian-centric flavor.
For the main course, Taj Mahal's menu is your oyster. There are so many things to try but the biryanis are a must-order for a true Indian feast.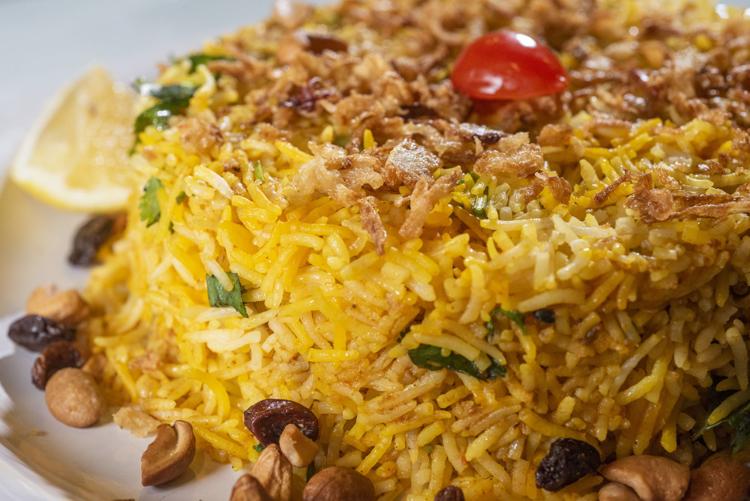 I tried both the chicken and lamb biryani and both were exceptional. The rice is strong in flavors of masala and chili and the lightly fried onions served on top give it the perfect bit of texture. Both the chicken and lamb was tender and juicy and the pieces were just the right size where you could either eat them in one bite or cut them up with your utensils and mix them in. There was also a light sprinkling of raisins and chopped nuts. I think they might have been cashews, so be warned to those who have related allergies.
For vegetarian curries the dal tadka or the saag paneer are both solid choices. The dal is large yellow lentils cooked down until they are creamy and soft with a fragrant blend of onions, cumin, mustard seeds, chilis, tomatoes and cilantro. It's a comfort curry if there ever was one. Not only does it go well with biryani but it would be a perfect simple meal with some naan bread — plain, butter or garlic. The soft, pillow-like dough is perfect to sop up the mushy, thick dish.
If you're looking for some greenery in your meal the saag paneer does the job. Blended down spinach cooked with cream is peppered with cubes of paneer cheese. Traditional creamed spinach holds nothing to this dish which is ever so slightly sweet from the cream and the chunks of paneer, which have a density and texture similar to tofu, giving it extra pizzazz. The dish can be ordered multiple ways with everything from chickpeas to tomatoes but my favorite is with the paneer.
My fellow meat-eaters out there don't worry I haven't forgotten about you. I am normally not one to praise butter chicken because it has become such an Americanized Indian dish but Taj Mahal serves it up in a way that even I can't resist.Everything that makes butter chicken delicious is at Taj Mahal. A beautiful blend of tomato and cream with a lovely milky sweetness, I like to call this dish the vodka sauce of Indian cuisine.
The only aspect of Taj Mahal's butter chicken that fell short was the chicken itself. The pieces just didn't seem fresh. They were uniform chunks that almost seemed like they had been stored to simply drop into the curry at a moment's notice.
For those a little more adventurous, try the goat curry. It pairs very well with any biryani, although I was slightly disappointed by its flavor. Curry powder has a deep and intense smoky flavor to it and it just wasn't coming through enough for me. The meat was as tender as could be, though, just watch out for bones.
If you're someone who likes a little sweet note to end things, order the rice pudding.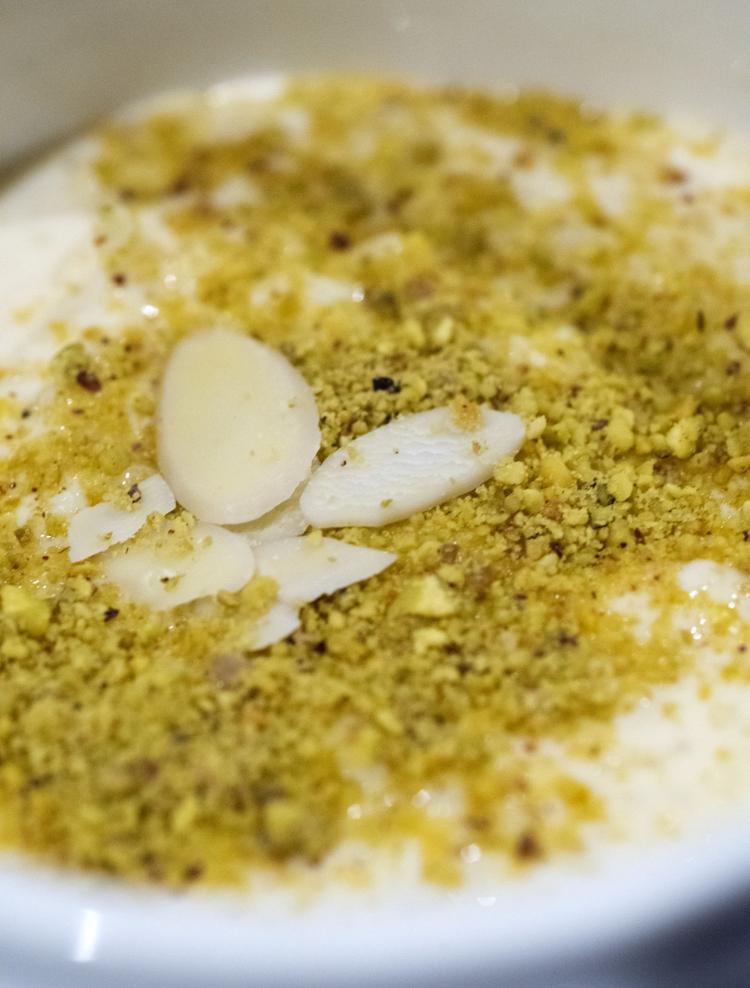 I know more rice, but trust me, it's worth an extra push-up or two. It's a cold and creamy dessert flecked with notes of cinnamon, cardamon and rose water, and Taj Mahal tops it with some sliced almonds and chopped bits of pistachio. It really doesn't get better than that and Taj Mahal pulls off all the basic tenants of what make this dessert so unbelievably satisfying.
Taj Mahal really is a bit of an oasis in my mind. Comforting and delicious food in an isolated location with the friendliest staff. When a guest of mine ordered a mojito and the staff realized they were out of mint they told us someone would go out to fetch some immediately. Of course, we told them not to worry about it and my guest alternatively chose a glass of wine, but when has a restaurant ever offered to send someone out for an ingredient just to make sure you get what you want? That's customer service right there.
The prices are also amazing. One can easily feed a family of four for less than $100 and have plenty of leftovers. A single person can also easily dine for $10 and have leftovers. It's a win for all.
So, whether dining in or carrying out, I highly suggest Taj Mahal as a new place to try or one to add to your list of go-to Indian restaurants in the area. The Golden Mile has proven once again to be a destination for good food.
Katryna Perera is the food reporter and critic for the Frederick News-Post. A longtime "food enthusiast" she has taken cooking classes both domestically and internationally and is continuously following food trends and restaurant openings. She also briefly studied food reporting while attending Columbia University's Graduate School of Journalism.
Follow Katryna Perera on Twitter: @katrynajill; on Instagram: @kjp_eats.