There are some days when you just want a really good burger. You know what I mean?
You just want that feeling of biting into a thick, juicy patty with all the fixings while getting some oil or ketchup on your hands and just be totally satisfied by the awesome creation that is the hamburger.
What I found over the past few weeks is that you can get that feeling and that satisfaction from Magoo's Pub and Eatery in downtown Frederick.
The little Irish pub, tucked away from North Market Street, serves up a pretty awesome burger. It's not overly fancy but it's not fast food either. The perfect amount of care is put into crafting it. It's big and savory and doesn't leave you feeling overly stuffed at the end.
Magoo's serves up a variety of burger options. There is everything from a classic cheeseburger to what Magoo's calls their "7 Deadly Sins" burger which is topped with cheddar, bacon, onion rings, jalapenos, barbecue sauce and relish.
There's also a lamb burger and a black bean burger. For me though, the best was the bacon cheddar burger. Just a little upscale from the classic but it still allows you to taste the freshness of the ground beef patty.
Magoo's seems to be a pretty standard Irish pub. The decor includes stringed green lights, Irish flags, four-leaf clovers and Guinness signs. But there is something about it that makes you feel like the space is yours. Maybe it's the friendliness of the staff, the way they greet customers new or old as if they are good friends. Maybe it's the polished but slightly worn look of the bar — which is warm and makes you want to sit and sip on a beer for hours.
Or maybe it's the food, which is homey and comforting.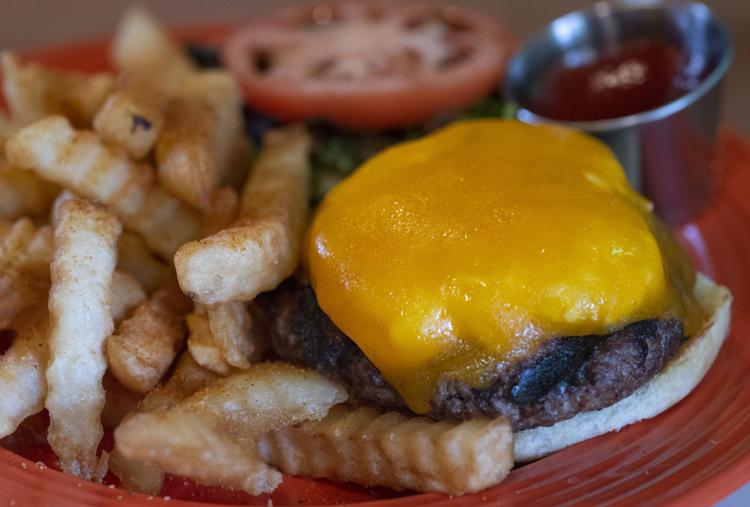 For the small size of the pub, the menu is vast. Magoo's serves more than 15 different sandwiches along with salads, pizza, quesadillas, a variety of appetizers and larger entrees.
The entrees are emblematic of more traditional Irish fare including fish and chips, bangers and mash, shepherd's pie, and a full Irish breakfast. The pub also does a Dublin Sunday Roast — only on Sundays of course — which includes a choice of chicken or roast beef along with Yorkshire pudding, roasted potatoes and vegetables, and gravy.
Besides the burgers, I was most impressed with Magoo's fish and chips. Being an Irish pub, I would think, puts on a high expectation for the quality of the fish and chips.
Magoo's entree comes with two large pieces of beer-battered cod atop a heaping pile of Old Bay seasoned fries. It comes with sides of tartar sauce, ketchup, coleslaw and vinegar.
The fish was perfectly crispy and the batter was delicious. It was not overdone and the pieces were thick. It was so good that I almost wish Magoo's gave you three pieces of fish instead of two. And if that meant a higher price, I would pay it because I'm not sure where else in the county one could find such a delicious combo.
I also tried the shepherd's pie and Guinness lamb stew, both of which were tasty. The Guinness lamb stew is a perfect meal for a cold day. Big chunks of lamb sit in a thick and savory stew of white onions, carrots and potatoes. The bread served alongside the dish is perfect for mopping up the stew and making sure not one drop is left behind.
The shepherd's pie, while tasty, I felt could use some improvements. I'm a big fan of shepherd's pie and often make it myself during the winter months.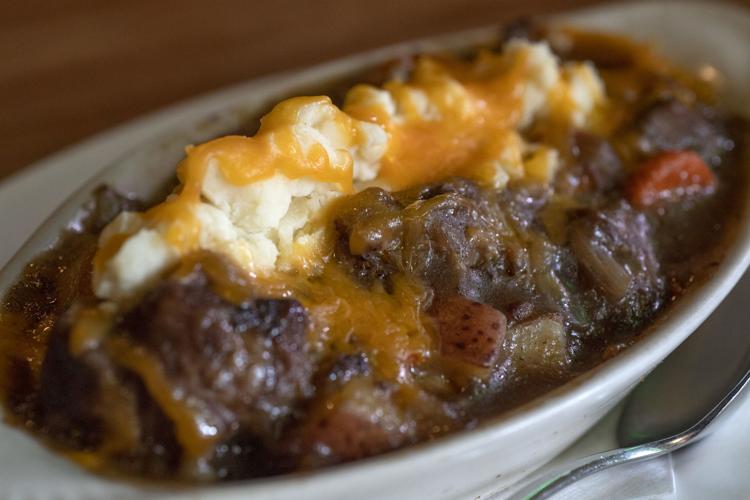 I was surprised to find that Magoo's didn't serve theirs with ground meat, as is typical of the dish. Instead, what came under the traditional topping of mashed potatoes was the same Guinness lamb stew. It was disappointing to not see the pub serve up their own version of a very traditional Irish dish and instead simply take the lamb stew and top it with some potatoes and call it a day.
Besides the entrees, I was also impressed with the "Gallagher's Gaelic Boxty." The base of the dish is a large, circular potato pancake. The pancake is then topped with everything from grilled duck breast to Irish bangers and apples.
I tried the grilled duck breast and it was bursting with flavor. It had caramelized onions and mushrooms and reminded me of a very thick stroganoff sauce. The duck breast chunks were large and tender and the whole meal was salty and wholesome. It is also big enough for one person or can easily be shared by two to three people as an appetizer.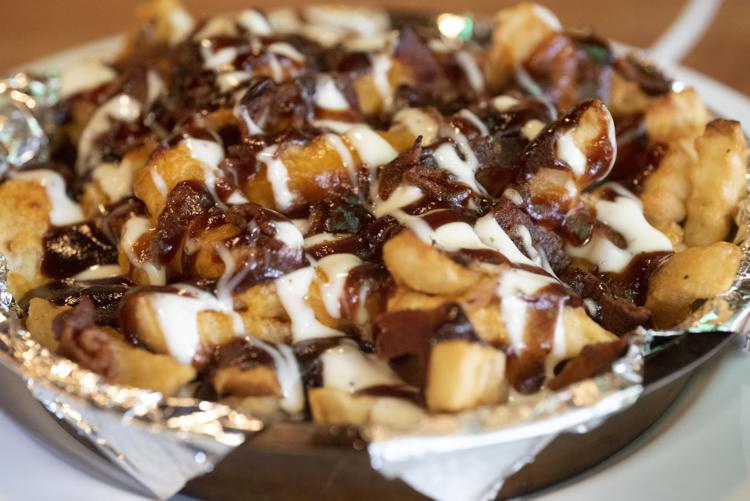 Overall, Magoo's serves up some great pub food, something that I think is hard to come by in the county. There are plenty of bars, sure, but there is something specific about homey pub food that Magoo's has that other places don't. And once the pandemic subsides I hope to find myself sitting at the bar, chatting with the staff, enjoying long sips of a cold, tall glass of Guinness.
Katryna Perera is the food reporter and critic for the Frederick News-Post. A longtime "food enthusiast" she has taken cooking classes both domestically and internationally and is continuously following food trends and restaurant openings. She also briefly studied food reporting while attending Columbia University's Graduate School of Journalism.
Follow Katryna Perera on Twitter: @katrynajill; on Instagram: @kjp_eats.