Over the past few years, I've noticed that poke has become an increasingly popular food in mainland U.S.
Originally from Hawaii, poke has been around since at least the 1970s and is considered a mainstay of native Hawaiian cuisine, but it's transcendence into mainland U.S. food only seemed to begin in the early 2000s. Today, citizens across the nation love it for its bright flavors and even brighter appearance. Instagram accounts boast colorful bowls filled to the brim with fresh ingredients.
For those unfamiliar with poke, it is essentially diced sushi served either as an appetizer or a main entree. As an appetizer it usually comes tossed in a marinade with a few toppings but as the main entree it is most commonly served in the form of a bowl. Think of Chipotle and the build-your-own type of dining that has reigned in recent years and apply it to sushi. That's how most poke bowl places operate, including a spot in Frederick ironically called "Poke Bowl".
The fast-casual restaurant in the Westview Promenade shopping center off of Buckeystown Pike serves up a variety of bowls and burritos. Hold your questions on the burritos, we will get to those in a bit.
On Poke Bowl's menu there are a few pre-set options but customers can build their own bowls with their own choice of fish and toppings.
For most bowls the base is white sushi rice but Poke Bowl offers a variety of base options including brown rice, mixed greens or ramen noodles.
The most common proteins are ahi tuna, salmon, and yellowtail, but if you don't like sushi there's still plenty of options. Poke Bowl offers cooked or tempura-style shrimp, fired tofu and even tempura-style chicken. Plenty of options for every taste.
Toppings range from sliced cucumber to asparagus to masago (fish eggs) and diners can choose as many or as little as they want for one price. The only surcharge comes with avocado as a topping, which will cost you an extra $1.50.
If it's your first time visiting and you're not sure what to get or if poke is just a totally new food for you, I recommend two options — the house classic bowl or the spicy rainbow bowl.
The house classic is a great introduction into everything that Poke Bowl does well for a great price. Normally, if you build your own bowl, two proteins will cost you around $15. For this same price, with the house classic you automatically get four proteins — ahi tuna, salmon, cooked shrimp and yellowtail. The bowl is then topped with edamame, scallions, kale, avocado, cucumber, seaweed salad, wonton strips, peanuts, masago, sesame seeds and the restaurant's house sauce.
Everything that makes a poke bowl great is in this bowl. The sushi is fresh and slightly salty and the variety of toppings make the bowl bright and flavorful while still allowing you to taste the delicious simplicity of the fish, and the addition of wonton strips and peanuts give the bowl an extra and delightful crunch.
If you want something a little more spicy or adventurous, try the spicy rainbow bowl.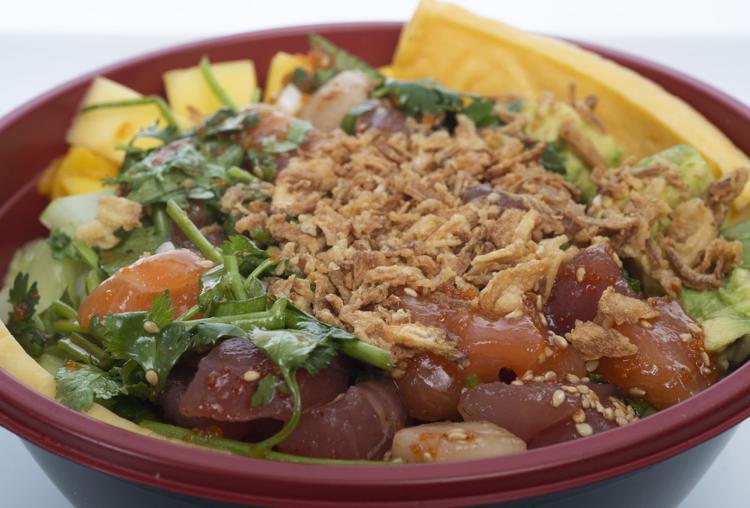 This bowl has your classic poke proteins of tuna, salmon, and yellowtail and it comes with some interesting toppings. Along with cucumber and avocado, it comes with a sour and spicy kimchee as well as big chunks of mango, a handful of cilantro, some fried onions, and two strips of a sweetened egg omelet.
This combination of ingredients makes the bowl burst with tropical flavors and eating it will make you forget you're in the beginning months of fall and transport you to the beaches of Hawaii. The kimchee and the mango perfectly complement one another with their different flavors and the cilantro gives a needed herby touch.
During one of my visits, a guest pointed out that when served the sushi, the rice in the bowl is warm. Most poke places I've visited do not always have their sushi rice warm, most often it's been quite cold and I never noticed how much warm sushi rice elevated the dish until I had it over the course of reviewing Poke Bowl.
It makes the entire bowl feel comforting. The sushi is also served at perfect room temperature. There's a common misconception that sushi is meant to be served cold, but in fact, the best sushi is served at room temperature or even slightly warm. It allows the flavors of the fish to really come through and I appreciated that Poke Bowl was holding on to these types of traditional aspects.
Now, I said at the beginning of this review that we would get to the burritos. I'm sure some of you are wondering why in the world a poke place serves burritos. Well, it's not a traditional burrito as served in Mexican cuisine.
Poke Bowl serves up some wonderful sushi burritos or sushi-ritos. I came across my first sushi-rito back when I was in college. I was mystified by this invention and took a special trip with a friend one day to try it.
Unfortunately, I was disappointed. It was heavy, it sat in my stomach afterward, and I felt like there was too much rice. I stayed away from sushi burritos after that but when I saw that Poke Bowl was serving them I decided to give it another shot. My mind and heart have been changed.
First of all, the size of the burrito that Poke Bowl serves is the perfect. It's the same length as a traditional burrito but not as stuffed.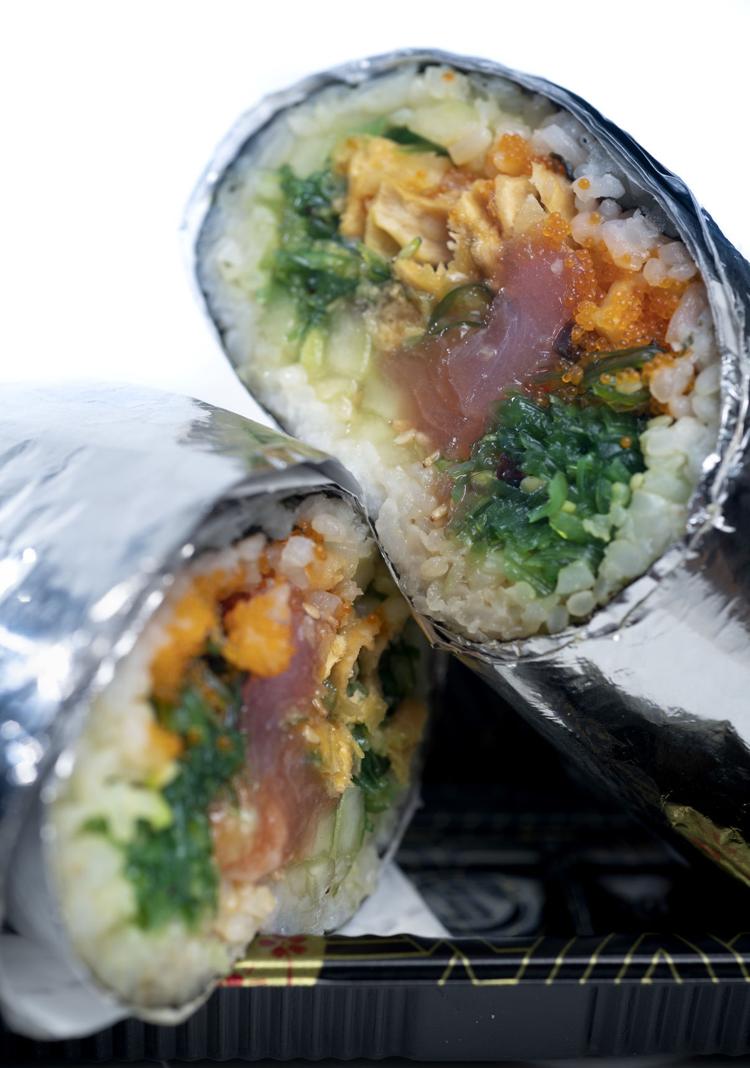 The Buckeystown burrito is a must-order. It's only made up of a few things — salmon, scallions, cucumber, masago, seaweed salad, wontons and sesame seeds — and everything is wrapped up in white sushi rice and a roasted seaweed wrapper.
What I enjoyed most about this burrito is that there wasn't too much going on. Simple ingredients, simple flavors. There's no sauce on the burrito which really allows the flavors of every ingredient to naturally come through.
The salmon is cut into large chunks and is peppered throughout the length of the burrito. You can tell that the staff at Poke Bowl puts thought into their burritos because they place each ingredient in a pattern of sorts so that as you eat, you're never getting a bite of only salmon or only cucumber. It's smart and it's these little things that take restaurants from good to great.
If you want just a little more flavor in your Buckeystown burrito, though, I recommend getting a side of spicy mayo and dipping your burrito in it as you eat. The spicy mayo gives just a touch of tang and creaminess that really takes it to an even higher level.
Along with poke bowls and sushi-ritos, the restaurant offers a few appetizers, like fried gyoza, which are Japanese-style dumplings, and a variety of boba or bubble teas.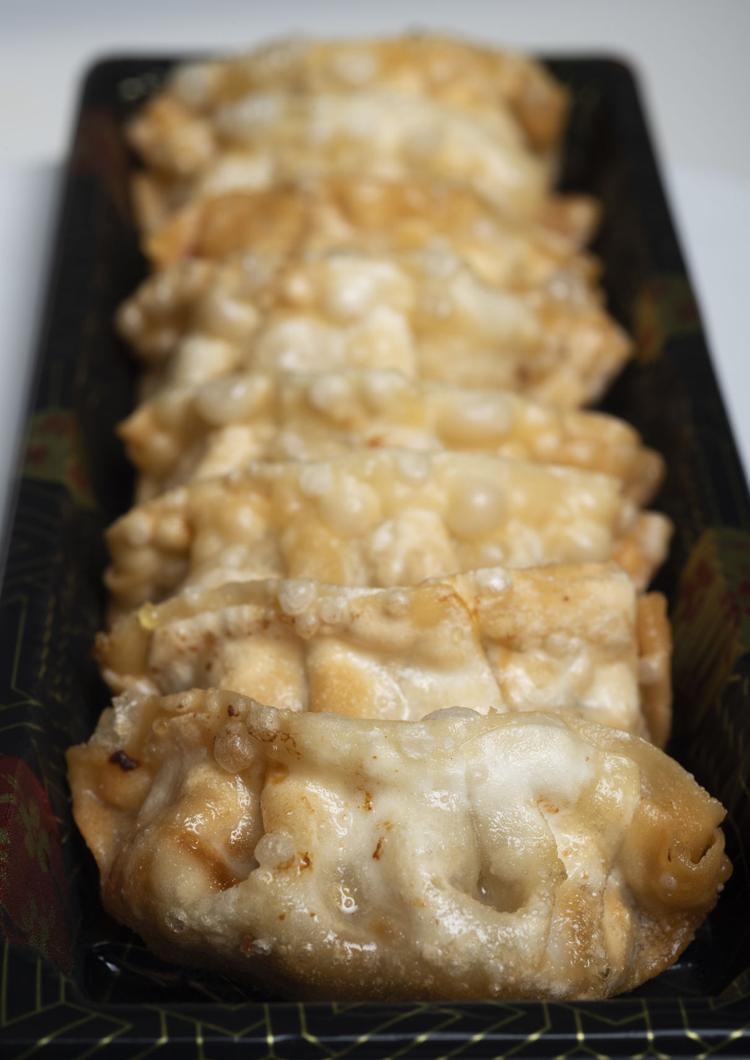 Poke Bowl is only doing take out for now and patrons must order online and pick up their meals on a table set inside the front door, but there are a few tables and chairs outside if you wish to eat your bowls or burritos immediately.
Poke Bowl is a great place to go to hang on to the flavors of summer as the days get colder and if you're sick of the typical California roll, it's a great alternative.
Katryna Perera is the food reporter and critic for the Frederick News-Post. A longtime "food enthusiast" she has taken cooking classes both domestically and internationally and is continuously following food trends and restaurant openings. She also briefly studied food reporting while attending Columbia University's Graduate School of Journalism.
Follow Katryna Perera on Twitter: @katrynajill; on Instagram: @kjp_eats.