It's the day before Valentine's Day and I know many of you just frantically flipped through the pages of 72 Hours trying to get at least one idea of how to celebrate the day of love with your significant other.
Maybe you forgot, maybe you were lazy, but regardless of the reason I am about to save your butt in a big way, because the subject of my review this week is none other than a pop-up, Valentine's Day themed cocktail bar.
Please take this time to exhale a sigh of relief.
Now, this establishment doesn't take reservations and it has limited space so if you can't make it there on the official day itself no need to sweat! The bar, operated by Tinsel, will be open through the month of February. A whole month of love and gushiness and pink hearts.
Tinsel is in Buckeystown in an old Victorian-style house. You will immediately know you're in the right place when arriving because of the pink and purple string lights covering the front porch.
I'm not going to lie, if you're not into the "vibe" of Valentine's Day this may not be the place for you because it's kind of like Cupid just threw up over everything – the inside of the house is lighted in the same shades of purple and pink but with a softer, warmer glow.
The whole operation, according to a server I spoke with, is supposed to make you feel like you're at someone's cocktail party. There are couches, chairs, coffee tables, standing tables and love seats spread throughout the main three rooms on the first floor of the house.
I didn't really get the cocktail party feel because at a cocktail party you're mingling with the other guests, whereas at Tinsel, most guests seemed to stick to their own tables and parties.
I thought of it more as a lounge – a place where you can sit comfortably, relax, and enjoy drinks and a few bites.
Don't come here if you're looking for a full dinner. The menu is very limited – seven items in total, and two of those seven are desserts. All the items are finger-foods or "nibbles" as the menu says. They are all also produced by Volt, the upscale American restaurant downtown.
Since it's so limited I was able to try almost everything that was offered. If you like seafood definitely go for the gulf shrimp cocktail. The shrimp are jumbo and plump and served at the perfect temperature. They also come alongside some delicious shrimp and Old Bay flavored crackers, which I found myself reaching for more than the actual shrimp.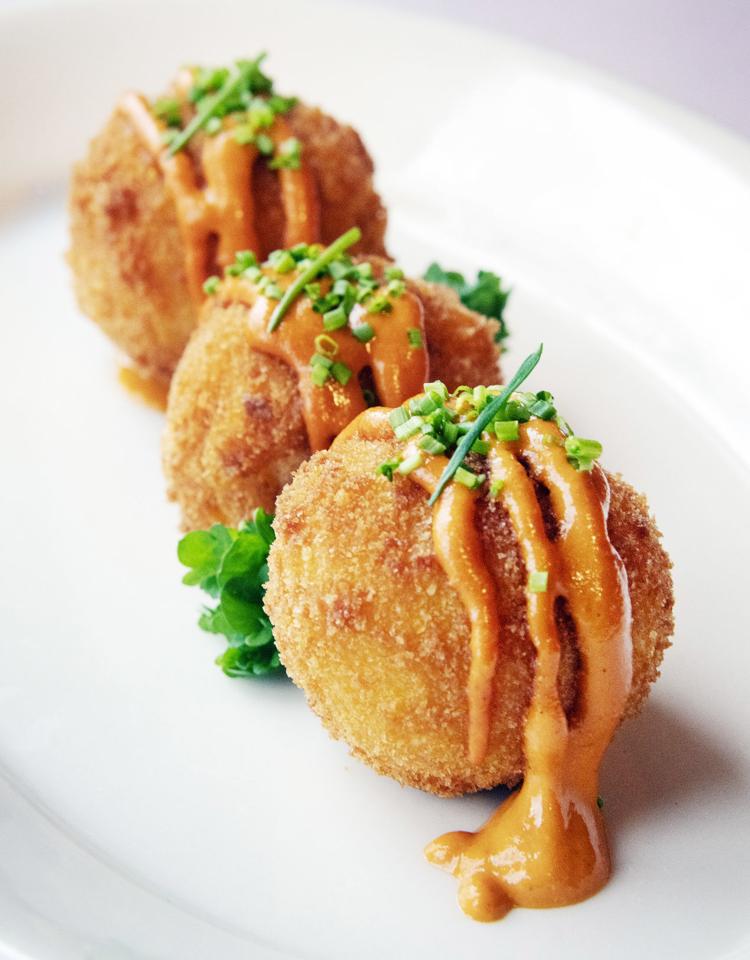 The saffron arancini are also a good bet. Arancini are Italian rice balls which are traditionally stuffed with rice, obviously, and other ingredients like mozzarella, sausage, ham or marinara sauce. The whole ball is then breaded and deep-fried. Volt's take on the classic Italian snack is a little different. It is only stuffed with rice but the rice is a beautiful yellow color and cooked with, you guessed it, saffron.
They offer a beautiful aroma and flavor and are the perfect quick bite to go along with your drinks.
If you want something a little heavier try the croque monsieur. It is served the traditional French way with ham, gruyere cheese and mustard, but to me it kind of just tasted like a regular, toasted ham and cheese sandwich.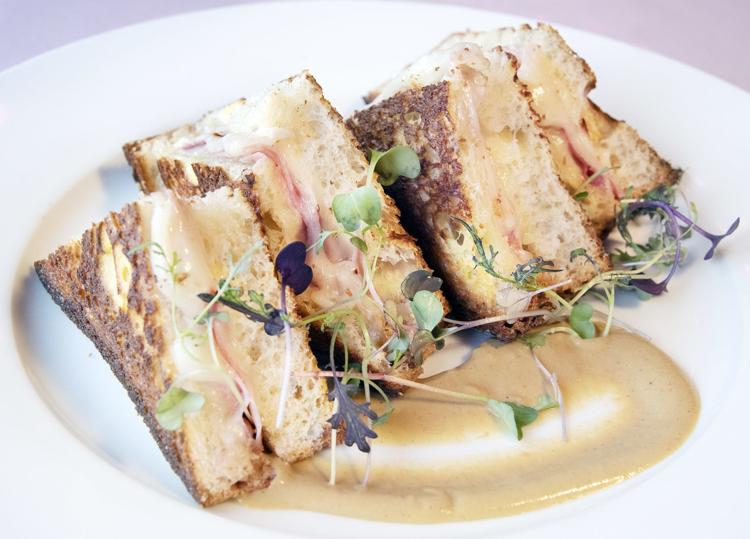 There are definitely better croque monsieurs in the world but at Tinsel, if you want something to hold your alcohol down, go for this dish as two whole sandwiches are served in one order.
The item I was most disappointed by on the menu was the blue crab biscuit. It's essentially a little sandwich with shredded Maryland blue crab served in between two halves of a buttermilk, chive biscuit.
There was a lot of crab, don't get me wrong, but other than that nothing about the dish wowed me. The biscuit wasn't as savory and buttery as I expected and the crab wasn't seasoned much. I kept feeling like the sandwich could have used something else – maybe some tartar sauce, maybe a sprinkle of Old Bay, or maybe it could have been served hot with some melted butter.
For dessert the options are some chocolate-covered strawberries or an item called confections. The confections are three, small items – a raspberry marshmallow, a Mexican hot chocolate truffle and a chocolate dipped coconut macaroon.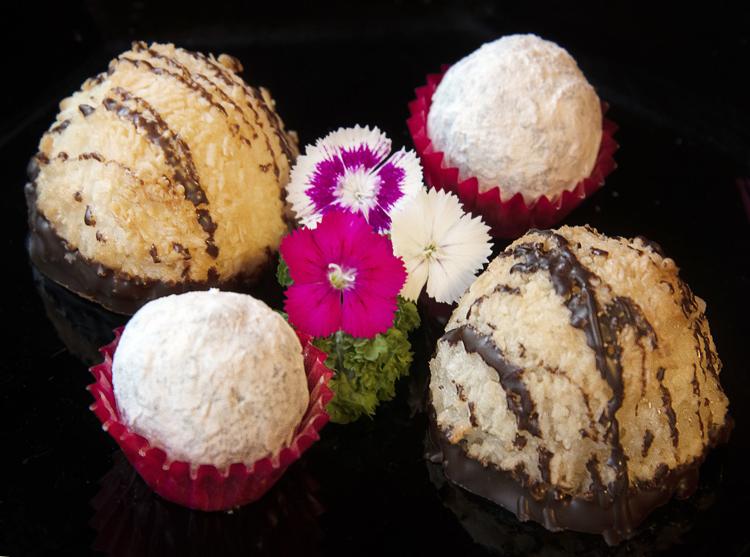 The raspberry marshmallow just tasted like a marshmallow, the truffle tasted like a truffle except for a bit of kick at the end, and the coconut macaroon tasted like a coconut macaroon. Nothing special here. All three items were also incredibly small and you only got one of each.
Literally one single marshmallow. Since most people are coming at least in a party of two I would have like to see at least two of each "confection" served so that everyone could get a taste of everything.
And the drinks! We cannot forget about the drinks, this is a cocktail bar/party after all. There are a few beer and wine options available, all of which are also supplied by Volt, but what's the point of coming to a cocktail bar if you aren't going to order a cocktail?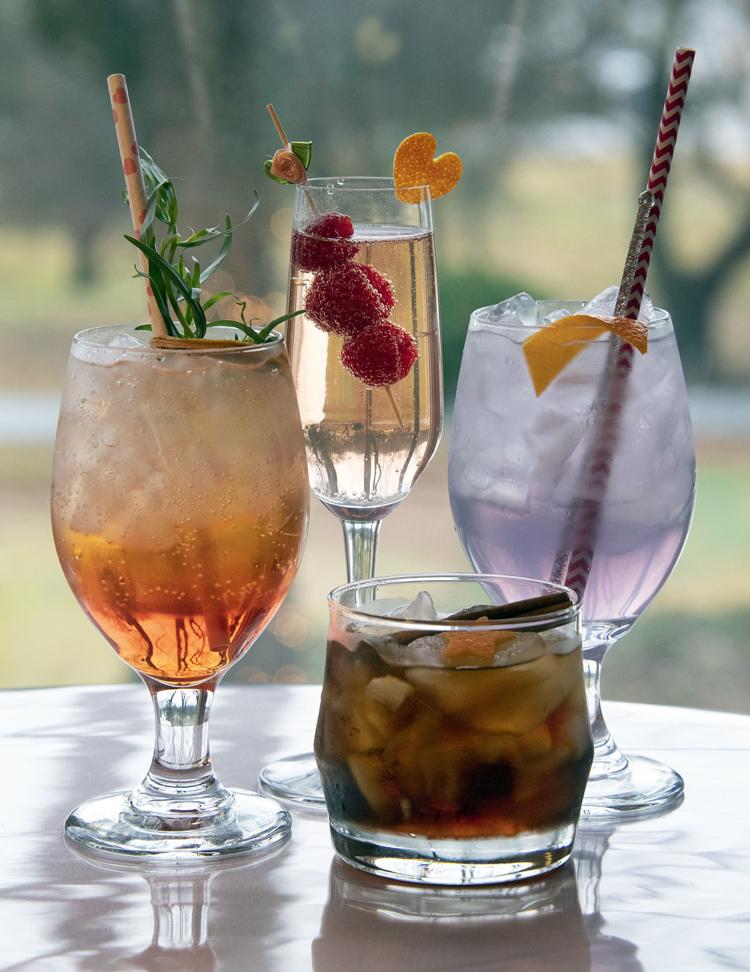 Again, it's a limited selection with only six cocktails but most of them are very good, particularly the Pink 75, the Crimson Mule and the Puttin' on the Spritz.
The Pink 75 is visually just as pretty as the space where it is served. A combination of vodka, sparkling rosé, rosé liqueur and strawberry juice, it's served in a champagne flute with a toothpick of raspberries.

If you like Moscow Mules go for the Crimson Mule which has very similar flavors but a little more fruitiness with orange vodka and pomegranate.
There's also a chocolate martini, which I didn't get to try but sounds delicious and a Manhattan Romance which is Volt's version of a classic Manhattan cocktail.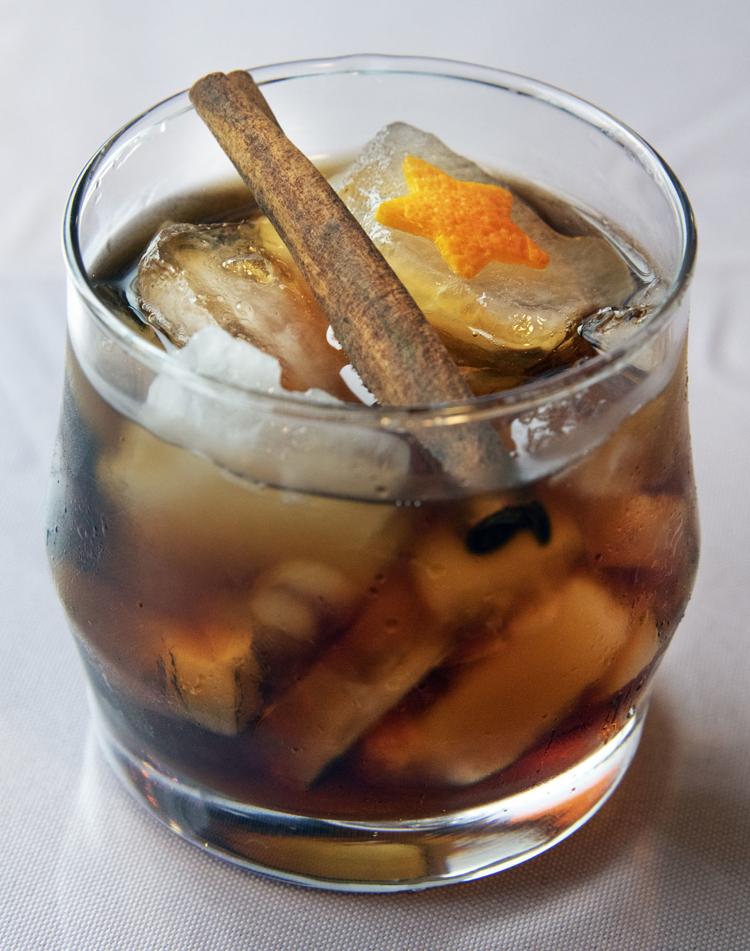 The one thing I want to point out before I end this review is that the space that Tinsel has set up is not just for couples. Yes, it is coated in the theme of romance but when I went I was surprised but also comforted to see groups of couples or friends just enjoying a drink.
I myself went with a friend and did not feel uneasy that I was there without a traditional date.
So maybe you're a single person who just likes Valentine's Day. Get a friend or a few and go to Tinsel, have some drinks and talk about love or don't talk about love. Just sit on some comfy couches, relax and be present.
Katryna Perera is the food reporter and critic for the Frederick News-Post. A longtime "food enthusiast" she has taken cooking classes both domestically and internationally and is continuously following food trends and restaurant openings. She also briefly studied food reporting while attending Columbia University's Graduate School of Journalism.
Follow Katryna Perera on Twitter: @katrynajill; on Instagram: @kjp_eats.
Follow Katryna Perera on Twitter: @katrynajill.