Lunches can get boring. Salads, sandwiches, leftovers. Falling into the same weekday lunch slump is easy, but luckily there are plenty of options in Frederick County to get you out of that slump.
One of those options is Padmini's Curry Grill. It's been a fixture in the Deerbought neighborhood off Route 15 for half a decade, and they recently expanded, adding a location in the Westview Village shopping center two years ago.
"Your quickserve Indian restaurant" — that's what's written on the website and it's a true testament, with the experience of visiting Padmini's very similar to fast casual chains like Chipotle or Cava where everything is laid out in front of you and you get to pick and choose.
It seems the most popular option is the "Pick Two" which comes with rice and naan and your choice of two curries ranging in everything from Chicken Butter Masala to Palak Paneer.
You can smell the curries as soon as you walk in. I tried the dhal lentils at both locations as well as both the chicken butter masala and spicy chicken – another option offered.
All were cooked well and I could tell the chicken was fresh since I found myself picking a few bones from my mouth.
However the aspect that lacked for me was flavor. Being a longtime connoisseur of Indian food I am used to strong flavors of cumin, coriander and masala, among others in the food, and I was disappointed to find that what I smelled when I walked in did not translate to the dishes.
But for a quick lunchtime option it served its purpose and the portions are so large it can easily be eaten for two meals. Padmini's also provides convenience in the fact that the "Pick Two" meals are served in ready-to-go containers. It's almost like they know you're not going to finish it all in one sitting.
I ended having Indian food for days and some new containers.
Despite the need for some improvement in their curries, one thing Padmini's does very well is the naan.
Soft, doughy, and streaked with butter I found myself eating it plain instead of using it to scoop up the curries as intended.
Now, if you're reading this and are interested in Padmini's but have never tried Indian food before I highly recommend the samosas as an introductory dish.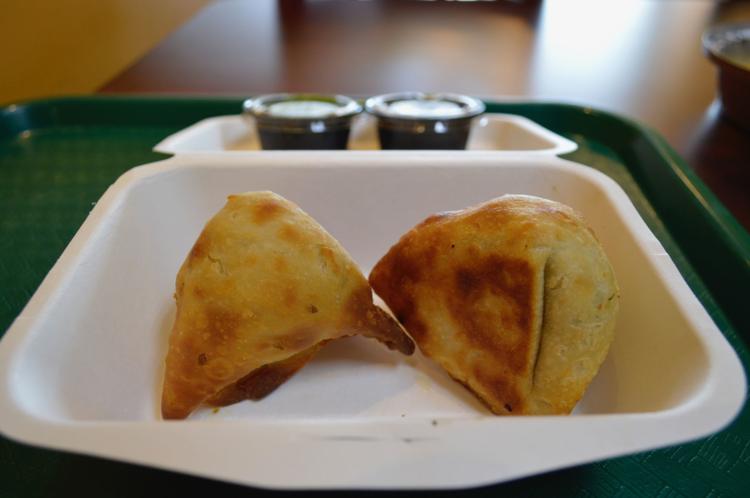 The samosas at Padmini's are big and served freshly fried. They are classic samosas – stuffed with potatoes and peas – which makes them a good vegetarian option, and comes alongside two sauces. One, a sweet and tangy tamarind sauce and the other a green, spicy option which was comparable to a mint and coriander chutney typically served with samosas.
I ate one samosa and immediately began feeling full, they're that big, meaning that the order of two could easily be enough for a lunch if you're not feeling especially hungry.
If you want something a little lighter and cooler I recommend the Pani Puri, which seems is only served at the new Westview location as it was not present on the menu board in Deerbought.
Pani puri is considered a snack, consisting of small round and hollow, deep-fried crepes which are filled with anything from tamarind chutney to chickpeas.
The ones at Padmini's seemed to be filled with some combination of potatoes and cooked onions. It is served with a traditional mint-flavored water which can be poured on top of the pani puri. Along with the samosas it's a great option for a smaller lunch or afternoon snack.
As with many food establishments, Padmini's could use a revaluation of a few of their recipes but in the end they are a true quick-serve lunch spot with some of the friendliest employees around. They will even let you have a taste of the curries before ordering, like trying a spoon of ice cream before committing to a full cone.
So if you're finding yourself falling into the weekday lunchtime blues, get in your car and drive over to Padmini's for an exciting and different meal. If you order the spicy chicken you may end up patting at your forehead with a napkin, but trust me, it'll be worth it.
Katryna Perera is the food reporter and critic for the Frederick News-Post. A long time "food enthusiast" she has taken cooking classes both domestically and internationally and is continuously following food trends and restaurant openings. She also briefly studied food reporting while attending Columbia University's Graduate School of Journalism.