A man wakes up in a plain white tent. He's lying on a cot, dressed in drab clothing. His dark hair is disheveled.
He looks around the intimate space and sees only a chair, a small plastic trash bin and a clock hanging on the wall. The hands are stuck at 4:50.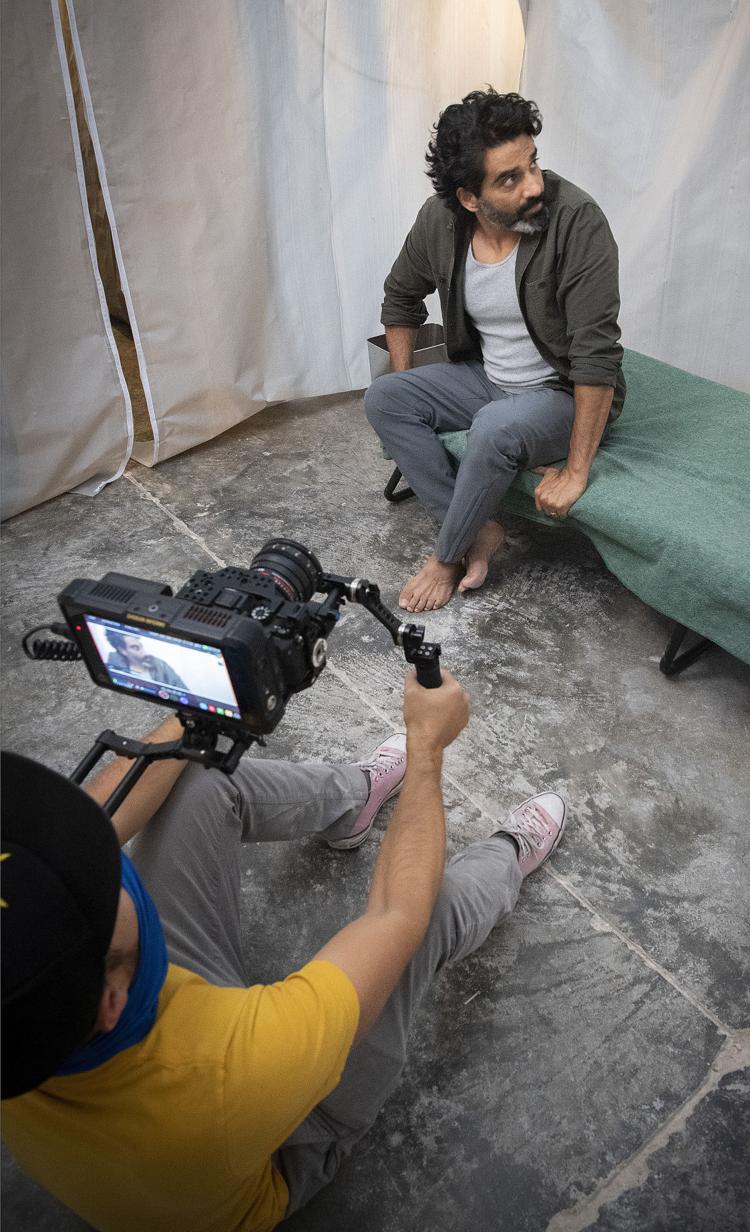 The man gets up. He wants to leave the tent, but quickly learns he can't. He looks up to the ceiling and he sees a small camera in the corner.
The man begins pacing the space, seemingly descending into a state of madness.
There to capture the struggle is a cinematographer, sitting on the floor (with a mask on), his camera recording the man's intricate movements and emotions.
Contained
The cinematographer is Brian Pennington, a member of Star Wipe Films, one of more than 60 teams from across the country who registered for Frederick's 15th annual 72 Film Fest last weekend.
The man in the room is Vishwas, an actor playing The Man, a nameless character in "Containment," Star Wipe's entry for the festival.
The members of Star Wipe are defending their 2019 title, where they won Best of the Fest for "Capsule," a film about a lone astronaut traveling space on a mission to preserve Earth's memory. They will find out this weekend whether they succeeded, after virtual screenings of the films.
"Containment" is an other worldly depiction of a man struggling in a trapped state. Maybe the government is messing with him. Maybe it's aliens. Maybe it's all in his own head. It's all very vague.
"A man wakes up in, I guess, a quarantine-style tent," Pennington, who is also the writer and director of the film, said while describing the concept last Friday from the office of his day job, Duo Media Productions, in Frederick's Shab Row.
"We're not trying to make a COVID movie … it's more sci-fi," he continued. "[The man] doesn't know why he's there or what's going on and discovers he is kind of in a pocket of space where he leaves one side of the tent and goes right back into the other. So it's him trying to figure out why he's there and what's going on and kind of how to escape it."
Karen Pennington, Brian's wife and another member of the Star Wipe production team, said the working concept was to make the film a metaphor for mental health, of the man being stuck in his own head. And they pretty much stuck to it.
Brian said after filming that "Containment" came in at 5 minutes and 53 seconds, just 7 seconds under the festival's 6-minute cap. And with the exception of an issue with an old GoPro that messed up an important shot and caused an extra two hours of scrambling Saturday night, he said filming went well overall.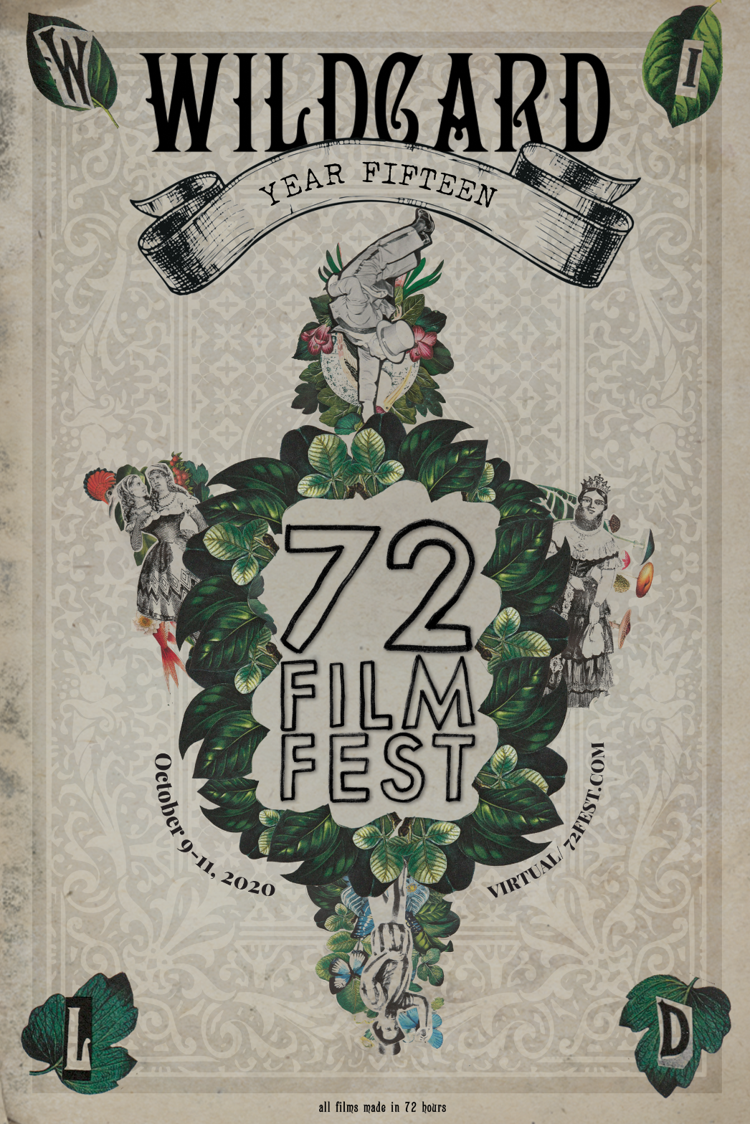 A virtual kick-off
Star Wipe Films, and the other teams in this year's festival, started their journeys at a launch party last Thursday — held virtually this year because of COVID-19.
Filmmakers spent the next 72 hours writing scripts, planning and filming shots, and editing final products down to no more than 6 minutes.
Clark Kline, a founding member of the 72 Film Fest, said the pandemic definitely made this year's fest challenging, to say the least. He and Shae Yamrus, another integral team member who designed the promotional artwork, said a week before the launch party that they knew this year's event was not going to be like years past. But with COVID putting a damper on so many arts projects, they knew this was something that people needed and they wanted to ensure it would happen.
And because everything was set up virtually this year, they were able to open the contest up to filmmakers across the country, which made for a record number of teams entering. A total of 47 of the registered teams turned in films for judging, with a total of 53 films set for screening.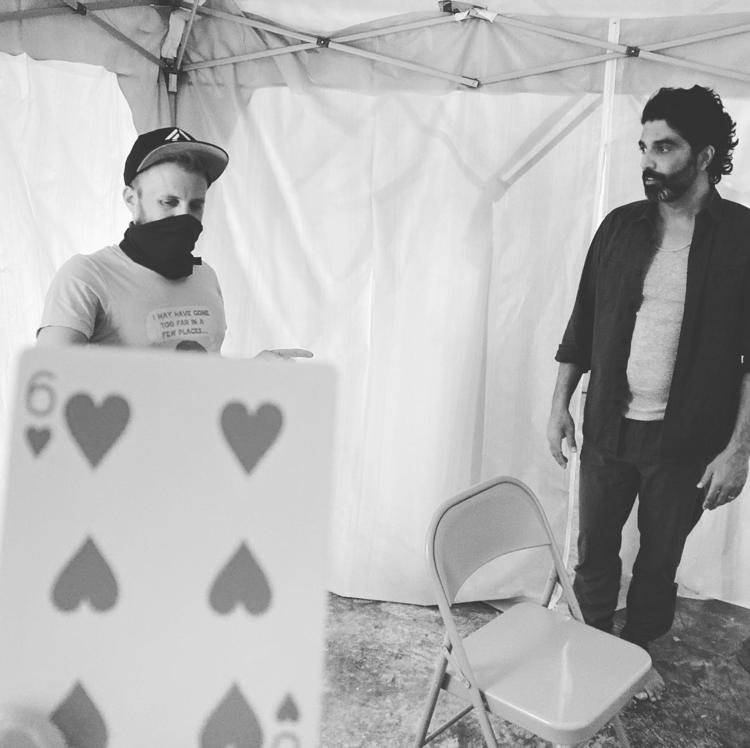 Picking a 'WildCard'
Each year, the organizers of the film fest pick a theme and roll it out during the launch party. This year's theme, WildCard, incorporated playing cards.
All of the teams had to include a scene from a past 72 Film Fest entry that was assigned via a playing card during the party.
Star Wipe's scene was an image of a man lying in bed, reaching over to a nightstand that contained a folded note with a heart on it.
"We were pretty happy with that because we tend to lean more toward like, I don't want to say romantic, but like more more impactful, like make you think type movies," Brian Pennington said.
Other images included a close-up of a man with shaving cream or pie topping covering his face — channeling Mrs. Doubtfire, according to one of the hosts of the launch party — and a man in a room holding up a box.
The teams were also tasked to shoot photos of the playing card they drew — in the case of Star Wipe it was the six of hearts — and post them on Instagram as they filmed to prove that they shot the film in 72 hours, a rule that has followed the festival through the years with different items and elements.
Along with the cards, Kline said festival organizers also offered an optional challenge to the filmmakers to create a film of "Hope" and planned a special recognition for the teams that have been in the festival for ten years or more.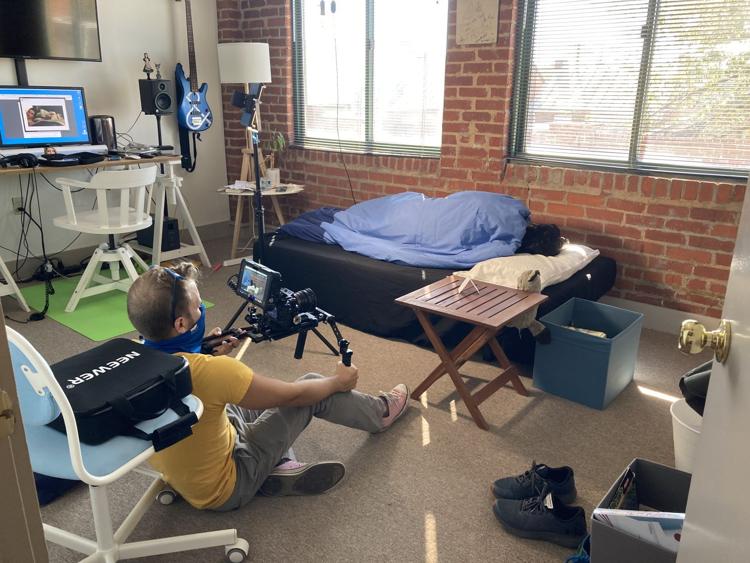 Filming during COVID
The Penningtons have participated in film races and challenges since 2003, when they entered their first 48 Hour Film Project in Atlanta under the Star Wipe name. They have since added 15 to 20 other challenges to their portfolio, with several winners, including the award from last year's 72 Film Fest and a first place award in the virtual 48 Hour Film Project held in D.C. in August.
The couple said COVID-19 made filming this year's projects a little different, though. They had to cut down the number of people they could bring on set to about six, which they said has been as many as 30 in a normal year, and had to do more virtual editing and coordinating.
"We've had to keep our team smaller but it's also … given us a chance to explore some ways of doing things we wouldn't normally do," Karen said.
She added that she and her husband have always wanted to see what it would be like to do a film with a smaller number of people, but that they never wanted to leave out any of their crew members. This year they got the chance with the pandemic, thus giving them a new experience.
They were also careful to maintain social distancing and wear masks as much as possible on set. It helped that they only had one actor in "Containment."
In any case, they said they were glad the organizers decided to hold the festival this year.
"I'm always encouraged that creators still want to create," Brian said. "It's a really difficult season mentally [and] it's easy to say, I don't want to do anything, I don't want to create, but people still seem to have that like, [mentality to] get something out. That always excites me, especially the turnout in the 72 fest, from all over different states and stuff, New Mexico and New Jersey … so that's always encouraging that you're not alone in your desire to still try and do something you love."
Karen added, based off of a comment from one of the launch party hosts, that when events like COVID happen the arts are unfortunately what tend to get cut.
"And that's true to some extent, but I feel like it's art from adversity," she said. "It's the whole idea that they had a record number of people this year, why? Because people want to create things, people want to make beautiful things or funny things or, you know, film is escapism."