The first things you notice are the eyes. They're beautiful. All of them. It's a shade of aqua that is transfixing, mesmerizing, unavoidable. If they are supposed to be a window into a person's soul, the Reid family's baby blues suggest infinite stories and unlimited heart.
It begins with Bethany and Payton.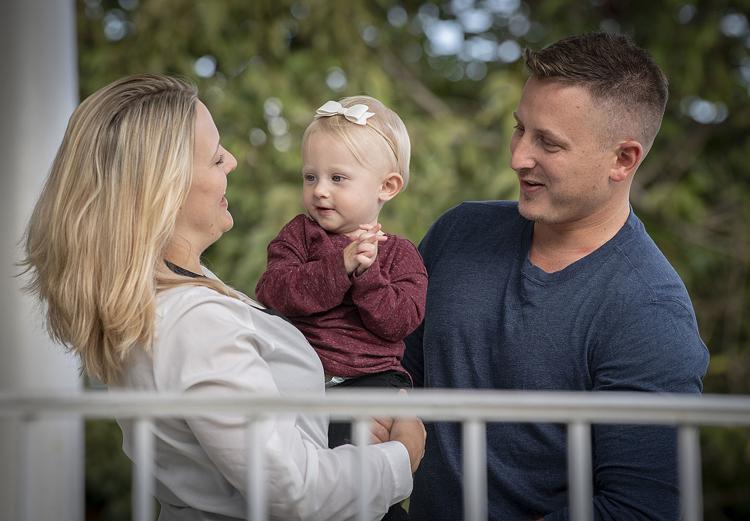 Both hovering around the age of 30, the husband and wife have pupils that promise depth, a level of understanding lost on most others their age. Then there's Claire, their 14-month-old daughter with a set of ovals that implies wisdom with each blink, no matter her lack of words. Each time they open up, they reveal an impossible amalgamation of her parents, creating perhaps the single most captivating set of eyes the world will see.
And now, those eyes will see the world.
After spending the better part of a decade enamored with an unforgiving professional life, an inordinate amount of time apart, and an existence that at once felt both successful yet unfulfilling, Bethany and Payton are packing their bags, quitting their jobs, selling their house and traveling the world. Payton's last day of work as a commercial Real Estate developer was Tuesday and the family is hitting the road Thursday.
"Work for me, ever since I graduated school, has been extremely hectic," Payton explains on a hot mid-August afternoon, those piercing eyes illuminated by the sun. "I've been blessed with awesome opportunities but a year or two years ago, I was working 90 hours a week. I hardly had any time to spend with Beth. We grew up with this notion and idea of, 'What's the formula to be happy?' You have to get a nice car and a nice house.
"But," he adds, "we accomplished that at 30."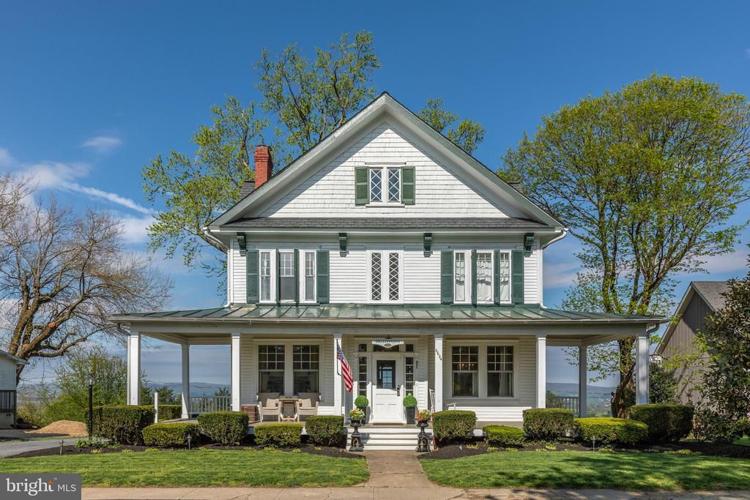 So, on the heels of a conversation that Bethany brought to the table, the Reids decided to step out of their comfort zone and take a chance, leaving both family and Frederick behind to set out on a journey they feel is imperative for understanding more about the things they lack. Internally. Externally. Emotionally. Spiritually. Without an end. Without definition.
"We want to get out of our comfort zone and take risks," Payton says, staring into traffic. "We're walking into this with eyes wide open."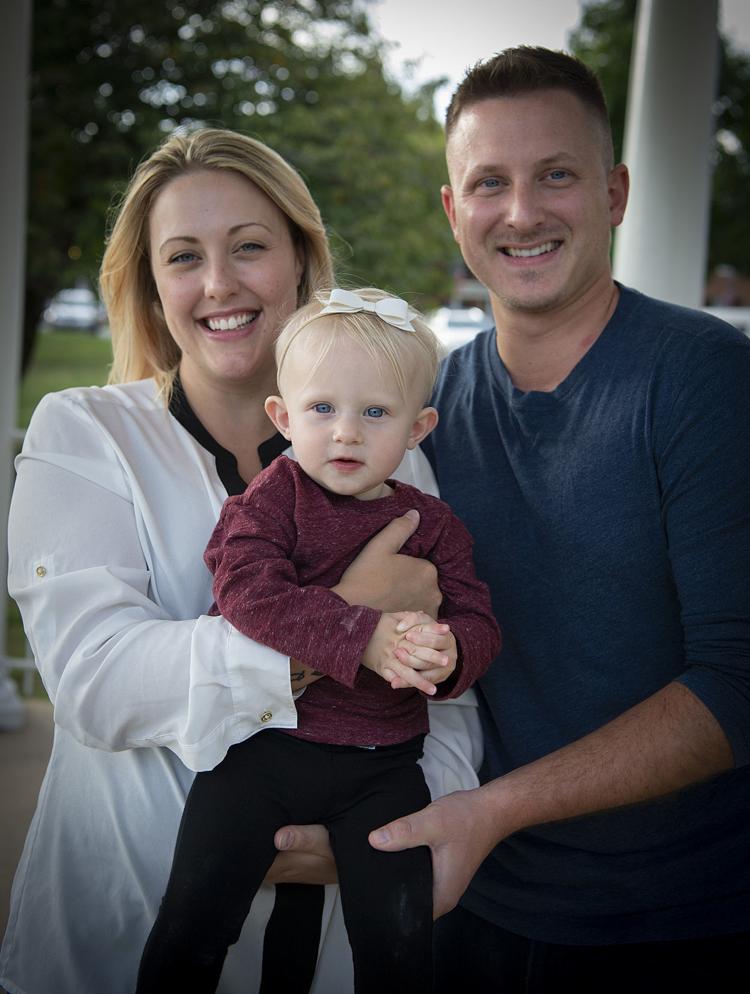 The Reids are chronicling their excursion through a website, www.withoutfurtherdelay.com. On it, they establish four goals they hope to accomplish throughout their time abroad. One is to become a closer family. Another is to determine a correct work-life balance for their family. A third objective is to identify the most viable location to raise their family. And then there's this:
"Challenge ourselves to take more risks and pursue our definition of happiness."
When asked about that eternal, illusive, complicated notion called happiness, both Bethany and Payton choose their words carefully.
"Instead of leading with just the happiness, it's more about being intentional with how we want to spend the rest of our lives," Beth says as she attempts to corral Claire.
"Speaking for me, happiness is progress," Payton adds. "Progressing in my learning, progressing in my career, progressing in my spiritual life, progressing with my family, becoming a better dad, becoming a better husband — if I feel like I'm progressing, that's a sense of fulfillment for me, which makes me feel happy.
"Happiness is an emotion," he continues. "I don't think that it's necessarily a state of mind. I do think that joy is something that Beth and I have, and that's something that gets associated with Christianity a lot."
Ahhh, yes. Faith. Within all this, the decision to uproot their lives can be traced as much to religion as it can anything else. Beth and Payton met at church, where she sang and he was enamored with not only her voice, but her presence. He played a little guitar, so before long, they began collaborating on music together.
There were some starts and stops — the college years provided their own set of issues which ultimately led to them spending time apart — but Payton never gave up, even if he admits today that in hindsight, he had a lot of maturing to do. They married in 2011 and got to work, her in the dental industry, him in real estate. They had plans and goals and by all accounts, sacrificed almost every ounce of time to achieve them.
None of it could have happened without a steadfast commitment to their religious ideology. Payton's mom, Myra Reid, is a self-described woman of faith herself and those beliefs have helped her come to terms with her son leaving everything behind to go travel the world. At first, she was skeptical of the decision, but now, she only wants the best for not only Payton and her only grandchild, but also Beth, who she describes as her "daughter-in-love."
"I see them extremely happy and you know, your mama knows things," Myra says in her charming southern drawl. "They have worked very hard and they did sacrifice time together to achieve goals, but they realized that wasn't what they wanted. They wanted time to be together and be a family.
"I think that they felt like they had to take this opportunity in their life because none of us know what our days are going to be and what the future holds," she continues. "It seemed like a good time for them to go, and they are going to determine what they want to do for the next portion of their lives. They want to be very deliberate about what lifestyle they want to carve out for their family."
And when she uses the word "deliberate," that might just be the understatement of the year.
"A lot of people think this is an emotional decision and it's really not. I've been with him for every decision he's ever made, including picking purple or blue at the Slurpee machine. Everything he's ever done is extremely calculated."
Those words come from Garrett Reid, who is Payton's brother, and on face value, you might think they are nothing alike. You would also be wrong. Outside of Garrett immediately pre-apologizing for how much he curses and the impressively thick beard that is perfectly placed on his face, Payton and Garrett have a lot in common. Reading. Learning. Helping. Music. Those are just a sliver of the passions they share.
He makes no secret that Payton is his best friend, establishing as much the minute a conversation begins. In fact, he would be unrequitedly happy for his brother and his forthcoming adventure, but there's one thing that keeps him from allowing his support meter to hit 100.
"I'm just pissed that I'm not at a part in my life where I can go with them," Garrett says with a smile. "That's honestly my biggest disappointment."
Garrett and Payton grew up going on tiny adventures together, so his brother's decision to uproot his life isn't entirely surprising. They didn't necessarily grow up poor, he explains, but his family also teetered on the line between that and lower-middle-class more often than they would prefer, which is why some relatives are concerned about Payton leaving such a successful career behind.
"There was a lot of confusion," Garrett reflects when asked about his family's initial response. "Some asked, 'Why would you do this?' But I came from a position that's like, 'Why wouldn't you do this?'"
And while he admits that he didn't see Payton making this type of choice with a 1-year-old in tow, he instantly championed the plan once he realized his brother might be on the verge of making a life-altering change.
"I could tell over the past six months to a year that he was really thinking about something big," Garrett notes. "When he first broached it with me, it sounded something like this: 'Hey, man. I'm thinking about quitting my job; that's kind of crazy, isn't it?' To which I responded, 'F— yes.' But my brother is one of the smartest people I know and he doesn't do anything that he hasn't really thought through. So, when he explained to me why he was doing it and why he thought it was important, I was so on board because so often in life, we go by and we have regrets.
"I feel like regret," he concludes, "is the worst of all human emotions."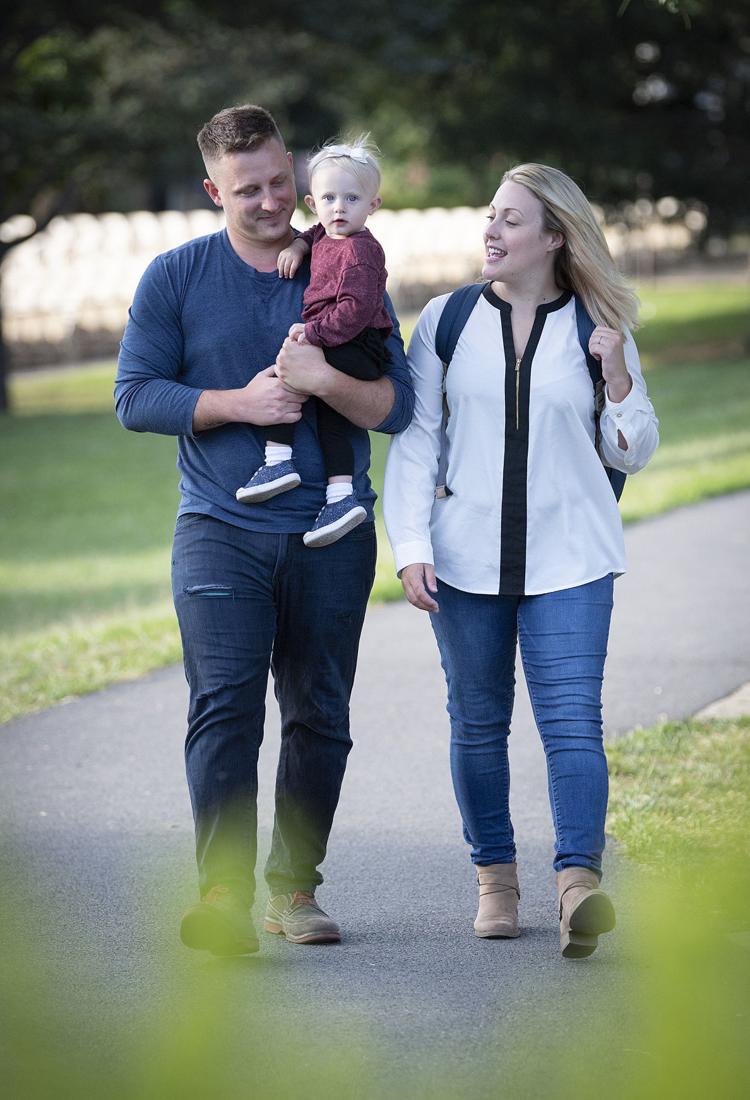 Last Thursday, exactly one week before the Reid family takes off, they were receiving vaccination shots near a parking lot. Time is of the essence, and this was the only moment they could squeeze them in, so they found a mobile service that could take care of what they needed.
They will begin in the United States — perhaps even visit some family in Payton's native Kentucky — and then head overseas, where they will travel to most places via airfare. They are keeping their immediate destinations private in the name of both safety and … well, the fact that they are very private people.
Beth and Payton both understand the criticisms that are bound to arise from their impending journey. Payton even shares a story about someone in an elevator at work laughing at him recently, which even he admits he may have done to someone else at a different point in his life. They get it. Millennials make some money. They aren't satisfied with what's traditionally accepted as a happy life, so they drop everything to go searching. Label it pretentious. Label it entitled. Label it what you want.
But that's really not it. Dig a little deeper, and you'll find an earnestness in everything about Payton and Bethany Reid. They don't claim to have answers, but what sets them apart from the misconceptions is that they are also smart enough to know the answers for which they are searching may never come, regardless of if they set out to travel the world or not. Fulfillment isn't a priority because to many degrees, they already have that. Instead, they needed a change, they needed to search, they needed to live. Maybe they'll be back in a few months. Maybe they'll be back in a year. Maybe they'll never completely reside in the U.S. again. Either way, it doesn't matter.
"I don't think failure scares us," Payton says thoughtfully. "Regardless of how you define it. If we set off on this and we say we're wrong and maybe this isn't the best thing for us, then that's something that we were able to answer, which is a productive step."
He stops to gather thought.
"If this in any way, shape or form can make someone else think a little different about their current structure in their life and maybe they can think differently about taking risks," he adds, "we feel like it's worth us getting out of our comfort zone."
And as he says that, the windows into his soul glisten, shining like the oceans they are about to discover.
Follow Colin McGuire on Twitter: @colinpadraic.