For Frederick artist Matthew Long, the COVID-19 pandemic has been both devastating and honorable.
Devastating, because he was supposed to serve as the official artist of the canceled 2020 National Cherry Blossom Festival in Washington D.C.. Honorable, because he's instead found a way to contribute his talents to global health initiatives.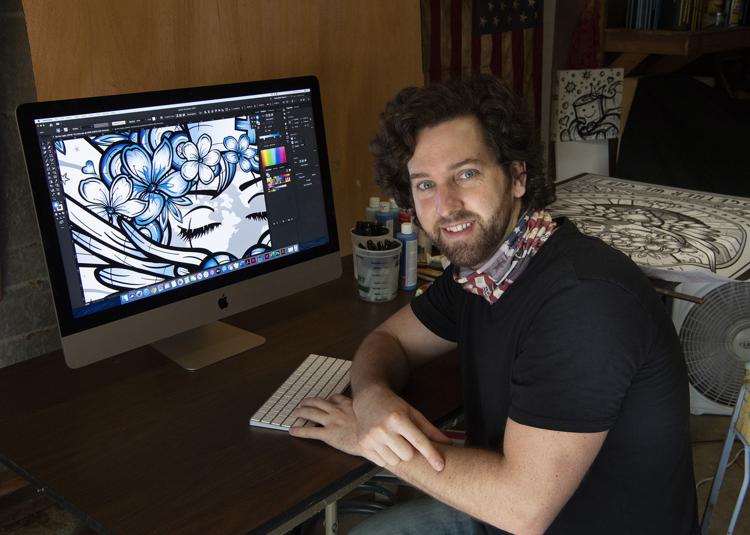 "I was to grace our nation's capital this spring as the official artist of the 2020 National Cherry Blossom Festival; one of my greatest accomplishments to date. Over 15 events — canceled. It was heartbreaking," Long said recently via email. "However, like many, I am trying to find the silver lining during these trying times."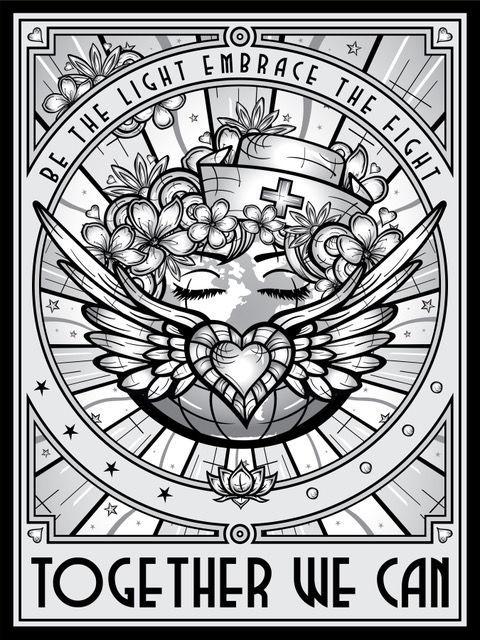 He worked with members of the cherry blossom team and representatives of local businesses on getting art, design and messages of good health and hope to communities in new ways. That meant putting his graphic designer and multimedia art on face masks, hand sanitizer bottle labels and at-home coloring pages for local businesses.
"I've seen a huge increase in public art calls, creative global health initiatives and other honorable projects in which artists can get involved with to help in the spreading of some light during dark times," Long said.
And he isn't the only one.
The COVID influence
New Market artist Bill Watson makes surreal, mixed media pieces, which he adapted to a COVID-19 world when the pandemic hit.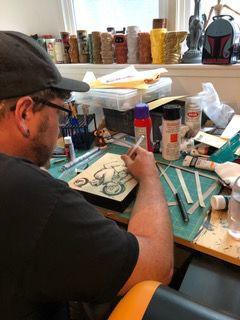 The result included the creation of a series of smaller than normal drawings on wood — currently on display and for sale at The Muse downtown — that incorporated representations of the virus. From a cartoonish cowboy riding a tiny tricycle wearing a bandanna face covering, to a rubber ducky float riding on the top of a Ford Pinto, the works are a loose mixture of COVID-19 elements and Watson's own quirky artistic style.
"I tried to pick people that already have face coverings," he said recently of the inspiration for the works. "So in other words I have a cowboy on a tricycle and the cowboy has a bandanna on so he already had his face covered. You know, things like that. Old, ugly cars … I went through and found the ugliest cars ever created and put various things on top of them as if it was a thrown-together parade."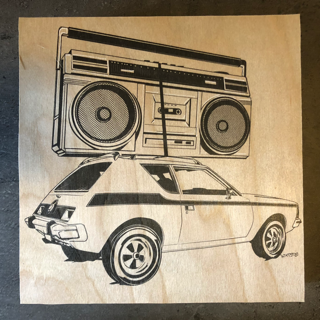 Watson had limited access to his studio because of the pandemic, but had the wood pieces on hand and also realized that people would have less money to spend on art when The Muse show came around.
"I could see the writing on the wall that people weren't going to have a whole lot of money after all this ... everybody is losing money," he said. "So I did some smaller pieces. I was thinking about the market, for one thing."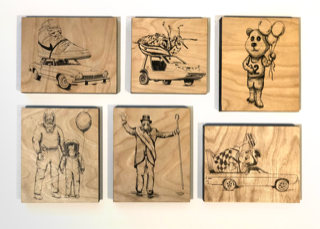 Watson also found a way to give back during the pandemic with his cartoon illustration skills by creating art for T-shirts, which he is selling and giving the proceeds back to Feeding America. The designs are also quirky, depicting images like a cartoon-like doctor giving pills and a shot to a coronavirus cartoon.
"I already had the skills to do that. I already had a shop set up where I did T-shirts and skateboards and things like that so I just figured, why not," he said. "It didn't cost me anything, it was just a little bit of time and if I could help a little bit I might as well."
Suitable scraps
Frederick fabric artist Staci McLaughlin used her skills to directly help those on the front lines fighting COVID-19.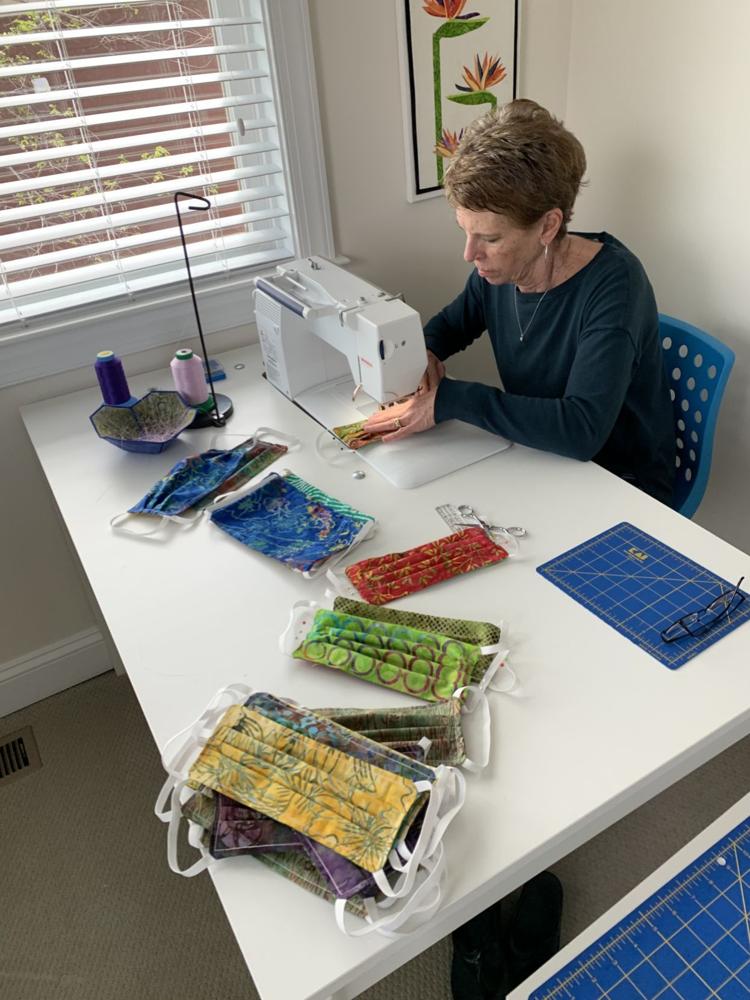 "I'm a fabric artist and have lots of leftover fabric from different projects," she said recently via email. "I often donate quilts to the Linus Project, a nonprofit organization that provides homemade quilts and blankets to children in need. The organization started collecting masks for distribution."
The masks initially went to those in the health care field, but distribution soon expanded to others, including nursing home residents and workers, prisoners, correction officers, social service groups, grocery store workers and more. McLaughlin said she had made more than 600 masks with leftover fabric and was buying extra material to make more.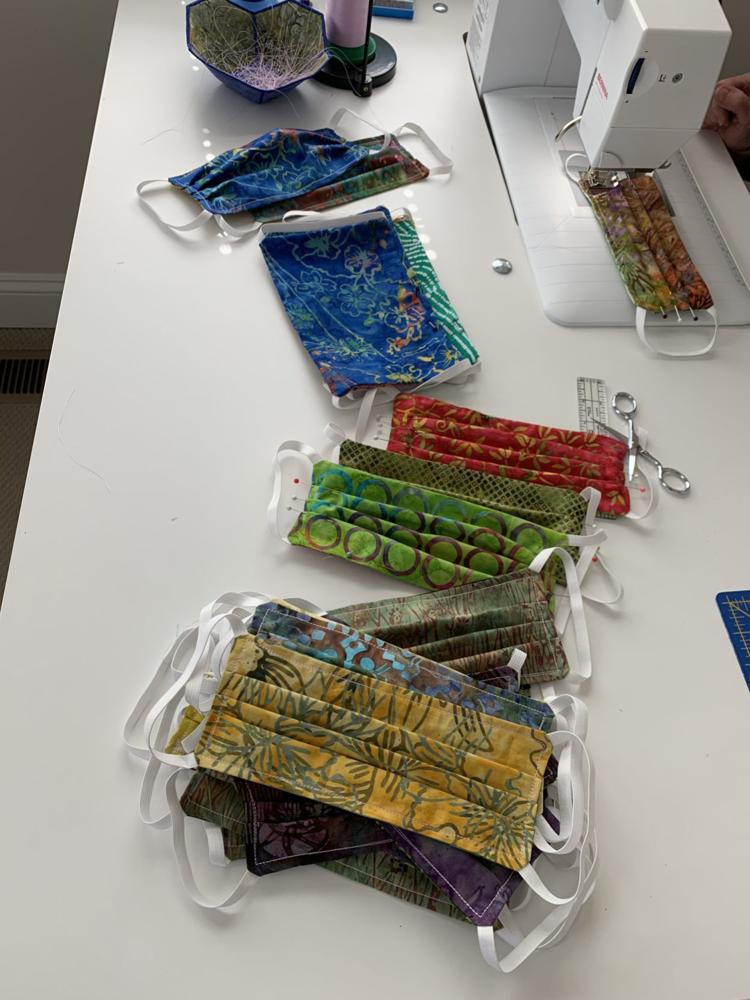 "I'm happy to make a contribution to those that need protection," she said. "It seems like the least I can do to show appreciation for their efforts. It's also given me something to do and has helped keep me sane during the lockdown. I'm happy to finally use up all my leftover fabric."
McLaughlin, Long and Watson all said the response to their efforts has been very positive and that they are just happy they are able to contribute. Not to mention the benefits to their mental health.
"To give myself something else to think about, something else to do, a project to work on, a lot of us needed that," Watson said. "Because you need to have that self-worth of accomplishing something."