When Gera Lozano began conceptualizing the design for a mural on South Market Street in downtown Frederick, she thought of a heron.
"As a spirit animal, the heron is a liminal creature, existing in the transitional moments before anew," the nationally acclaimed muralist said recently via email.
"The heron asks us to look deeper, to ground ourselves with the earth and find the knowledge to be free," she added. "We are in a transitional space in history, a time to take into account our past, learn from our mistakes and forgive ourselves so we can move forward positively."
Lozano's mural, which features several herons in flight, is one of three public art projects that recently came to fruition in Frederick County — impressively, in the middle of a pandemic.
The works are part of the Public Art Master Plan that the Frederick Arts Council launched last year, which aims to create a myriad of similar initiatives across the county.
"Public art is a freely accessible part of our public history which adds to the cultural, social, and economic value of a city," said Charlotte Marra, the art council's manager of public art, via email.
"It is a part of our evolving culture which reflects our society, adds meaning and uniqueness to our communities," she continued. "It humanizes the environment while simultaneously invigorating public space … Places with memorable public art offer communities a stronger sense of place and identity. Frederick has history, arts, agriculture which should be promoted."
Sources like the Maryland State Arts Council, The National Endowment for the Arts and the Ausherman Family Foundation help fund the projects, and members of the arts council go through a four-part process to select the artists, Marra explained.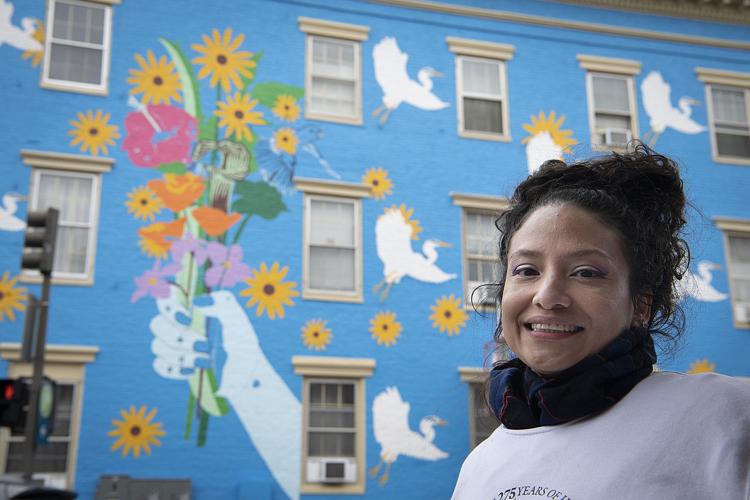 A gift of loveLozano, also known as GERALUZ, is an accomplished artist with works all over the country. She is based in Brooklyn, New York, and spent several days in mid-June in Frederick creating and painting her mural, Healing Bouquet.
The work spans three stories of a building at 201 S. Market St. and includes multiple herons with widespread wings on a bright blue backdrop. The central image is a hand clutching a colorful bouquet of "healing plants," which Lozano described as a "gift of love for Mother Earth." The bouquet includes Black-eyed Susans, and an Oriole bird is shown nearby in flight, nods to "the indigenous fauna of Maryland," as Lozano put it.
The mural is about 60 feet by 40 feet, and took one day to sketch and three days to paint with exterior acrylic and spray paint, Lozano said.
The piece is reflective of her passion for the beatification of public spaces, community empowerment and art as a healing tool.
"As an agent for [Mother Earth] I speak with her language of nature, using art to reflect her wonder and beauty," she said of the creation of the local piece.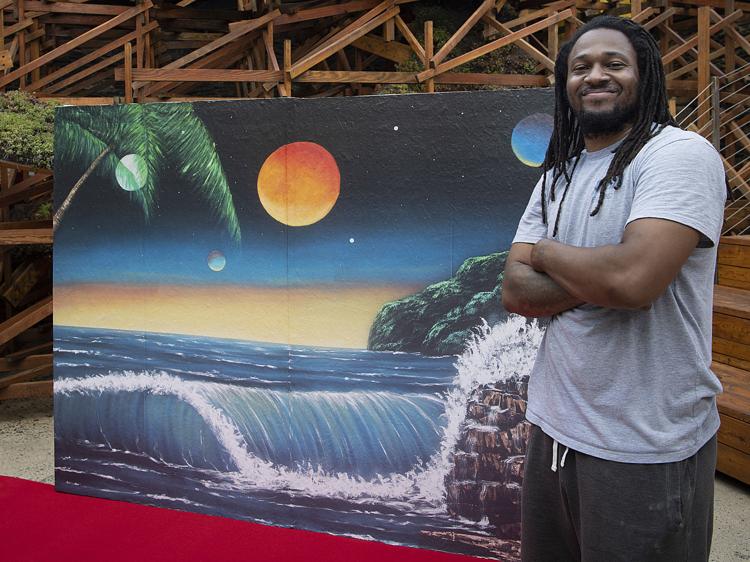 Transporting in timeCOVID-19 may have put performances at downtown Frederick's Sky Stage on hold, but it didn't stop a public art installation from taking shape inside.
On June 19, Landover artist Larry Cook Jr. came to the outdoor South Carroll Street event center and spent two hours completing a "signature backdrop," as described in a news release from the arts council. Cook said in the release that he chose a backdrop "that transports us in a time when we can't travel like we might want to."
The scene will remain up through the summer and can be seen through the windows and doorways from the exterior, so even if the stage is not open for a performance, the work is still visible. Cook said he hopes people will stop by to have their photo taken in front of the backdrop.
Cook is a photographer and conceptual artist who has shown at the National Gallery of Art, the Museum of Modern Art, the Smithsonian National Portrait Gallery and the Baltimore Museum of Art. His portfolio includes conceptual photos depicting powerful images of cultural and racial diversity. His work employs aspects of pictorial realism and fantasy to explore broader issues of status, individualism, and realism, according to the news release.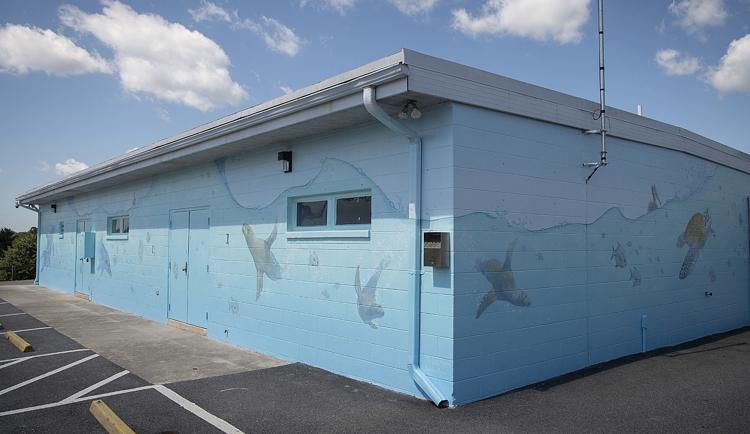 Ocean vibesWhen Tim Knepp applied to design a mural at the Emmitsburg Community Pool, his sketches of dolphins and other sea life stood out.
Now months later, an oceanic scene complete with dolphins, turtles, fish and other sea creatures swimming among waves in various shades of blue is depicted on the side of the pool building courtesy of Knepp and his partner, Sandra Payne.
"The mural concept, I thought since it's a pool and everything, kids splashing and everything, I thought the wave was very important. The splashes, different fish, dolphins, sea turtle, waves," Knepp said recently. "Also because the waves were there, I could emulate some of the other things. There's a beach ball being tossed in the air, there's some umbrellas, there's some seagulls flying around."
Knepp, who lives in Pennsylvania, said he traveled with Payne to the area right around the time COVID-19 hit at the end of March. He said they stayed at an Airbnb outside of Frederick and traveled daily to Emmitsburg to work on the mural. Overall, he said it took about 40 days to finish, with some breaks due to bad weather and the virus. With the quarantine orders and the isolation of the spot where they were working, though, he said they did not have any major issues.
"With the virus going around, that was really tough," he said. "We had to take a break for a while, but everything worked out just fine."
The process to complete the mural began with pressure washing the surface to make sure it was clean, priming it, then painting the background colors.
"Then we sprayed the gradation of the ocean, laid out the ocean waves, found references of different animals and laid those in and finished everything up," Knepp said.
Knepp's portfolio work also includes illustrations, mostly of wildlife, and other public murals.
"I love doing the murals, that's my most favorite thing to do," he said. "I do murals for commercial and residential, in homes and things."