Who doesn't love a great pair of denim?! Nothing is easier to pair with jeans than a basic t-shirt, but if not styled correctly, the pair can look sloppy. So here are my best tips for rockin' your jeans and t-shirts in style.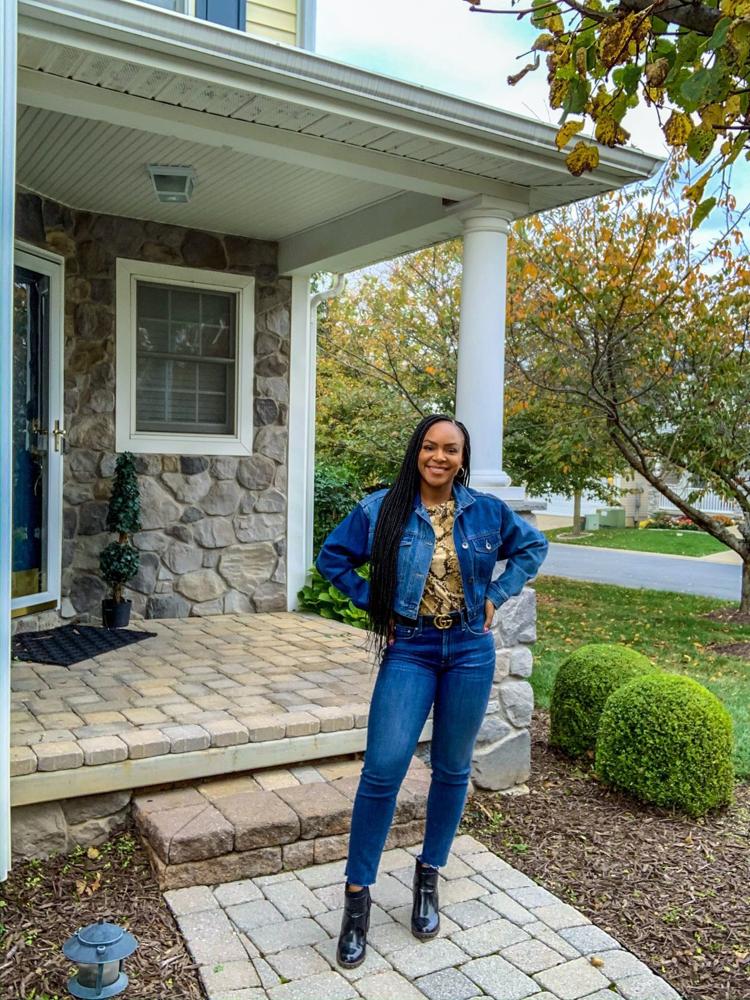 Start with flattering jeans
Obvi! Start with jeans that are on trend and flatter you. If they don't fit you well, you'll look frumpy and uncomfortable no matter how perfectly accessorized they are. Also be sure you're wearing a style that looks best on your body type. Skinnies have been trending for a while now, but they're not always flattering. If you're more of a pear shape, you may prefer a straight leg, boyfriend or mom style jeans. Just experiment and try on different styles. If you're still unsure of what works best for you, I highly recommend going to the Velvet Lounge in downtown Frederick and having Erycka help you find the perfect jeans for your body type. She's the best!
Choose the right tee
The fit and style of your T-shirt is just as important as the fit and style of your jeans, and again, every woman's body is different, so this will vary depending on your size and body type. The length and neckline of your shirt is important also, and will vary from woman to woman. Learning what length tee works best for you is another key to making jeans and a tee look chic and not sloppy. If you're wanting a more classic look then a tee that hits right at your waist or a little below works best. Drapey and oversized can work too. My mom loves oversized tees/tops (and so do I). They can be hard to pull off but what she likes to do with an oversized tee is knot it on the side or front tuck it a little. This way you'll look put together and not crazy while rockin' the oversized trend. To front tuck, just place your thumb where the tee hits around your belly button and gently push/tuck it into your jeans. Play around with it, pull/tug/tuck any of the extra fabric that is hanging out in the front until you get your desired tuck! As far as necklines go, a crew-neck looks better on smaller-chested women. Women who are a little fuller in that department should stay away from crew-neck tops, a v-neck or wide scoop neck will be more flattering.
And finally, make sure your tee still fits and doesn't look worn or tired. You know those stains under the armpits? Not cute. As we age, our sizes sometimes change, so if your T-shirts are getting tight, it may be time for an update. You don't want your T-shirt pulling too much across the chest or looking/feeling uncomfortable. The fit is key to making a T-shirt look stylish.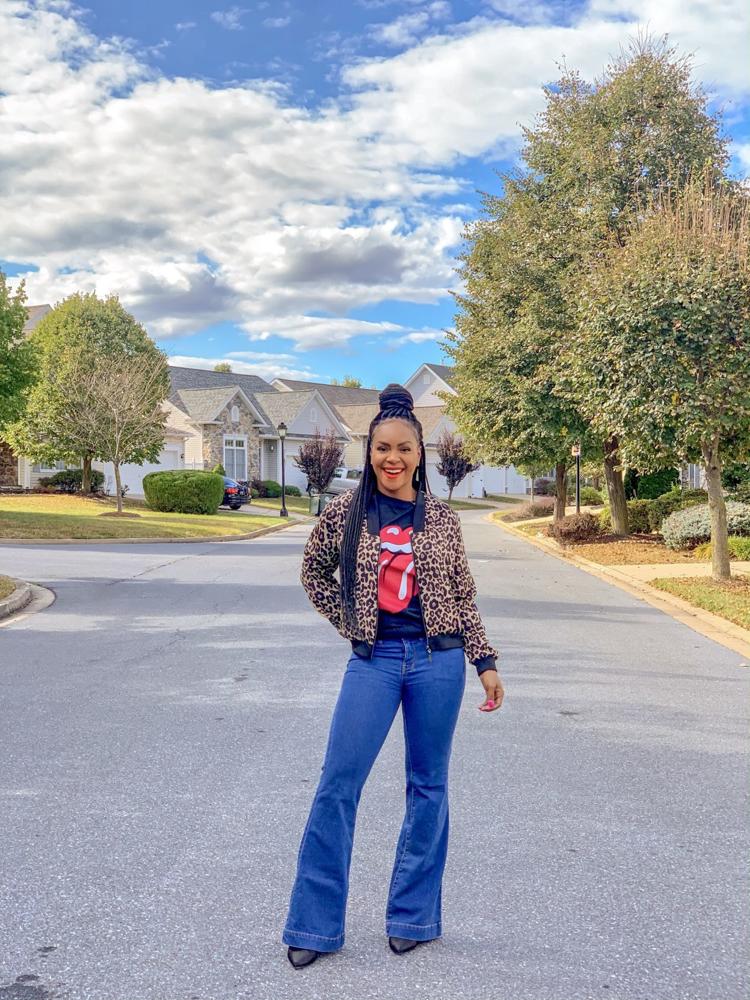 Add some interest
I love a good crisp solid tee, but never be afraid to try patterns, textures or embellishments. I'm also a fan of knotting tees, like I mentioned before, to create a different look or even a crop top, and don't rule out graphic tees. Sure, they can read super casual, but there are ways to dress them up too. Pair a graphic tee with dark denim, a bomber or moto jacket, bold earrings and a great pair of heels. A silk or pleated midi skirt can also be the perfect bottom for a graphic tee. Add a fun pair of booties, like leopard print, and you're set! And don't forget about tees with a twist. Like dolman sleeves or a puff shoulders add a such a fun touch and totally transform your basic t-shirt.
Layering and accessorizing
Elevate this everyday look by layering or accessorizing (or both). Throw on a blazer, leather jacket, duster, or sweater to add interest and amp up the look. It's fall y'all (my fave season) and it's getting chilly – layer those tees up and stay warm fashionistas! And don't forget to accessorize. This is where the jeans-and-tee OOTD (Outfit Of The Day) can fall short. Accessories are like the icing on the cake. Who doesn't want yummy cake, but what's a cake without the icing? Nothing. You want to make sure you have great jeans that fit and a T-shirt that is flattering and stylish, but without accessories, your outfit is a cake with no icing.
I always wear earrings even if they're just fun little studs and I often wear necklaces as well. I love layering dainty necklaces. You can even add a scarf or blanket poncho to the look as a Parisian inspired warm layer. Check out my Stella & Dot boutique – www.stelldot.com/sites/whitneywhiten — for tons of chic and fun accessories including scarves and ponchos to go with your jeans and tees.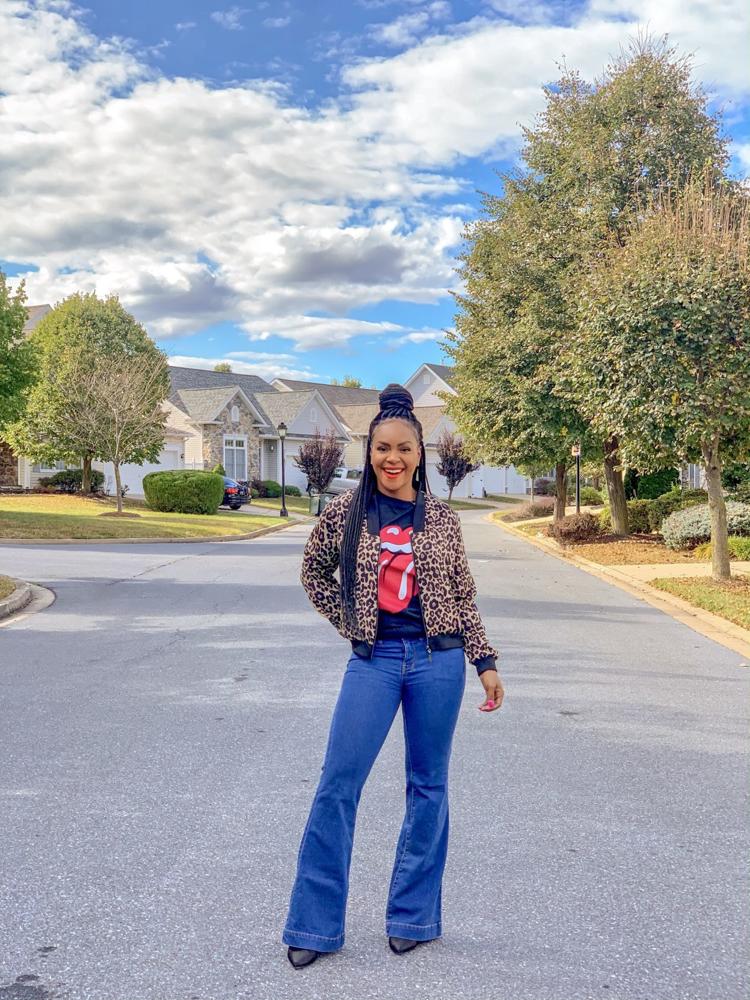 Lastly, shoes and bags
Cute shoes or a great handbag go a long way in pulling an outfit together. There are so many amazingly fun sneaker options out there and you can obviously wear wedges or stilettos if your event calls for it. For an edgier vibe try booties or over the knee boots with your jeans and tee. Booties and over the knee boots are my favorite things to wear in the fall, so if you see me around town I'll more than likely be wearing jeans, a tee, warm layer and some sort of boot or sneaker, lol. As I'm writing this I have on skinny jeans, a black tee, white oversized chunky knit duster and camo/leopard print sneakers. #Comfy
I hope this post helps you rock your jeans and T-shirts with confidence and style! Takeaways: good fitting pieces are key, little details pack a big punch and always accessorize!