Marriage proposals are filled with nervousness, excitement and hope for a new chapter in a relationship.
Some people believe that popping the question should be as special as the person they are asking to be part of their life. In the spirit of that, and in celebration of Valentine's Day, we found three Frederick County couples who agreed to share their proposal stories.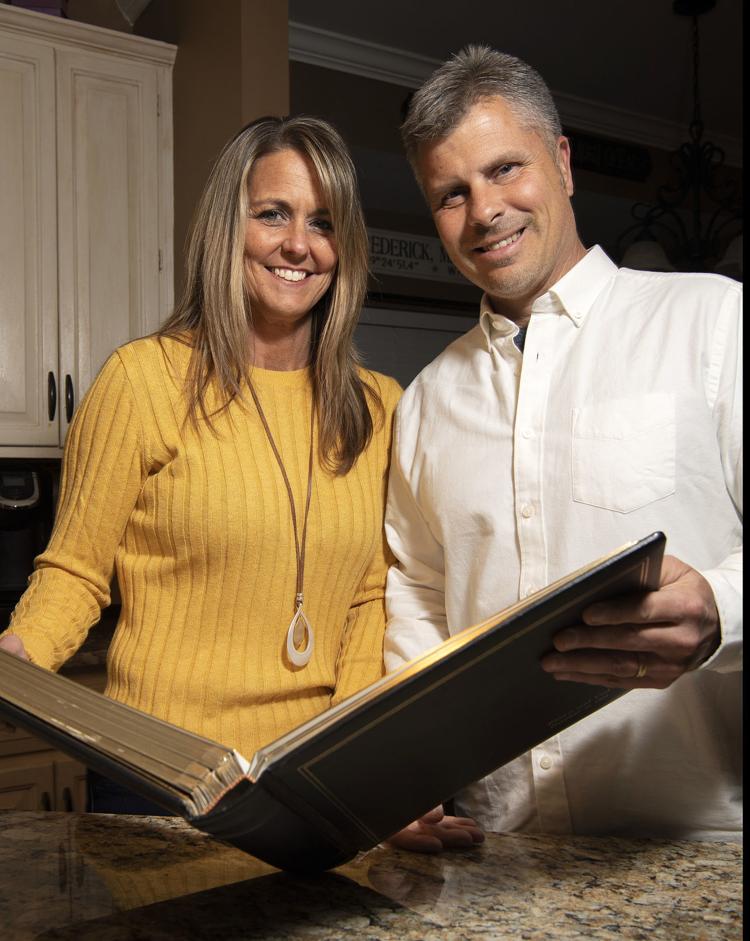 Ted and Paula Baran, of Frederick, first met on a blind date.
They grew up in Connecticut with deaf parents. And although they attended the same events and knew the same people in their community, they never crossed paths.
Ted and Paula, who are both hearing, found themselves on a double date after Ted's deaf roommate wanted to take Paula's sister, who is also hearing, out. Not so sure about the date, Paula said her sister asked her to tag along, and the roommate asked Ted.
Paula, now 46, was 17 when she met Ted, now 50, during that date.
"We hit it off. They didn't, unfortunately," Paula said about her sister and Ted's roommate.
Paula was still in high school, and Ted was working. They went their separate ways. It wasn't until Paula was in college that Ted's roommate asked Paula to be the assistant basketball coach at the American School for the Deaf in West Hartford, Connecticut.
"So I took the job. And when I showed up — lo and behold — Ted was coaching the boys basketball [team]," she said.
They went out again, but this time without the other couple. They started dating officially in February 1992. They said they were able to bond quickly over their shared upbringing in the deaf community.
"There are so many things that you get on a different level because you have a lot of the same and funny experiences," Ted said.
Ted said he had known pretty early in their relationship that he was going to ask Paula to marry him. And by September of 1992, he had selected a ring at a jewelry shop, put it on layaway and started making payments.
Then came the planning of the proposal. At the time, Paula was heavily involved in planning her parents' 25th wedding anniversary on April 25, 1993.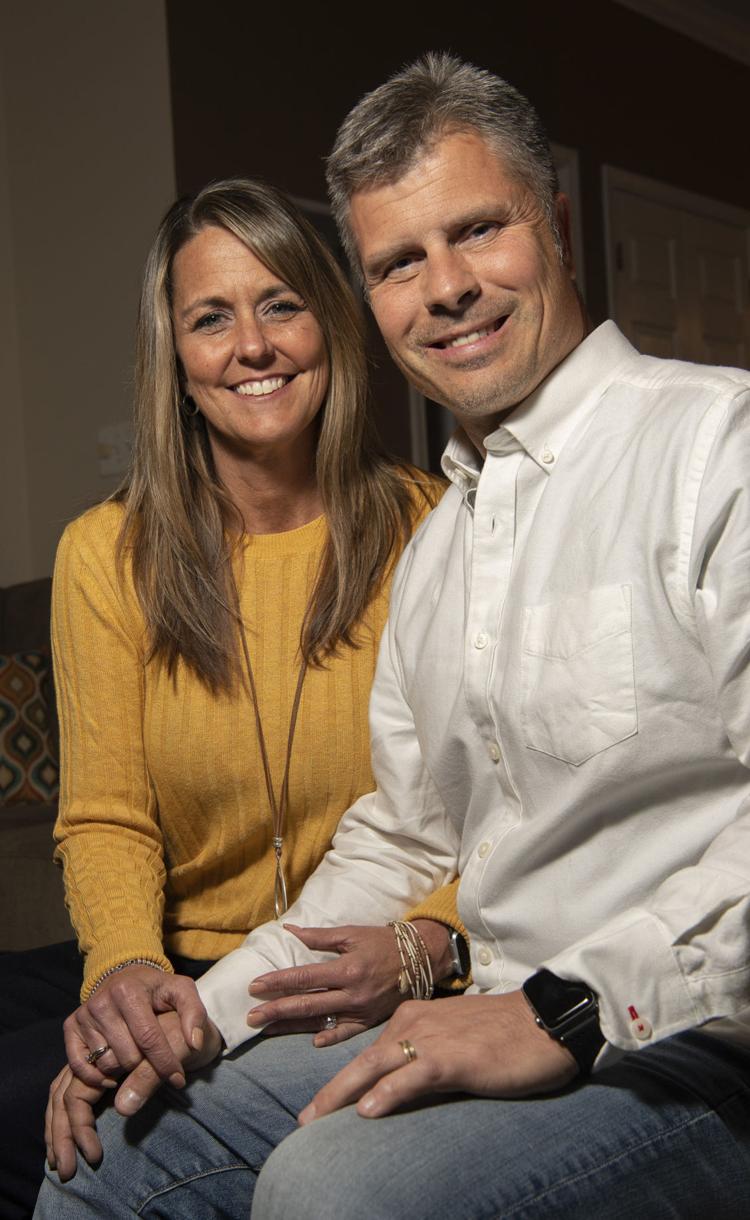 "She was distracted because she was organizing it," Ted said. "So I was like, 'OK I think this is a good time, and her parents and her grandparents were going to be there."
Ted's parents were at the party too because they attended high school with Paula's parents. With the ring in hand, Ted showed up with Paula at the party fully prepared to ask her in front of all of her family and friends, a total of about 100 people, but he didn't know when he would do it. He said he was almost ready after her parents arrived and everyone yelled "surprise."
"And then her sister's boyfriend dropped down on one knee right there and I was like 'What? I cannot believe you just did it.'" Ted said.
Determined that he still wanted to ask Paula to marry him that day, Ted asked the boyfriend if it was OK if he went through with his plans, too. The boyfriend said it was alright, and Ted decided to wait about three hours. He decided then that he wanted to make a statement. The only problem was how he was going to get the attention of 100 people, most of whom were deaf. That's when he decided he would have to go to higher ground to ask.
"The house was split level so I crawled through a window onto the rooftop of the garage," Ted said.
Paula said she saw him on the roof signing to her parents to congratulate him while also talking for the hearing guests. She was half-listening to him while sipping on a beer.
"Then he drops down and asks, 'Will you marry me?' and I'm still pumping my beer. The guy that set us up on a blind date was like, 'Will you answer him?'" she said. "So then I have to go through the house and climb up on the roof."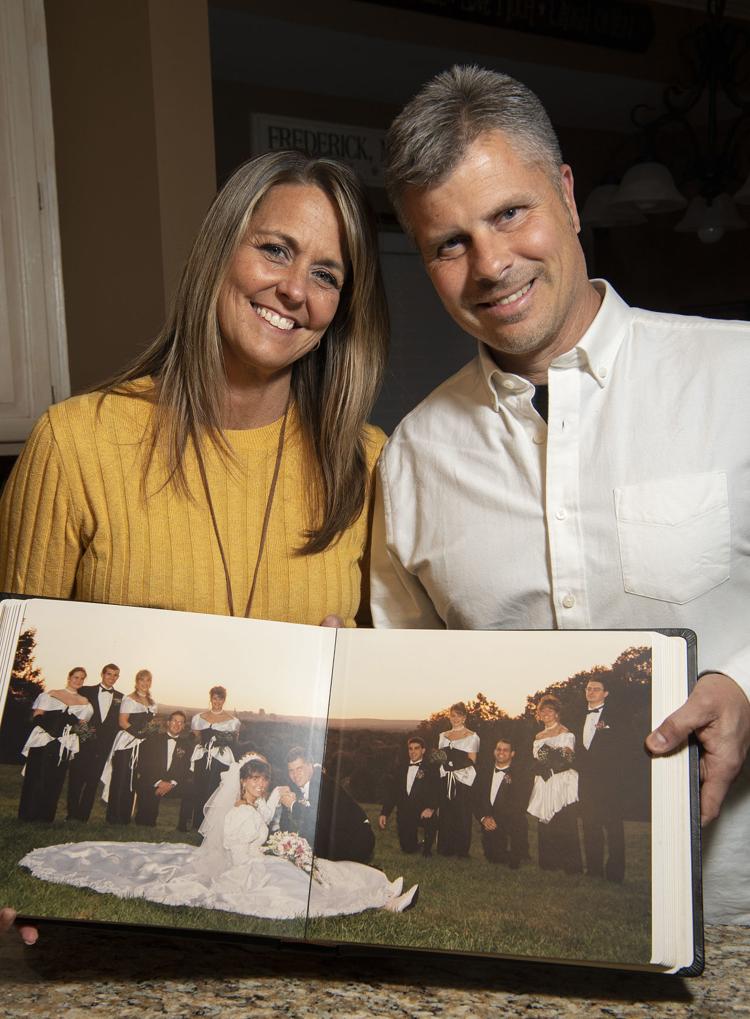 On Oct. 15, 1994, Paula and Ted tied the knot. They celebrated their 25th-anniversary last year. Their oldest daughter Brooksley, 23, who is a teacher, also got engaged last year and lives in Atlanta with her fiancé. Their youngest, Brenna, 21, is a student at West Virginia University.
They moved to Frederick in 2011 for work. Using her experience with the deaf community, Paula works for Z Video Relay Service in Frederick, where she does video relay interpreting for the deaf. Ted is the director of public safety at Gallaudet University.
Ted and Paula said the marriage has worked because they've always made sure to maintain a friendship. Ted said it's because they're best friends.
"Because we can find just as much pleasure just sitting at home and just watching TV, or go out. It doesn't matter to us. We just like to be together," he said.
They said they're now just celebrating being empty nesters.
"I know a lot of people when their kids leave the house, they kind of grow apart," she said. "We're now just having more fun than ever and reconnecting on different things."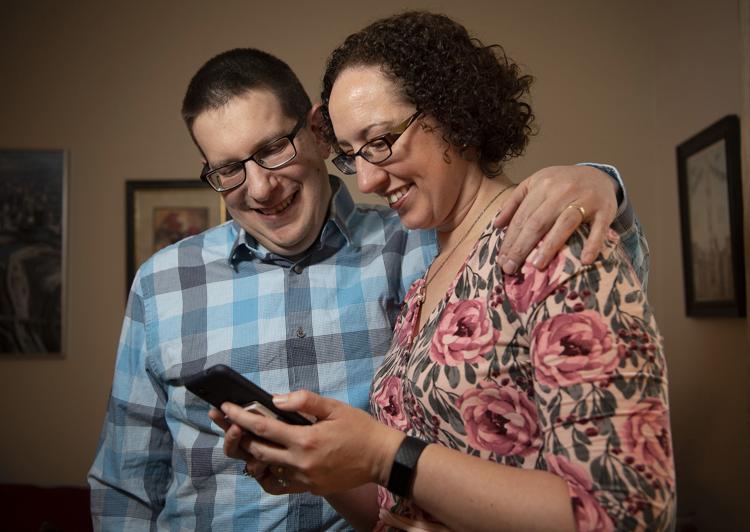 Steve and Carrie Silver of Frederick first crossed paths over their mutual fascination of weather, but a love of music has kept the sparks going.
In 2005, Steve and Carrie were both meteorology students at Penn State University in State College, Pennsylvania. They were paired as lab partners in an atmospheric radiation class.
Carrie missed her first day of lab class because as she was driving home to Philadelphia, she received two speeding tickets within a half-hour of each other. She decided to go to court to fight them, which was on the first day of class.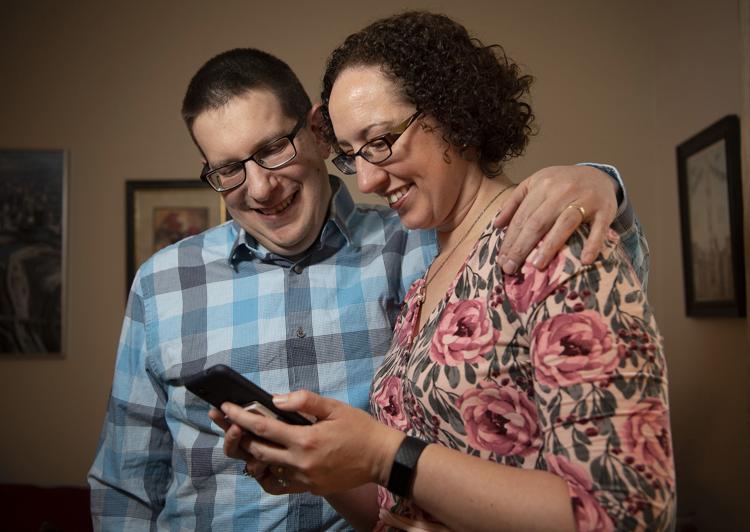 "By the time I got to a live class next time, all of my friends had already been paired up," Carrie, 37, said.
As a transfer student, Carrie had been friends with other transfers. She and Steve were the last two to be paired together. When they sat down, Carrie noticed that Steve had a Philadelphia Phillies screensaver on his screen. That's when she started prompting him about his Philadelphia connection.
"Finally I asked what high school [he went to]. He said his high school. And I said I had my dance recitals on your high school stage growing up," she said. "And we realized that we grew up 5 miles away from each other."
Carrie said she had attended Catholic school, while Steve went to a public school.
"Chances are we probably crossed paths and never knew it at some point, like at the mall or the movie theater or something, but we never met until college," said Steve, 35.
Steve said they slowly became friends. And over the summer, they both had internships and stayed in State College. They started to hang out, he said, which was easy because their apartments were just a few blocks away from each other. A few months later, their friendship turned to more. Steve asked Carrie out once, but she said she "stupidly said no."
Then that fall, the meteorology department had a fall auction. And Steve, with help from his friends, had won a date with Carrie. Their first date was Nov. 23, 2005. The date was special for Carrie because it was also her parents' wedding anniversary.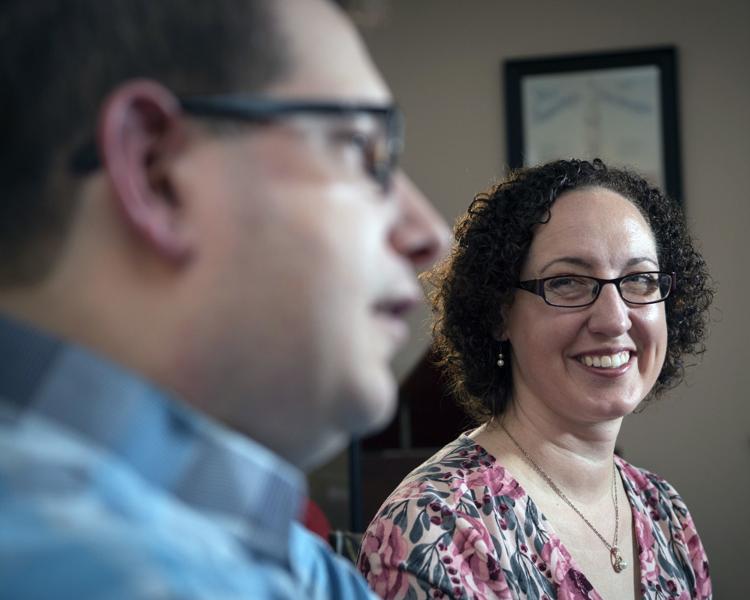 Carrie said they were inseparable after that official date until they graduated in 2006. After graduation, Steve got a job in the D.C. area, while Carrie was at AccuWeather in State College. That's when they decided to date long-distance.
"It was difficult at times because I started out working overnights. So my shift was 10 p.m. to 7 a.m. She was working like early mornings, and also weekends," he said.
He wasn't driving at that time, so to see Carrie, he would get off at 7 a.m. then hop on a Greyhound bus to travel to see her at Penn State. He'd sleep while she worked, then they would spend some time together before he had to go back home.
That was their life until 2009, when Carrie landed a job at the same company as Steve. They also worked the same shift, so they were able to see each other at work, and were living in Germantown.
In 2010, Steve decided it was time to make it official. He said Carrie was getting suspicious when he was trying to buy the ring without her knowing.
Steve said he wanted to make the proposal special. They shared a love of music and were members of the community choir the Six Degree Singers in Silver Spring. He decided to pop the question during one of the concerts at St. Paul's Rock Creek Great Hall in Washington, D.C., on June 19, 2010.
With the help of the director Rachel Carlson and accompanist Benjamin Leung, Steve arranged to perform a duet with Carrie to one of her favorite songs, "Take Me As I Am" from "Jekyll and Hyde."
"It was pretty special because the Six Degree Singers were something we did together," he said.
Steve arranged for several of her friends as well as her parents and his parents to be at the concert. He said he clued in their friends, but left it a surprise to their parents.
As they performed, Steve said he had the ring in his pocket.
"The thing felt like it weighed a thousand pounds," he said with a laugh.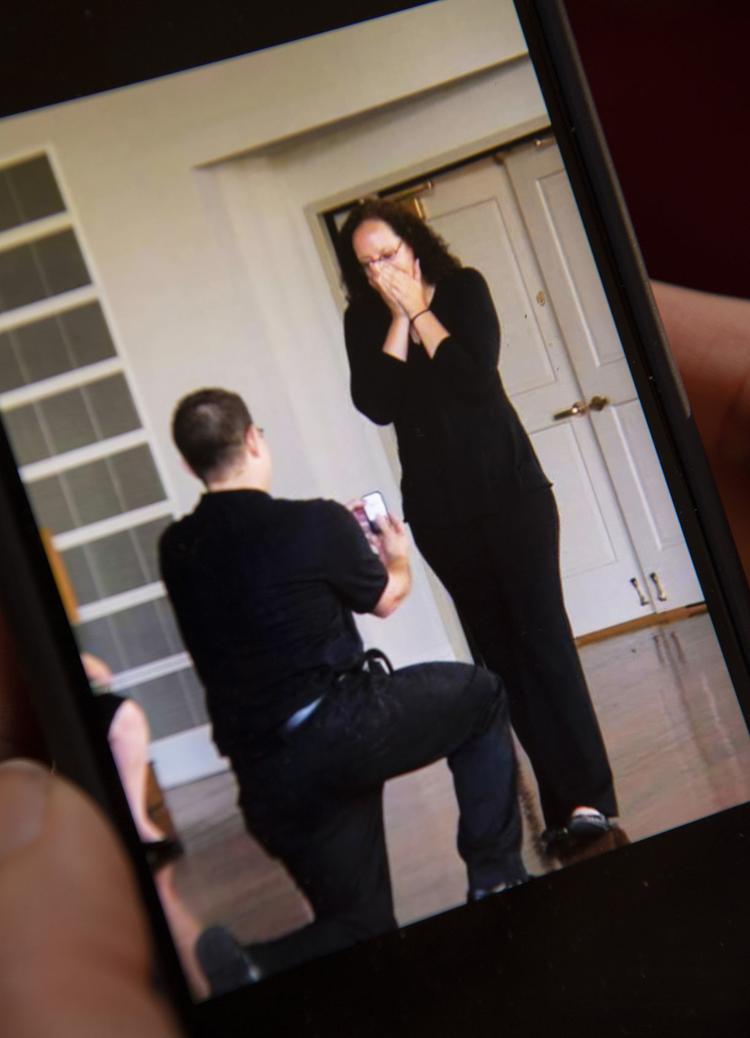 When the song was over, Steve dropped to his knee. A surprised Carrie said yes.
She said she was glad he made the decision because she's an indecisive person.
"I think if you hadn't done that, we might still be dating at this point," she said.
On April 28, 2012, Steve and Carrie got married in Philadelphia. Today, they have two daughters, Sophia, 5, and Nora, 3. In 2018, they became Frederick residents. He is a meteorologist for Maxar Technologies. She worked at the same company until a year ago when she left to pursue music with the Frederick Children's Chorus.
As they chatted, Steve and Carrie said they kept their romance going because they were friends first.
"And I think the common interests. I would say we both love baseball, love the weather, love music," he said.
"We love craft beer and enjoying life and relaxing," she said.
Steve named communication as one key ingredient to a good marriage.
"Having a sense of humor, and laughter for sure," he said.
And, Carrie said, they are truly partners in the truest sense. Carrie said Steve helps in all aspects of their relationship.
"He keeps me grounded," she said.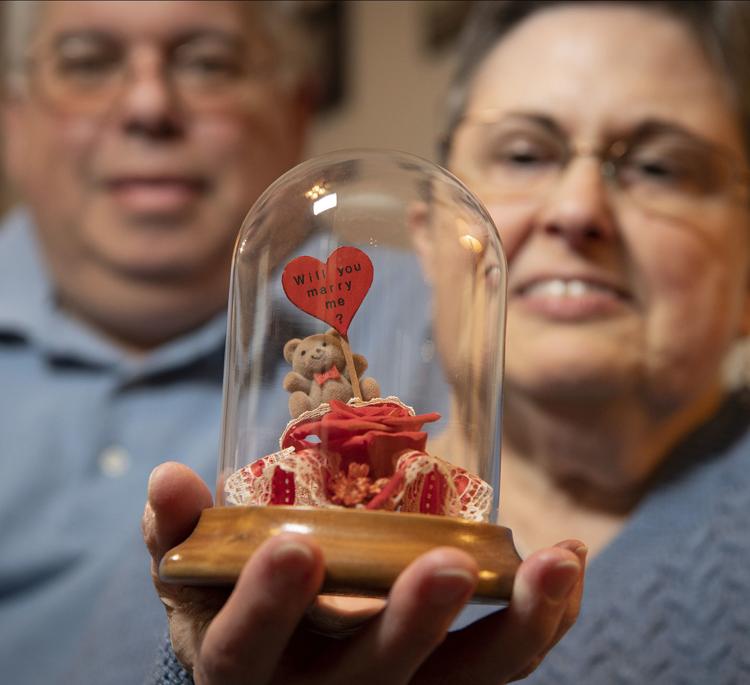 Jeff and Maureen Woods, of Myersville, met while they were students at the University of Connecticut.
During Maureen's junior year of college, she had an off-campus apartment. Catercorner to her apartment was a group of engineering students, one of whom was friends with Jeff.
"So the three of us just palled around," said Maureen, 62.
Maureen said she and Jeff took a little longer to warm up as more than friends. By the time they decided to date, Jeff had moved to Maryland. And he would travel back and forth on weekends to see her. He even bought a new car in 1986 and got an unlimited warranty because he knew he would need a reliable vehicle for the trips.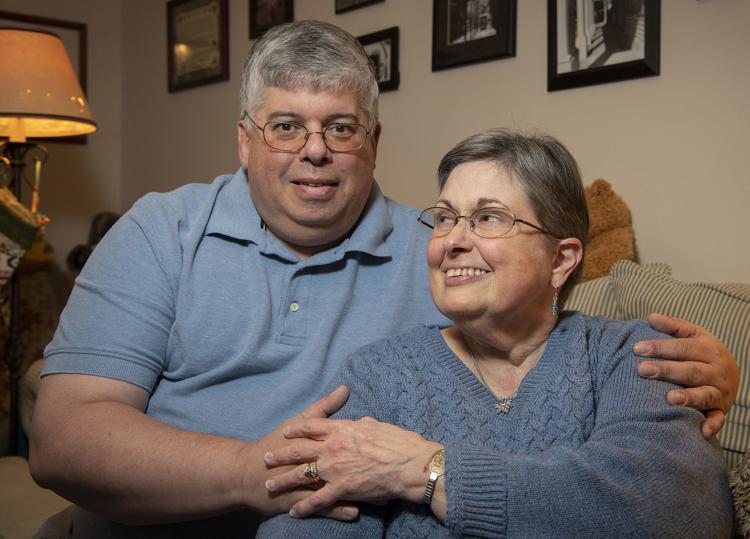 When Maureen decided to move to the area in the spring of 1987 for a job, their relationship became more serious. Jeff was living in Germantown as a long-term housesitter for a friend. A year later, they bought a house together in Rockville.
As for getting engaged, Jeff said "there was a sense that it was going to happen and she expected it to happen."
"I was being patient," Maureen quipped with a laugh.
In 1988, Jeff saw an ad for Hugging Bear Inn, a Vermont bed and breakfast in AAA member magazine. He cut it out from the magazine and hid it from Maureen.
He said the way he was going to pop the question slowly evolved during his planning. He went to a flower shop and saw a dome display of a tiny 1-inch bear sitting on top of some greenery and a rose.
"I bought that first thinking maybe for Christmas or a birthday present," said Jeff, 60.
But he soon got a better idea. He took a piece of one of her favorite Hallmark wrapping papers and cut out a heart, glued it to cardboard, and glued that to a toothpick. And with transferrable letters, he wrote "Will you marry me?" on the tiny heart.
Several months later, Jeff surprised Maureen by telling her they were going away for a New England fall getaway. They got a late start so they stopped in Connecticut for the night. He caught her unpacking that night, telling her that they hadn't reached the inn yet.
At the time, Jeff was lugging a locked toolbox in the car's trunk where he had hidden the bear display and the ring. Maureen said she didn't even question it. Luckily, he said, she didn't have the combination to the toolbox.
After they checked into the Hugging Bear Inn on Oct. 14, 1988, Jeff brought the toolbox in along with their luggage. Maureen said she thought the surprise was the inn.
"I didn't even notice the toolbox because I was just busy taking in the inn," she said.
With Maureen seated on a couch in front of the window, he unlocked the toolbox. He first handed her a box with the teddy bear display. She said it took her a minute to realize that the heart the bear was holding actually said something.
"I was busy looking at the rose because that's where my eyes went," she said.
She said she immediately said yes.
They were married exactly a year later, on Oct. 14, 1989. This past October they celebrated their 30th anniversary. They have two daughters, Katie, 28, and Sarah, 26, who got engaged last year.
Maureen is a tax accountant. Jeff worked first as a software engineer before becoming a production engineer.
They said every year they return to Hugging Bear Inn, usually during their anniversary. When their daughters were young they would go during the summer. They said they got to be good friends with the inn's owner, Georgette Thomas, who died in 2014.
They both said their marriage has lasted because they were friends first and they let it grow.
Jeff said their basic compatibility has kept them together.
"There are ups and downs in any marriage and ... we're both very committed," Maureen said.
Follow Crystal Schelle on Twitter: @crystalschelle.