Matt Perry still isn't sure how to react.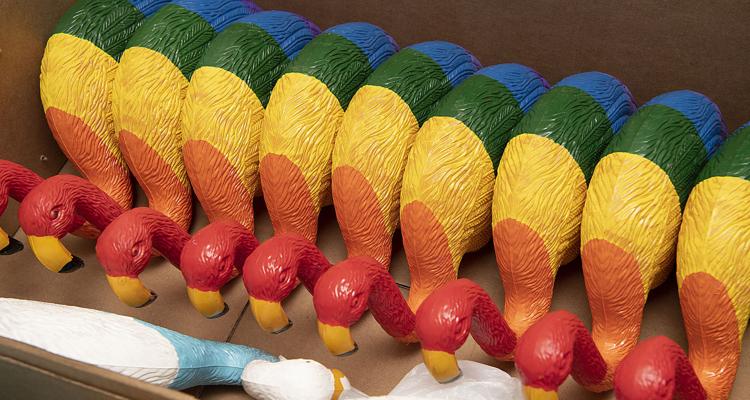 People sob tears of joy in his presence. They write him heartfelt messages on Facebook. The workers at Dollar Tree know him by name and greet him like an old friend. In the age of COVID-19, some have even been brave enough to violate social distancing and move in for a hug.
"It's an interesting feeling," Perry, a Frederick resident, said. "I am still kind of blown away that people are reacting this way to something I just made."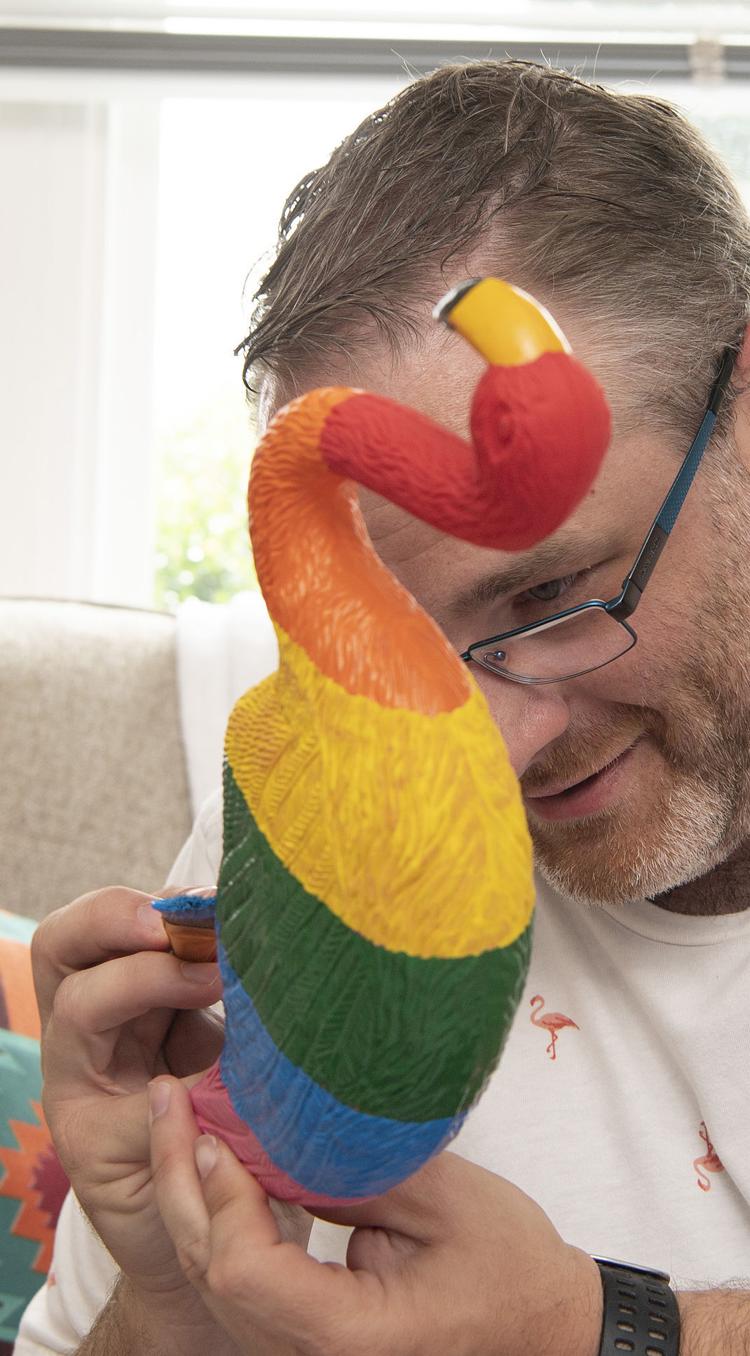 Perry, 36, started painting plastic pink flamingos — the kind you buy at a craft store for a buck or two and display in your yard — not because he wanted to make a profound impact on people's lives or saw a potential business opportunity.
His mother, Karen, used to display them outside of their Pasadena, Maryland home when he was growing up, and then he began doing it at his own homes as an adult. They have always provided a source of comfort.
In June, he observed someone wearing a rainbow colored sweatshirt and decided to indulge his artistic flair. He used to draw cartoons as part of a marketing campaign for a Pasadena bank.
So, he went home, pulled out some paint and brushes and went to work on one of his flamingos. Upon posting a picture of the rainbow flamingo on Facebook, one of Perry's friends reached out to him and asked if he would paint two more for her. She would pay him for the work.
"I was shocked," Perry said.
The venture has taken off from there. Perry has painted and sold more than 200 flamingos, and raised thousands of dollars in the process.
A portion of the proceeds support two of Perry's favorite charities, Human Rights Campaign and Wounded Warriors Project, and the rest helps to offset lost wages since his job hours were scaled back due to the pandemic. He works as an air traffic controller in Leesburg.
"My mission was never to make money off of this," Perry said.
But the demand has been too great. Perry has cleaned out every Dollar Tree in the region of plastic yard flamingos. He was down to his final two boxes last week and was trying to call around to find more.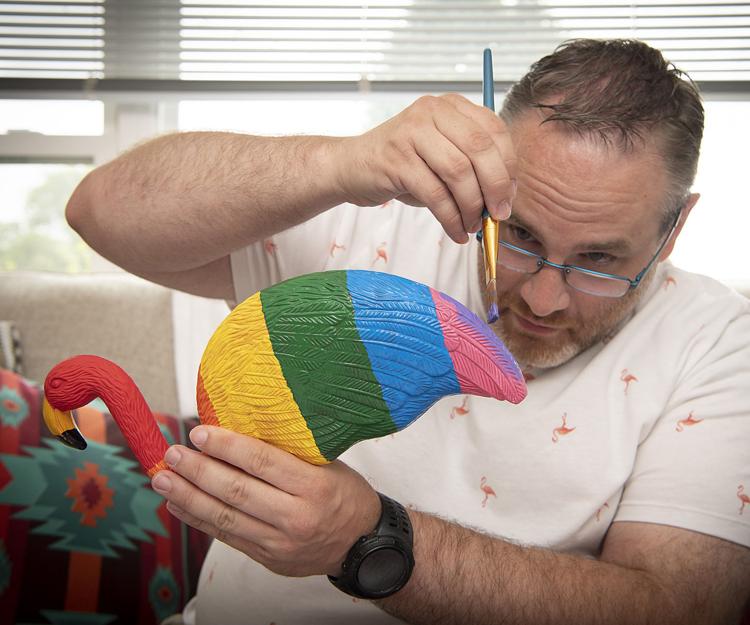 Perry brought 10 flamingos on a recent trip to Ocean City and wound up selling eight. He posts pictures of them on Facebook Marketplace and then arranges to either deliver them in person or have the buyer pick them up. Although, he has shipped them to faraway places such as Kentucky and California.
"My first reaction was love," said Jen Cramer, a retail store manager in Frederick and Perry's friend who made the first offer to buy one. "I'm a flamingo-holic. But I was impressed with the time and care Matt put into making sure they were perfect."
Perry said each flamingo takes between an hour to 90 minutes to complete. His method is not scientific. Everything is lined up by site and painted by hand. He begins with an idea, and that idea can evolve as he paints. He uses nothing more than acrylic paint and standard brushes.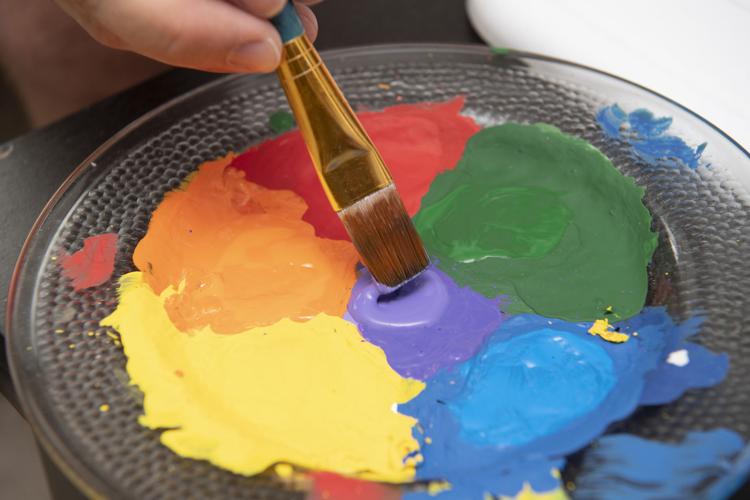 He said he typically watches Star Trek while he works and his young son, Wyatt, is often by his side to help.
Along with rainbow flamingos, Perry has painted ones depicting the American flag, the Maryland and Delaware state flags, and Ocean City, among others.
"More than one person has wanted big orders of them," he said. "I had one guy that wanted 20 of them. Another one wanted 10. The person that wanted 20 thought it was going to take a long time to get them. I had that order ready in a day and a half."
Perry charges $15 for one flamingo or you could by two for $25.
Cramer has told him he should be charging more. She got two for $20 since she was the first customer and because Perry was surprised that she offered to pay him. She proudly displays her flamingos in her front yard.
"My co-workers first laughed at me because they know my flamingo obsession," she said. "But they thought they were different and a great way to show pride. One of them thought they were factory made."
Pride has been a driving force behind the project. Perry has an uncle who is gay. So, he is glad the flamingos have resonated so well in the LGBTQ community in a year that saw Pride events canceled due to the pandemic. It's also why he is such a strong supporter of Human Rights Campaign.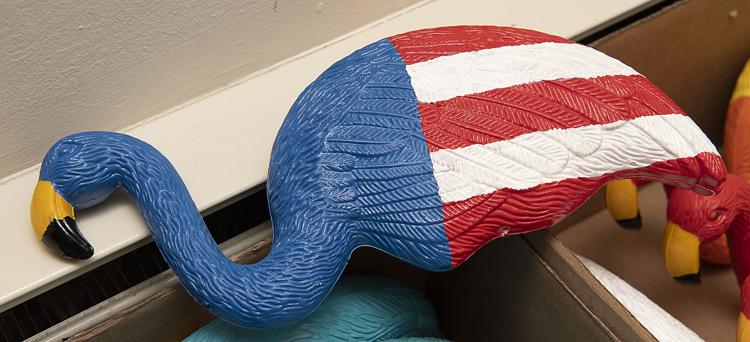 Perry said he will continue painting flamingos as long as the demand remains steady and he can find supplies. He's traveled to Dollar Trees in Gettysburg and Northern Virginia in hopes of finding more flamingos.
"I think it's kind of a catchy little thing," he said. "It's kind of offbeat, and I like offbeat style. I have always kind of been offbeat. So, that's how all of this started."