An empty onion bag, used K-Cups and empty Tic Tac containers are not items one would typically associate with the holiday season, but Linganore High School teachers Natalie Rebetsky and Jeremy Brown find Christmas potential in almost everything they see.
They are among nearly 400 tree designers transforming evergreens for Kennedy Krieger Institute's biggest fundraiser, the Festival of Trees, in Timonium.
"For us, this is like the kickoff of Christmas," Rebetsky said.
She and Brown have worked together for 20-plus years at Frederick County Public Schools and share a love for all things Christmas. She teaches English and journalism, while he oversees internships, work placement and dual enrollment. They began designing trees for the festival in 2012.
Coming up on its 31st year, the festival offers an array of Christmas-themed activities and entertainment for children — with the tree auction at its center — to raise funds for the 25,000 people who come to Kennedy Krieger annually for treatment of disorders, diseases and illnesses of the nervous system, plus other services, spokesperson Jessica Gregg said. Due to the COVID-19 pandemic, the free event will be held virtually through kennedykrieger.org/festivaloftrees, starting at 10 a.m. Nov. 27 and continuing through Nov. 29.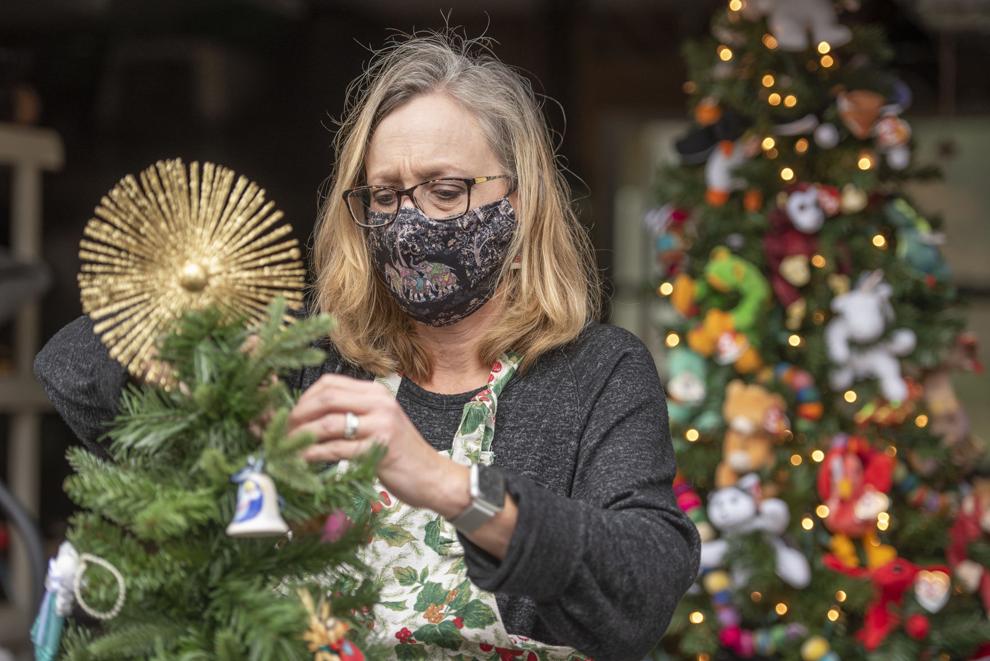 In pre-pandemic times, about 50,000 people would gather for the Festival of Trees at the Maryland State Fairgrounds in Lutherville-Timonium.
"We knew there was no way we could have an event with 50,000 people, so we began to pivot and think, how can we offer this to folks?" Gregg said.
Traditions with a twist
Designers like Rebetsky and Brown picked up trees to decorate them at home, rather than mingle at the fairgrounds with the other designers they've come to know. The teaching duo got together at Rebetsky's home to adorn the tree in her garage.
In years past, Brown said they created handmade ornaments. At the Festival of Trees, visitors could stop and linger at each tree, admiring the small details.
Considering this year's virtual platform,"We went with something that would be more visual," Brown said — Beanie Babies.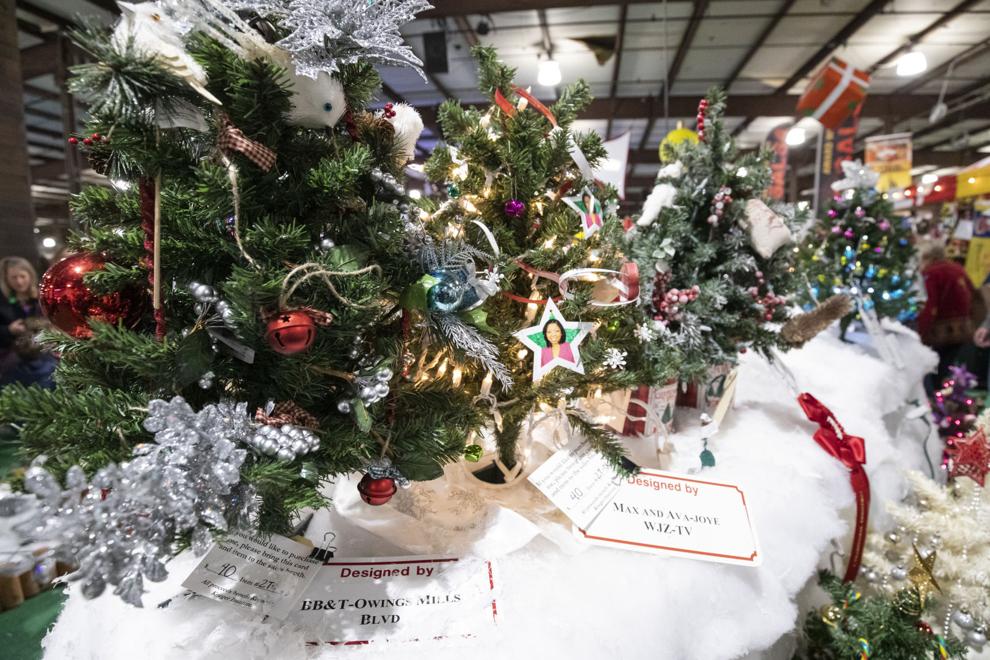 He found the 1990s era, collectible stuffed animals in three big tubs at an auction for about $5. Brown bought them, then called his design partner. Using hidden wire, they arranged 75 Beanie Babies onto their tree and added a garland of felted wool balls, all while listening to Christmas tunes.
"We see Christmas potential in almost everything we see," Brown said.
Their past trees are a testament to their creativity: a tree made up of recycled kitchen materials, a tree covered with Hot Wheels cars and race tracks, a "chemistree" with elves in lab coats, an ocean theme, a mannequin couple's engagement, and more.
Sometimes, they enlist the help of their Linganore High School family to collect supplies for a zany tree idea and ask them to stuff their mailboxes with potential decorations.
"Everybody at school knows we have this Christmas adventure," Rebetsky said.
The day after Christmas 2011, the duo started a website to count down to Christmas 2012. They wrote blog posts and even had a podcast for a while. It's dormant, for now, but they talk about starting it back up.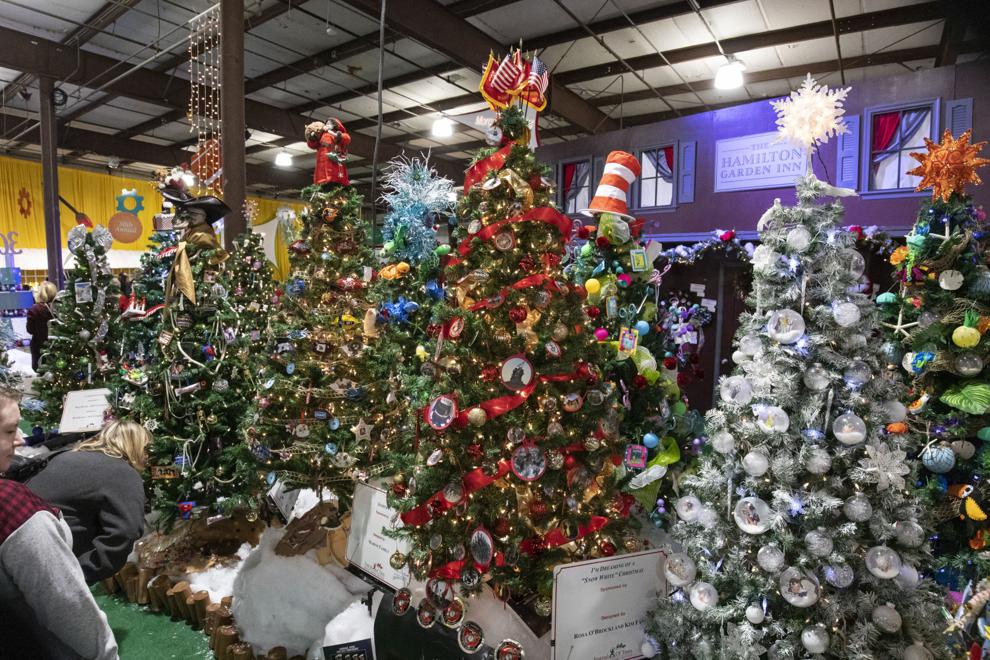 Over the years, the Festival of Trees has become the center of their Christmas-filled universe. They would rise early and meet at the Cow Palace, inside the fairgrounds, at 7 a.m., Rebetsky said. Brown would stuff his vehicle full of wreaths and ornaments.
Once there, they would decorate their tree to the sound of Christmas music being piped through speakers. They measured time by the Christmas playlist, which ran on a loop. When traveling together, they talk about ideas for the next Festival of Trees.
But this year, Rebetsky and Brown will decorate their tree while wearing masks and listening to Christmas music in a garage. When the tree is complete, they'll wrap it up with the ornaments attached and deliver it to the Cow Palace.
Silver linings
Though guests won't get to see the trees in person (unless they buy them), Gregg sees silver linings in the virtual platform.
"For the first time, we'll be able to reach all of our patients all over the country and all over the world," she said.
Kennedy Krieger Institute serves people in all 50 states and more than 20 countries, Gregg said, many of whom have never experienced the Festival of Trees because they don't live near Maryland.
"I think it's important in this year where everything has been turned upside down to continue to offer something that would be happening anyway," she said.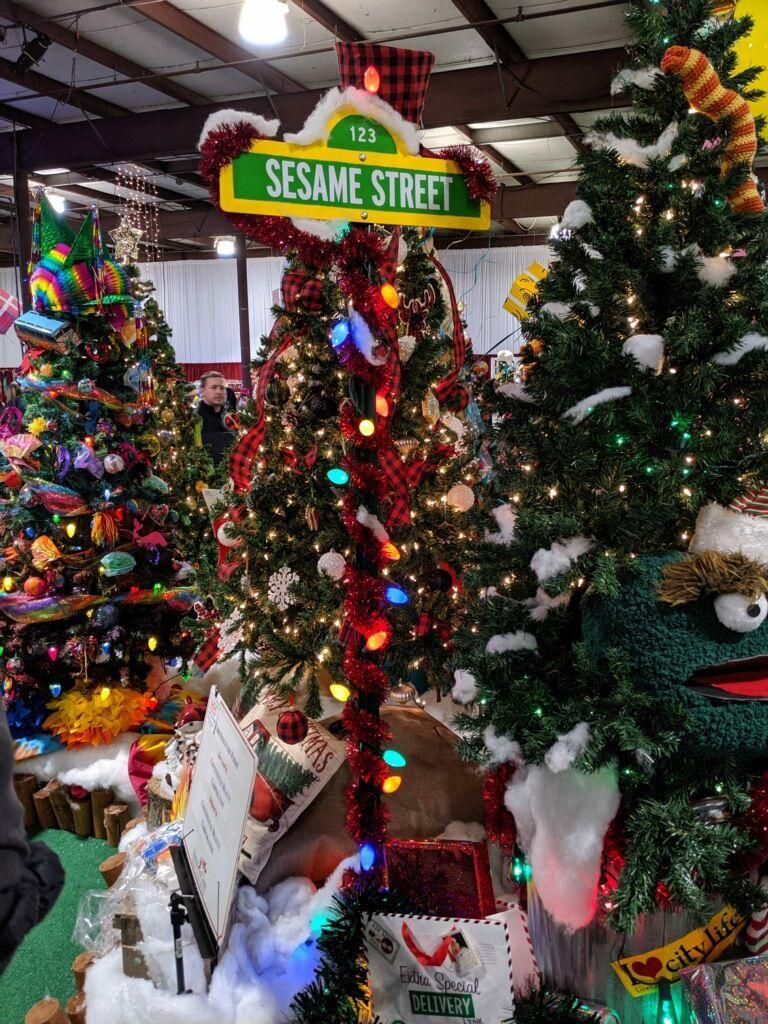 The festival will include singalongs, entertainment, and Q & A's with Santa, plus Elsa and Anna from "Frozen." The website will include photographs of the trees, measuring 7 or 4 feet tall, so buyers can pick which is best for them. Once trees are sold, buyers can pick them up or have them shipped.
There will also be a raffle and vendors village. If a family tunes in at a moment where there isn't live entertainment, Gregg said they can download coloring pages and holiday recipes.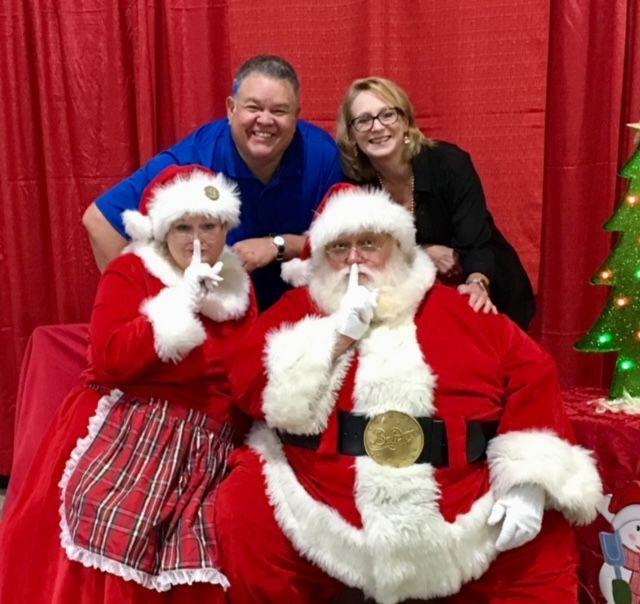 For Rebetsky and Brown, Christmas symbolizes a time of hope — something people are badly in need of this year.
"Christmas for me is such a good time," Brown said. "Family and people being together … that whole sense of hope."
Rebetsky said she's noticed people putting up their Christmas trees at home earlier than usual. She thinks they bring a sense of joy to what has been an uncertain and troubling year.
"I feel like, in this particular time," Rebetsky said, "everyone is looking for something that represents hope."
Follow Mary Grace Keller on Twitter: @MaryGraceKeller