On an unseasonably warm Saturday afternoon in January, Mervin Reyz was shopping at Rock and Roll Graveyard in downtown Frederick.
The 49-year-old Baltimore resident was perusing through the boxes of vinyl records to supplement a new Christmas gift: a turntable.
"One of my good friends, he likes music, and we talk a lot about music turntables and vinyls and it just got me interested," Reyz said, while already pulling Prince's "1999" album for possible purchase.
Montika Brown, of Frederick, was in the same store also flipping through a collection of LPs. She has built her collection to about 50 albums.
"I'm looking for whatever catches my eye or most of the stuff I grew up listening to that was either lost or got messed up," she said. "I look for a lot of that stuff and some new stuff. Things that may catch my eye that I haven't seen before or heard before. Sometimes it's even the cover art will catch my eye and I'll be like, 'Ohh, what's this?"'
Brown said she loves listening to music in vinyl over things like streaming, which she also does.
"The pureness of it. It just is. There's no extra stuff. There's no autotune. There's just a purity of the musicianship and the voice. They don't do music like that anymore," she said.
Reyz and Brown were just a collection of people looking through LPs in the three downtown Frederick record shops — Rock and Roll Graveyard at 115 E. Patrick St., Vinyl Acres at 25 E. Patrick, and The Record Exchange at 151 N. Market St. — during the Saturday following New Year's Day.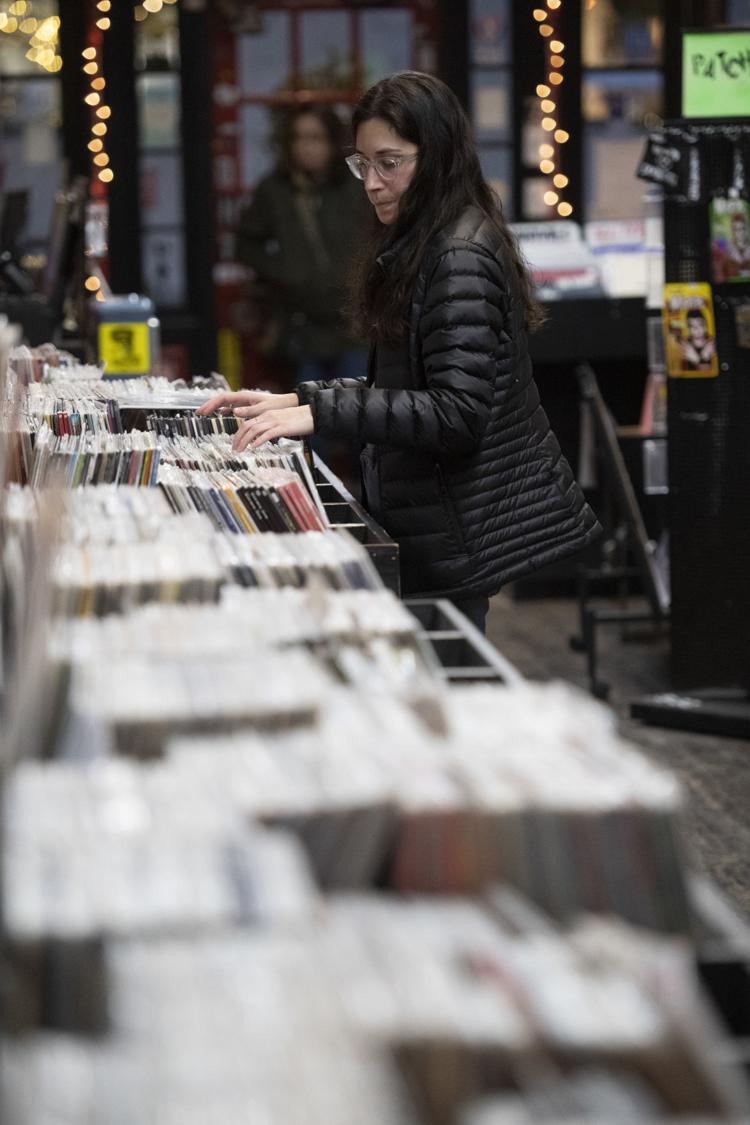 Pressing on
Video may have killed the radio star, but it looks as if vinyl is finding its revival.
With vinyls pressed as early as the 1930s, record sales have ebbed and flowed with each introduction of a new form of listening to music — eight-track, cassette, compact disc, digital downloads and today's streaming.
Although consumers are still using the newer forms of media, when the Recording Industry Association of America released its Mid-Year Revenue Statistics in late 2019, it showed that record sales were outpacing CDs. That means that for the first time since 1986, more records were expected to be sold than CDs. The final data for the year is not available.
Some industry officials point out that these numbers can be a little misleading as there aren't as many CDs produced and record sales are still only a small niche of sales — RIAA reported about 4 percent in 2019.
According to the RIAA, the sale of vinyl albums grew 13 percent to $224 million in 2019.
Billboard reported that the week of Christmas until Dec. 26, vinyl accounted for 1.24 million units, which made it the biggest week for sales since Nielsen Music started tracking them in 1991. It's also the first time since Nielsen's tracking that record sales surpassed 1 million units in a single week.
Just a week earlier a record was broken over the number of vinyl LPs sold in a week with 973,000 units.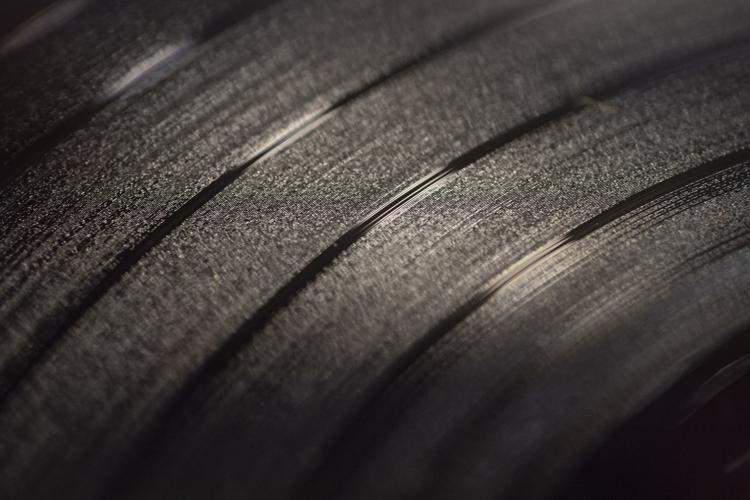 Vinyl moves back front
Sam Lock, the owner of The Record Exchange, said he was working at Tower Records in London during the CD takeover.
"I remember we had [to] remodel and pull the vinyl," he said. "I remember when CDs first came out, they were in those long boxes in the vinyl bins so you could stand them up and flip through them like vinyl."
When he moved to the U.S., Lock said they had to rip down those long boxes so that CDs were shelved correctly.
"When I started at The Record Exchange in '92, we always had vinyl but it got pushed to the back of the store," he recalled. "It was only really DJs who bought it in the '90s and 2000s."
Thanks to millennials and younger generations, LPs are bought, Lock guessed, because "people are looking for something they can collect."
"I often say to people that maybe two-thirds of the kids were collecting like Pokemon cards, and at the end of the day, everybody's got the same cards," he said. "Collecting vinyl is similar, but you can personalize it to your own different musical tastes because there's no way everyone can own every record so everyone's collection is individual."
With about 90 percent of the offerings at his shop used records, Lock said he is still seeing people searching for reissues and new records by more contemporary artists.
And that's what the numbers are saying. Billboard reported that at the end of 2019 the top LP purchased was Harry Styles' "Fine Line," which sold 16,000 copies during the week of Christmas. Styles' LP was followed in sales by Billie Eilish's "When We Fall Asleep, Where Do We All Go?," The Beatles' "Abbey Road," "Guardians of the Galaxy: Awesome Mix Vol. 1" and lastly, "Queen: Greatest Hits."
But, Lock said, most people who are his age (early 50s) and older are getting rid of their entire collections just for the sake of space.
"They get that vinyl is cool, but they're like, 'I don't want to be bothered with the stereo and the lugging them around.' So those are the guys I'm selling the CDs to, I guess,'" he said.
Round and round
With streaming services accounting for 80 percent of revenue, the RIAA reports that it's interesting that people still want to physically own an album. That, though, isn't a surprise to the local record shop owners and customers.
Vinyl Acres owner Bob Berberich said the beginning of the slow increase in vinyl movement around 2010 was what made him decide to open his shop about six years ago. He said he's seen more people, especially the younger generation, coming in buying records — and they're not all necessarily rock albums.
"Our store is steeped in classic rock but also jazz and country, and we carry a wide variety of genres, even though the largest selection is rock," he said.
Berberich said vinyl offers something that other things like CDs can't provide.
"If you have a good system, vinyl has a better signal. It sounds warmer than CDs or anything digital at this point," he said. "Anything digital is a sample of the sound. But ... a lot of the sound is actually missing, especially if you're listening on a CD or an mp3. It's like a picture opposed to a painting."
He also credits vinyl's uptick to the need to own a tangible item.
"You get to hold something here and you get to read the liner notes," he said.
Also, he said, playing a record "is a time commitment."
"It's not something you can do in your car while you're driving or doing outside with your earbuds on. You actually have to have dedicated time to it to sit there and listen or have it playing in the house while you're doing housework," he said.
Chris Wolfe owns Rock and Roll Graveyard, which has been in business for nearly nine years. He said "anything that plays on classic rock radio" sells the most.
"Whatever people know or are familiar with is what sells easily," he said.
He has seen more people collecting over the years.
"The hardest part is keeping those records that everybody wants when they're first starting out to buy a record collection or just records themselves," Wolfe said.
Like most record shops, Wolfe said Rock and Roll Graveyard has a large collection of used records, but he said he's starting to stock newer vinyl and is seeing some success with people purchasing them.
"But if I get in like 100 used records, the first ones to sell are Pink Floyd's 'Dark Side of the Moon' or Led Zeppelin records, ones that are never on the radio or what people's parents brought them up on," he said.
Sound machine
Kristin Tatelman, 34, of Severn, had been shopping from one record shop to the next with her husband on that recent Saturday.
"We've been talking about it for a long time. We both kind of grew up listening to records," she said during a break shopping at Vinyl Acres while her husband continued to look.
"One memory I have is of my childhood is listening to records with my parents," she continued. "It's just one of the things my parents and I would do on the weekend. We'd get up and put records on the record player."
On their quest, Tatelman said they like to find used records for their collection, although they do buy some new.
"I just kind of feel a connection to the history of it. I like to think about other people who owned it before me. That when it first came out, they came running to the record store in 1960 or 1970 and they listened to it and it changed their life," she said. "And to think about the people who might have had it, passed it down and how it eventually ended up in the record store."
Jessie Tepper, 24, of Baltimore, and her friend, Laura Lindner, 24, of Frederick, were shopping in The Record Exchange.
Tepper said she's been collecting since 2016. Lindner said about the same, noting the first album she bought was "Rumours" by Fleetwood Mac the year before she got her record player.
"I honestly think for me, a lot of my friends had records and whenever we would hang out at their apartments, they would just throw on a record," Lindner said. "There's something very slow and thoughtful about it."
She said she also likes to have album art displayed in her apartment. Tepper added that she is most selective about records she buys.
"Sometimes it's fun to like take a chance on dollar records of bands you've never heard of, and it's a fun way to find out about new music without taking a lot of time or money," she said.
Both Tepper and Lindner said they still stream and always stream the album in its entirety before purchasing it. And, they said, they can't remember the last time they've purchased a digital download.
"The only time I buy digital versions of stuff is [if] I have friends that are in [the] band," Lindner said.
Both of the ladies said they like the quality of the music.
"It's a deeper sound quality, I feel especially if you have some external speakers set up, like I do with mine," Tepper said. "And it really is easier to like play it at a louder volume as well as still keeping the quality of the sound."
Beth Flick, 58, and husband Hugh Flick, 60, of Hummelstown, Pennsylvania, also stopped in The Record Exchange to shop. While Beth flipped through the vinyl, Hugh was already carrying a Beatles album under his arm.
Both have been longtime collectors. Hugh said he started in 1972, while Beth said she started in the '70s but stopped for a time. Last year they discussed adding to their collection. This year, Beth said Hugh surprised her with a new turntable and system for Christmas.
The Flicks said their collection is eclectic and they purchase records based on a number of reasons, which include albums they wanted to own back in the day; newer music (like alternative); as well as new artists, like Lizzo, whose album they just bought for their daughter.
Beth said they still stream and have purchased digital music, but they love the idea of records.
"It's the needle on the record. It's the pop of the little crack of the needle. When it touches the record, there's a promise to that, and that little crackle behind it even on a clean album," she said.
"There is an investment in the event, the whole tactile thing that you're committed to doing this thing," he said. "... this is purposeful listening. It's when everything is analog then you hear a depth that isn't possible even with 'lostless' digital. You just can't get that depth."
Follow Crystal Schelle on Twitter: @crystalschelle.