As a theater professional, Justin Kiska never thought he would need to learn about sanitizing, air flow and other health protocols to do this job.
But in the age of COVID-19, that is exactly what was required when Way Off Broadway Dinner Theatre — the Frederick independent theater where he serves as president and managing director — was given the green light to start staging shows again.
"From day one, when everything started every time some sort of health guideline or a safety notice was put out, we sat down and looked at it to see how it could be implemented at Way Off Broadway," Kiska said of the efforts he and his staff have made post-COVID. "Even now things are constantly changing, so whenever the CDC puts something out, whenever one of the county agencies puts something out, we look at it and see how it can line up with our operations at the theater."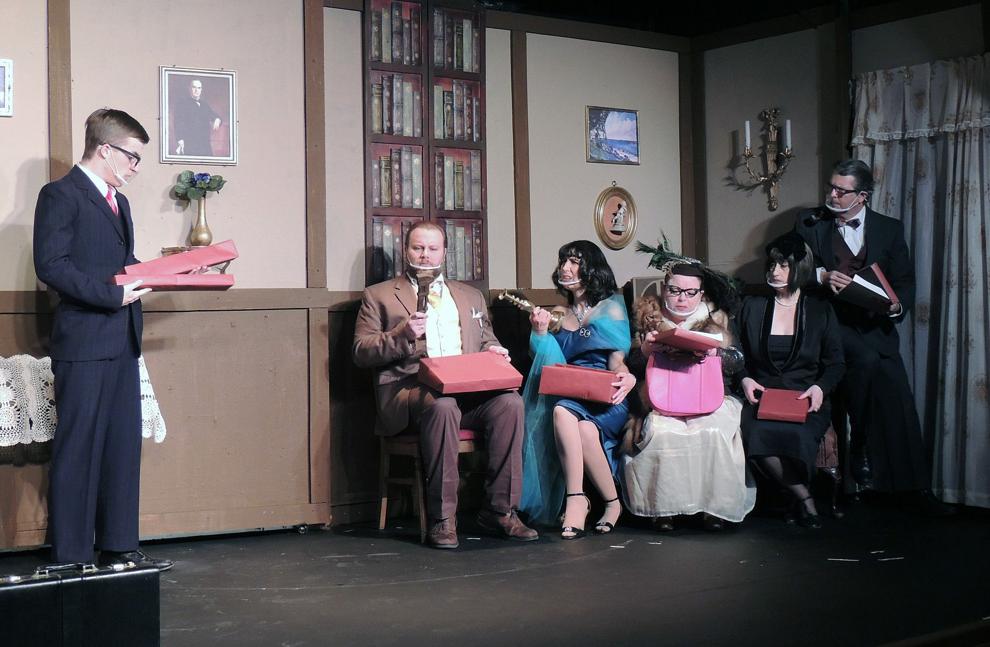 After a six-month hiatus that began when the pandemic hit last spring, Way Off Broadway staged "Mary Poppins" in September, followed by a Christmas show over the holidays. Now, 10 actors and a limited crew are putting on "Clue On Stage," an adaptation of the 1985 dark comedy whodunnit film.
The weekend show opened in late January — delayed slightly from the original start date because of COVID numbers — and is slated to continue through March 6.
Kiska, a huge fan of the movie along with most of the cast, is directing the show. He said he wanted to do a stage adaptation for years and jumped immediately on the script when it became available.
"I wasn't going to let anybody else do this one," Kiska said of directing. "This is one that I've had my eye on for so long."
'Masked' murder
As soon as the theater reopened, Kiska and his staff pretty much had the safety measures down to a science. He pointed out that Way Off Broadway — with a 100-seat capacity during normal times – could stage shows much easier than larger Broadway productions.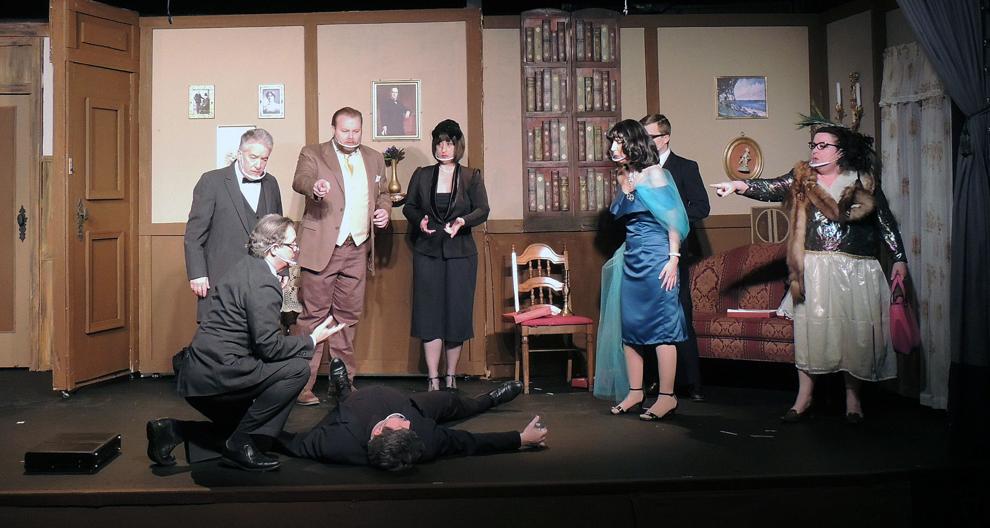 "We're very lucky that we've been able to open because we took the time all those months that we were closed — we were shut down for six months — we took the time to come up with a formula where we could be open with a 50 percent capacity," he explained. "From day one we were working on everything we could do so we weren't surprised when the governor said, 'Yes, you can go back to performing.'"
Along with the 50 percent capacity rule, which Kiska said they still try to stay under, the theater changed the dinner aspect (cafeteria-style instead of buffet) and stopped allowing patrons to gather in the lobby before the shows.
The cast members wear face shields — clear, plastic guards so their expressions are still visible — on stage, temperature checks are performed, copious amounts of sanitizing goes on between scenes, and the blocking has changed some to implement as much social distancing as possible.
"We've taken every precaution," Kiska said. "The cast wears masks, face shields when they're doing the show. Everything is cleaned constantly. I mean, it's to the point now where we all just anticipate the smell of antibacterial."
Handpicked cast
For the "Clue" stage show, Kiska knew he wanted actors with a good rapport who were fans of the movie. He also wanted to make sure everyone was as safe as possible. In turn, he handpicked a group of actors and actresses who had been in other shows together, not only since the pandemic but also in the past for some of his murder mystery performances.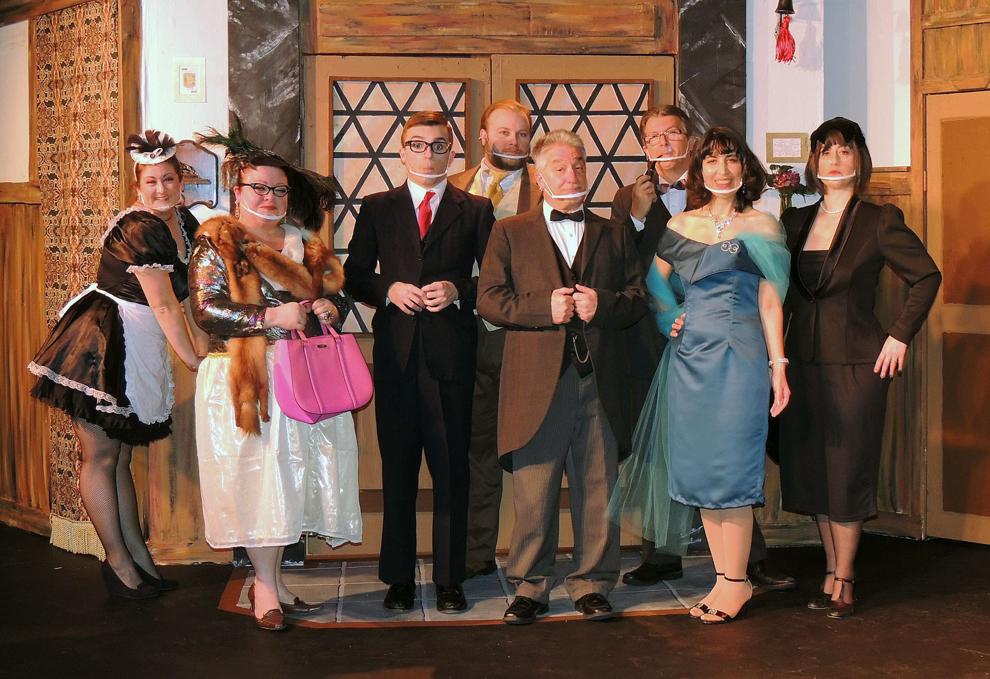 "These are people who, basically, they're as close as family is anyway," Kiska said. "And they were already together throughout the end of last year. They were absolutely fine being together and doing the show. Plus, it's not a huge cast, so we never had more than 10 people at the theater rehearsing at one time."
Dino Coppa, who plays Wadsworth in the show, said the situation was unusual but worked perfectly as it created a stellar cast who were able to put a great show together on a reduced timeline.
"We've all got a ton of experience, we all know each other, and [Justin] asked everybody if they want to come be in the show and everybody said yes, and we got ourselves to the 10 that we needed. And it is such a strong cast," Coppa said.
Pam Neely, who plays Mrs. Peacock, also commented on the dynamics of the cast.
"It's very rare that everyone in the cast and crew gets along, and this is one of those rare occasions where everybody is just having fun," she said.
Coppa said the face shields and other COVID protocols were easy to get used to on stage. But he said the requirement to distance off stage was more difficult.
"The on-stage portion, you kind of get past it fairly quickly because the muscle memory kicks in — it's the off stage stuff that's so hard," he said. "You put a show together, and this particular group it's so hard because we're all close friends, and you can't come in and hug each other like we always do and get close. It makes it tough. But that's kind of the main difference. We go through the same processes. When we sit down and we get direction, we're all across the room instead of all at one table. So it's the little things that makes it feel a little different, but really you're not doing anything different."
Cult classic
While those who have never seen the original movie can still find "Clue: On Stage" entertaining, Kiska said the stage show contains special details for those who are fans of the film.
"Our costumes match the costumes in the movie, our sets have the same color schemes, and obviously we can't build that enormous set that they did, [but] it has the same look and feel from the movie," he said. "And there are so many Easter eggs that we've put into the set for people that know the movie … So we really just tried to recreate as much of the feel of the movie as possible so that everyone who loves it can sit there and they get to see it live on stage."
Coppa said he channeled his "inner Tim Curry" — who plays Wadsworth in the movie — for his role, and Neely said she transitioned from playing Mrs. Peacock as snooty to high-strung
after Kiska directed her based on Eileen Brennan's performance in the movie.
Kiska added that while the ending is a little different — it contains just one scenario instead of three — it still pays homage to the movie. The play also includes all of the famous one-liners that fans of the movie have quoted for years.
"Of course they do keep all the best lines," Kiska said. "You know, Mrs. White saying husbands should be like Kleenex — soft, strong and disposable. They have the bit between Col. Mustard and Wadsworth about, 'Is there anybody else in the house ... yes, no?' Of course they still have the bullets, the one-plus, two-plus one bit. All those key lines that everybody knows and loves and quotes."